Ruby's Reception's Jones Has High Winning Percentage
by Dan Liebman
Date Posted: 10/24/2002 8:42:13 AM
Last Updated: 10/24/2002 10:46:27 AM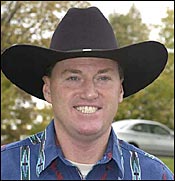 Larry Jones saddles his first BC starter, Ruby's Reception, in the Juvenile Fillies.
Photo: Anne M. Eberhardt

It might take you awhile to name the 2002 Breeders' Cup World Thoroughbred Championships trainer that has the highest winning percentage this year.Granted, Larry Jones has had fewer runners than most, but a 35% strike rate--25 winners from 71 starters--is still quite impressive.On Saturday at Arlington Park, Jones will saddle his first Breeders' Cup starter, Oasis Racing's Ruby's Reception in the Long John Silver's Breeders' Cup Juvenile Fillies (gr. I). Actually, she is not only his first Breeders' Cup starter, but his first grade I starter period."I hope the race goes better than my experience on I-80," Jones laughed at barn 9B on the Arlington backside Wednesday morning. Jones drove the van transporting Ruby's Reception to Chicago. "Those trucks really drive fast; they drive crazy," he said while his wife, Cindy, hotwalked their star filly."There are some other interesting numbers in the Juvenile Fillies. Appleby Gardens was purchased for $2 million, Atlantic Ocean for $1.9 million, and Santa Catarina for $950,000. Jones bought Ruby's Reception at the Keeneland September sale for $12,000."I saw here at the barn and liked a lot about her," Jones said. "The price was because she was small. She was a January foal and still small. I've found out she's bigger on the inside than the outside.""She thinks she's 17 hands," Cindy chimed in."I had one other Rubiano, for these same owners, and I learned a lot from him," Jones said. "He didn't like to be worked hard, and she doesn't either. I did not breeze her between the Kentucky Cup and Alcibiades, which was 20 days, and I did not breeze her between the Alcibiades and Breeders' Cup, which will be 22 days."Ruby's Reception has never been worse than third in her six lifetime starts. And, though she has a stakes win to her credit, her best race may be her last, a strong second in the Walmac Alcibiades (gr. II) at Keeneland, when she fought back on a sloppy track to be beaten less than a length.Jones thinks Ruby's Reception's breeding, by Rubiano out of the A.P. Indy mare Court Reception, is a case where "the genetics really worked. She broke her maiden going six furlongs, so she has speed...that same quick turn of foot Rubiano had. And, like A.P. Indy, she wants more ground. Every race she has run she has acted like she wants to go further." Jones, a native of Hopkinsville, Ky., stables most of the year at Ellis Park in western Kentucky, also shipping horses to Prairie Meadows for its meet. He has been stabled in the same barn at Ellis since 1979."People have been coming by the barn at Ellis wishing us well," Cindy Jones said. Arlington is not the only clubhouse that will be full Saturday. "The Ellis clubhouse is sold out," she said proudly."Everyone at Ellis Park and the whole city of Henderson are rooting for us," Larry Jones said.Raised on farm, Jones has always been around horses, doing barrel riding, reigning, and showing horses as a youth. Jones began with Quarter Horses, switching to Thoroughbreds 20 years ago.Having run track in high school, he tells a funny story about the first cheap horse he purchased. "I took her home and unloaded her," Jones said. "My father said, 'What are you going to do with that horse?' I said, race him, and my dad said, 'I think you'll beat him."Today, Jones has 16 horses stabled at Ellis and obviously with his winning percentage, has a reputation for spotting his horses right.On Saturday, he finds out how well he has spotted his first grade I starter.



Copyright © 2015 The Blood-Horse, Inc. All Rights Reserved.