De Seroux A Popular Figure on Backside
by Dan Liebman
Date Posted: 10/23/2002 11:26:44 AM
Last Updated: 10/24/2002 7:56:15 PM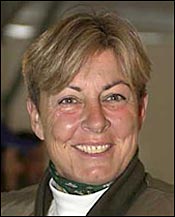 de Seroux a hit with BC media.
Photo: Anne M. Eberhardt<p>

Laura de Seroux barely had time Wedneday morning to train her horses. She was busy doing interviews. De Seroux has three horses running Saturday at Arlington in the Breeders' Cup World Thoroughbred Championships.There are two questions are being asked by everyone with a television camera, radio microphone, or reporter's notebook.No. 1: If Azeri wins the Breeders' Cup Distaff (gr. I), should she be horse of the year?
She will have won eight of nine starts this year including five grade Is."If she wins impressively, it will depend on the results of the Classic," de Seroux said. "If War Emblem wins, having won the Derby, that carries a lot of weight with the voters. But Azeri will have been consistent all year. Do voters look at who has been the best all year?"No 2: If you win a Breeders' Cup race, you will become the second woman to win a Breeders' Cup race (other than the Breeders' Cup Steeplechase). Have you thought about that?"I don't dwell on that. I've always been comfortable being a woman in this sport. There's nothing a woman cannot do in this sport. This isn't about strength, it's about finesse. Charlie (Whittingham) never had to call in a male rider."The only previous female winner is fellow California trainer Jenine Sahadi, who won the Sprint (gr. I) with Lit de Justice in 1996 and Elmhurst in 1997.De Seroux exercised horses for the legendary Whittingham for 15 years, having taken out her trainer's license only three years ago. She and her husband, Emmanual, operate the successful Narvick International bloodstock agency.Besides the Allen Paulson Living Trust's Azeri in the Distaff, de Seroux will saddle Robert Geringer, Michael Klein, Liberty Road Stable, and San Gabriel Investments' Dublino in the Filly & Mare Turf (gr. IT), and Sidney Port, Liberty Road Stable and San Gabriel Investments' Ballingarry in the John Deere Turf (gr. IT)."They shipped well. I'm relaxed and they seem to be too. Azeri is just squealing," she said.Azeri has won six straight stakes stretching back to March and is a solid favorite in the day's first event, the Distaff. "She's doing unbelievable. She is who I feel the best about."De Seroux, 40, only saw Ballingarry for the first time when she arrived in Chicago Tuesday. He was purchased following his win in the Canadian International (gr. IT) at Woodbine Sept. 29.Dublino, de Seroux said, is the forgotten one of her three starters. "She likes it soft, so that's why this race was part of the plan all along," she said. "That's why we chose this race over the Queen Elizabeth (at Keeneland)."Azeri runs on or near the lead, having "sprinter type speed," de Deseroux said. "Í'm not worried about someone running up by her. She just looks at them and says, 'I'll let you do that for a little while."



Copyright © 2015 The Blood-Horse, Inc. All Rights Reserved.