(Originally from the March 2, 2013 issue of The Blood-Horse)

by John P. Sparkman

Only four broodmares, Lisa Danielle, Memories of Silver, More Than Pretty, and Oatsee, produced more than one North American graded stakes winner in 2012, but Feb. 16 the 18-year-old Afleet mare Afleet Summeraccomplished something none of those four could. On opposite coasts, her 5-year-old son Swift Warrior and her 3-year-old colt Dice Flavor each won graded stakes.

Swift Warrior's win in the Tampa Bay Stakes (gr. III) at Tampa Bay Downs was his second consecutive graded triumph, following his Jan. 26 win in the John B. Connally Turf Cup Stakes (gr. IIIT), and fourth stakes win. Dice Flavor's victory in the El Camino Real Derby (gr. III), however, was his first in a budding five-race career.

The two possess similar pedigrees on the top side. Swift Warrior is a great-grandson of Storm Cat via his best son Giant's Causeway and the latter's first North American grade I winner First Samurai , while Dice Flavor is a fourth-generation descendant of the two-time leading sire through Hennessy, international champion juvenile Johannesburg, and the latter's best American son, Scat Daddy.

That commonality aside, the background of Afleet Summer herself is more intriguing. Bred in Virginia by the late Robert H. Smith's Heronwood Farm, Afleet Summer did not get much chance to be a racehorse herself. Sold for $60,000 to J.D. Osgood at the 1996 Keeneland September yearling sale, she made a modest profit the following March at the Barretts 2-year-olds in training sale, where BBA England signed the ticket for $115,000.

She managed only one start for owner John Steven McDonald and trainer Richard Cross, however, running last most of the way and beating only one horse home in a Del Mar maiden race Sept. 5, 1998. McDonald sold her the following year at the Keeneland January sale for $31,000 to Kentucky breeder Jody Huckabay, on behalf of AJM Stables, which bred her first five foals, including Carolina Sky, by Sky Classic, who won the 2006 River Cities Breeders' Cup Stakes and 2007 Irving Distaff Stakes.

Those stakes victories led to the sale of Afleet Summer, in foal to First Samurai, at the 2007 Keeneland November mixed sale, where Sense Bloodstock signed the ticket for $200,000 on behalf of Paget Bloodstock, Nearctic Bloodstock, and Carhue Investments.

Swift Warrior, was, of course, the immediate result of that purchase, and the Tampa Bay Stakes was his sixth win in 20 starts stretching over four seasons for earnings of $430,843. Listed as RNA for a hammer price of $80,000 during the sixth session of the 2009 Keeneland September sale, Swift Warrior began his racing career for Steve Dwoskin but was sold privately to James Covello and James Dolan before his victory in the Rushaway Stakes in 2011.

A 2009 filly by Scat Daddy died before Dice Flavor, by the same sire, came along in 2010, followed by two fillies by Giant's Causeway in 2011 and 2012.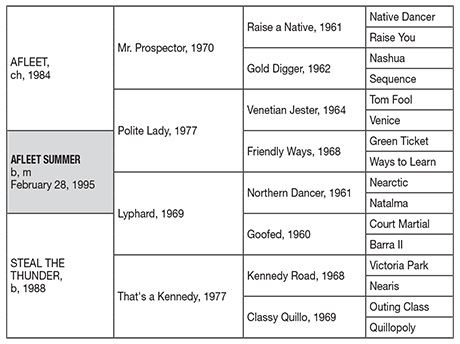 Although Afleet Summer possessed next to no race record, she descends from a persistently classy family with historic roots. The modern flowering of the family traces toQuillopoly, a Princequillo mare bred in 1958 by Leslie Combs II. Although Quillopoly traced in tail-female to perhaps the most important broodmare imported to America in the 19th century Galopade, by Catton, ancestress of Domino, Hamburg, Affirmed, Twilight Tear, and many others, there was little in the first few generations of her female line to suggest she would be responsible for a sudden surge in class. Quillopoly offered little more encouragement on the racetrack, winning three of 18 starts but failing in four stakes attempts.

Nevertheless, Quillopoly produced three stakes winners, including Canadian classic winner Sharp-Eyed Quillo, by One-Eyed King, a successful sire in Chile. Quillopoly's daughter Quillummo, by Gummo, is dam of 1995 Kentucky Oaks (gr. I) winner Gal in a Ruckus, by Bold Ruckus, second dam of 2001 Hollywood Starlet (gr. I) winner Habibti, by Tabasco Cat, and third dam of Breeders' Cup Marathon (gr. III) winner Eldaafer, by A.P. Indy, and recent UAE Two Thousand Guineas (UAE-III) winner Soft Falling Rain, by National Assembly.

Most of the notable horses in Quillopoly's family, though, are descendants of her daughter Classy Quillo, by Outing Class, who produced two stakes winners. Classy Quillo's stakes-placed daughter No Class, by Nodouble, earned Canadian broodmare of the year honors in 1985, as the dam of champions Sky Classic, by Nijinsky II; Regal Classic, by Vice Regent; Grey Classic, by Grey Dawn II; and Classy 'n Smart, by Smarten. Classy 'n Smartemulated her dam, producing racing Hall of Fame member Dance Smartly, by Danzig; and leading sireSmart Strike, by Mr. Prospector.

Afleet Summer's second dam That's a Kennedy, by Kennedy Road, was a winning half sister to No Class, and produced multiple grade III winner Storm On the Loose, by Lyphard; and his stakes-placed full sister Steal the Thunder. Steal the Thunder, in turn, produced French stakes winner Limelighting, by Alleged; and stakes-placed Thunder and Rain, by Capote, as well as Afleet Summer.

Swift Warrior and Dice Flavor both carry multiple crosses of the two most powerful influences in contemporary pedigrees, Northern Dancer and Mr. Prospector. Dice Flavor is inbred 5x3x3 to Mr. Prospector and 6x5x4 to Northern Dancer, while Swift Warrior is inbred 5x3 to Mr. Prospector and 5x4x4 to Northern Dancer.

Winner of the Champagne Stakes (gr. I) at 2 and the Florida Derby (gr. I) at 3, Scat Daddy made an excellent start at stud, with six group or graded winners in his first crop, headed by American Oaks (gr. IT) winner Lady of Shamrock (out of Blushing Issue, by Blushing John); Pennsylvania Derby (gr. II) winner Handsome Mike (Classic Strike, by Smart Strike), and Juddmonte Royal Lodge Stakes (Eng-II) winner Daddy Long Legs (Dreamy Maiden, by Meadowlake). Dice Flavor is his 11th stakes winner and fourth from his second North American crop.

Swift Warrior's sire First Samurai 's record improved dramatically in 2012, especially through the exploits of his brilliant daughter Executiveprivilege (Refugee, by Unaccounted For), winner of the Del Mar Debutante (gr. I) and Chandelier (gr. I) stakes. Swift Warrior is one of 13 stakes winners and six graded winners by First Samurai, who scored his grade I victories in the Hopeful and Champagne stakes at 2 in 2005.