(Originally from the February 23, 2013 issue of The Blood-Horse)
by Anne Peters
Tapit has certainly earned his $125,000 stud fee. During the first weekend in February, he was represented by three graded stakes winners: Flashback in the Robert B. Lewis Stakes (gr. II) at Santa Anita Park, Honorable Dillon in Gulfstream Park's Hutcheson Stakes (gr. II), and Tapicat in the Florida Oaks (gr. IIIT) at Tampa Bay Downs.
Since he entered stud in 2005, Tapit has sired 40 stakes winners, 23 graded, including champions Stardom Bound, Hansen, and As de Trebol (in Spain), and grade I winners Testa Matta, Tapitsfly, Careless Jewel, Tapizar (a first-year stallion at Gainesway), Zazu, and Tell a Kelly. His runners are often precocious, but many stretch out over a mile, on dirt and turf. Careless Jewel won the Alabama Stakes at 11⁄4 miles.
While his best early runners were fillies, Tapit is now balancing this with high-class colts such as Hansen, Tapizar, Trappe Shot , and Flashback.
Tapit is proving himself a suitable heir to his sire, Pulpit, who died unexpectedly this past December. One of the most reliable sires of class, Pulpit is posthumously earning a reputation as a sire of sires, with Tapit, Sky Mesa , and a few others proving his point. Pulpit was from the first crop by A.P. Indy, later the sire of Bernardini (bred on a similar A.P. Indy/Fappiano cross as Tapit), who, at $150,000, is the only sire in the U.S. standing for more money.
Pulpit was a product of Claiborne Farm going back five generations to one of its foundation mares, Knight's Daughter, the dam of Round Table. In addition to Pulpit, closer generations have produced the sires Tale of the Cat , Johannesburg, and Teuflesberg , so there's genetic gold here.
Tapit's dam is Tap Your Heels, a stakes-winning Unbridled mare who is a half sister to the champion sprinter Rubiano. Tapit's second dam, Ruby Slippers, also the third dam of champion Summer Bird, was a Nijinsky II half sister to the good speed sire Glitterman. Tapit's third dam, Moon Glitter, was a stakes-winning full sister to the important sire Relaunch. His fourth dam is the good stakes winner and broodmare Foggy Note. Her family is clearly another genetic gold mine.
Besides the sheer quality wrapped up in Tapit's pedigree, some interesting patterns may have fortified his prepotency. He's inbred 3x4 to Mr. Prospector, through Pulpit's dam, Preach, and Unbridled's sire Fappiano. Apparently there is life after inbreeding to Mr. Prospector, despite what skeptics would say. He joins Flower Alley (3x3), Roman Ruler (2x4), Scat Daddy (4x2), and El Corredor (3x4) as successful stallions bred on this pattern.
Tapit is also 5x3 to Nijinsky II, through Pulpit's third dam, State, and Tapit's granddam, Ruby Slippers. Pulpit is linebred 5x4x5 to Bold Ruler and his sire A.P. Indy is inbred 4x3 to Bold Ruler. Pulpit also has the full siblings Round Table and Monarchy within five generations. Tapit's dam Tap Your Heels was inbred 4x3 to In Reality, which drives the point home about the value of inbred mares.
Tapit's best bloodline nick seems to be with Northern Dancer, which accounts for nine of his graded winners. Storm Cat-line mares have produced five of these: Hansen, Careless Jewel, Tell a Kelly, Dancinginherdreams, and Tapicat. The other four (Tapitsfly, Tapizar, Laragh, and Hightap) are out of mares descending from Nijinsky II, Vice Regent (two), and El Prado.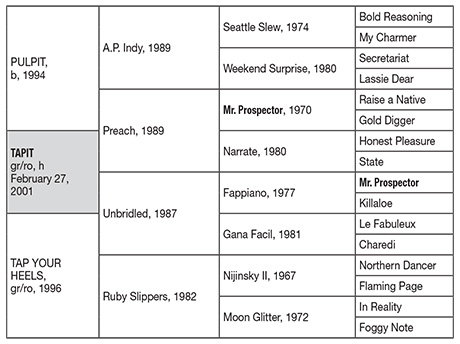 Keep in mind that Tapit is linebred to Northern Dancer's son Nijinsky II, so he's working well with a strain that reinforces behind his inbreeding. Tapitsfly's dam has a third strain of Nijinsky II, as do the dams of Laragh, Zazu, and her brother Flashback.
Champion Stardom Bound's pedigree takes another tack, being out of a mare by Tarr Road, an obscure sire with a unique hook. Tarr Road was by Grey Dawn II, out of Pure Reason, a daughter of Chieftain out of Reason to Earn. This makes Pure Reason a half sister to Bold Reasoning (by another son of Bold Ruler, out of Reason to Earn), the sire of Seattle Slew, who is the great-grandsire of Tapit. Stardom Bound's second dam is by Marfa, with a cross of What a Pleasure, also found in Pulpit. Her third dam is by Raise a Native.
Without adding a third strain of Mr. Prospector, this cross of Raise a Native reinforces behind that inbreeding, and there are non-Mr. Prospector crosses of Raise a Native elsewhere in the dams of nine of Tapit's graded winners, although not in their male line. On the other hand, five graded stakes winners are out of Mr. Prospector-line mares, but this cross hasn't produced as many graded runners as the Northern Dancer-line mares. That's to be expected, as inbred horses tend to do better with crosses away from their own close inbreeding.
Tapit has had some success with inbreeding to his male-line ancestor Seattle Slew, found in the pedigrees of Headache, Concord Point, and Touching Beauty. Concord Point has a particularly intricate background, with doubles of Seattle Slew, In Reality, and Foggy Note, the latter two coming through Relaunch, a full brother to Tapit's third dam, Moon Glitter.
Tapit has also worked well with Wild Again, the broodmare sire of Joyful Victory and War Echo, and in the second dam of Tapizar, winner of last year's Breeders' Cup Dirt Mile (gr. I). Wild Again is from the Nearctic male line, so a nice hook into Tapit's Nijinsky II/Northern Dancer strains.
Overall, Tapit seems to be a horse who works well with mares that play on his own genetic strengths. Fortunately, he keys off bloodlines that are strong in the American gene pool, which is probably the secret to his success.