April 20, 1994: a 3-year-old filly named Miss Gibson County is placed first after a runner-up finish in the Prima Donna Stakes at Oaklawn Park. This fortuitous victory comes through the disqualification of Dances With Quack, whose overambitious rally while bearing out costs her the victory. Winding up in the winner's circle are Miss Gibson County's owner, Mike Pegram, and trainer—a brash young man with a shock of prematurely white hair and a California cowboy swagger. This is Bob Baffert's first Oaklawn stakes win.
"We walked out of there laughing," Pegram recalled. "I know we ran a good race but we were clearly second-best that day. It was just kind of a gift that was dropped down to us. I remember driving back to Little Rock to fly out of there thinking, 'This is our lucky place,' and 19 years later it's still our lucky place."
Nearly two decades later, Baffert's reputation among the locals at this oval in Hot Springs, Ark. is that of a bandit, a phenomenon, and one you can't afford to bet against. Selectively shipping in from his West Coast home base with a remarkable 59% win rate, he has captured 17 of 29 starts—including 16 stakes wins—most recently the Southwest Stakes (gr. III) with Super Ninety Nine (for video replay, click here).
Baffert, now a Hall of Fame member, has dominated the 3-year-old preps at Oaklawn, where he has won six of the past nine races including the 2012 Arkansas Derby (gr. I) with Bodemeister and the 2010 Rebel Stakes (gr. II) with Pegram and partners' Lookin At Lucky . Bodemeister went on to finish second in the 2012 Kentucky Derby Presented by Yum! Brands (gr. I) and in the Preakness Stakes (gr. I). Lookin At Lucky eventually won the 2010 Preakness, Haskell Invitational (gr. I), and Indiana Derby (gr. II) to wrap up that season as champion 3-year-old male. This weekend, Baffert has Super Ninety Nine and Den's Legacy in the $600,000 Rebel Stakes (gr. II, full preview here).
But how does he do it? Which types of horses excel over Oaklawn's old-school loam? What is it about the Arkansas oval that fits so well with Baffert's program—specifically his methods of preparing a contender for success along the Triple Crown trail? For the answers to those questions (and a few more), we went to the expert himself.
"We've had good luck at Oaklawn but a lot of it is because I've sent my best horses there," Baffert said. "Our record the last few years is just because I've sent some really good horses there; I've always gone with a pretty loaded gun. I usually don't ship unless I have a really good horse because it's so expensive and everything, but it's a short ship and I also ship to separate them a little bit. I try to fit the horses with the track they're going to."
"Bobby doesn't put a horse on an airplane unless it's going to fire its best shot," Pegram added. "They may get outrun, they may get in trouble, but he's a good handicapper and knows who he's running against, where the horse fits, where the style of the horse is best suited toward running."
Baffert said Oaklawn's high purses used to be a big attraction for his owners on the road to the Kentucky Derby Presented by Yum! Brands (gr. I), when the top 20 horses with the most graded stakes earnings comprised the Derby field. With this year's qualifying points system, money isn't as big of an issue—but it's still a big goal to make a lot when you send a horse to run somewhere, and with the Hot Springs oval budgeting a record $20 million in purses for its 56-date meet this year, there's a record $5.7 million stakes program available. The upcoming Rebel Stakes (gr. II) is worth $600,000; it was $500,000 in 2012 when Baffert won it with Secret Circle .
"They have big pots and run for a lot of money," the trainer remarked. "Their track is also very kind; it's a nice surface whether it rains or it's dry. I'd rather run them there than at a very gimmicky racetrack with short turns and a long lane."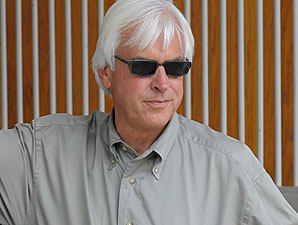 Photo: Anne M. Eberhardt
Trainer Bob Baffert
Baffert himself last traveled to Arkansas with Rebel Stakes (gr. I) winner The Factor for the 2011 Arkansas Derby (gr. I). The gray son of War Chant displaced his palate when fading to seventh as the 4-5 favorite and required surgery to correct the issue, missing the rest of the Triple Crown trail. Assistant trainer Jim Barnes was the one who brought Bodemeister to Oaklawn last spring for a 9 1/2-length romp and a 108 Beyer speed figure in the $1 million Arkansas Derby (watch replay here).
"Jimmy's got that being on the road thing down," Baffert said.
Races like Bodemeister's speed show and the 11 1/4-length romp of Super Ninety Nine in the Southwest are not the final goal for Baffert's trainees. These events are, after all, just preps for the big dance. But with nine victories in Triple Crown races including three Kentucky Derby wins, Baffert knows how to make the trek with a runner while leaving plenty in the tank for the first Saturday in May. The actual performances... well, those are up to the contenders.
"With Super Ninety Nine, it was the same thing as with Bodemeister; I knew he was going to run well, but I didn't know he was going to run like that," Baffert said.