"Event of the Year looked like a middleweight boxer, muscle from head to toe. And he did everything so easily, just an effortless stride." — Rick Taylor
Knowing their sport is an unforgiving one, racing fans reserve a special place in their hearts for the talented horse denied opportunity because of injury or circumstance. Of those who crowd Turfway Park March 23 hoping to see an emerging Triple Crown star in the Horseshoe Casino Cincinnati Spiral Stakes (gr. III), a few surely will recall a spectacular victory 15 years ago by Event of the Year, an undefeated son of Seattle Slew.

Delivered with a promise of more to come, his win came on the strangest weekend in the history of Turfway's top Kentucky Derby (gr. I) prep race (see this year's full preview here).
Longtime Turfway announcer Mike Battaglia will never forget the performance, as Event of the Year waltzed to a five-length score in the Spiral (then called the Jim Beam Stakes).
"He may be as good as any horse I've ever seen run at Turfway," Battaglia said. "I think he would have won the Derby. I was crazy about him."
Based in Northern California with the eventual Racing Hall of Fame connections of trainer Jerry Hollendorfer and jockey Russell Baze, Golden Eagle Farm homebred Event of the Year arrived at Turfway with a perfect 3-for-3 record following a convincing win in the El Camino Real Derby (gr. III). Fans couldn't help but think of the prospect of Event of the Year, who had a head that mirrored Seattle Slew, entering the Derby with the same number of losses—0—as his Triple Crown-winning father.
Golden Eagle is the famed racing and breeding operation founded by late couple John and Betty Mabee. Their former racing manager Rick Taylor can still recall John Mabee's excitement as Event of the Year passed each test on the path to the Derby.
"He was just thrilled that spring," Taylor recalled. "Event of the Year looked like a middleweight boxer, muscle from head to toe. And he did everything so easily, just an effortless stride."
In his first start away from Northern California, Event of the Year would display that grace, appearing fully within himself when launching a move entering the far turn that would overwhelm his Spiral rivals. That effortless performance convinced fans the Seattle Slew colt would soon join the list of previous Spiral winners to secure classic glory: Hansel, Summer Squall, Lil E. Tee, and Prairie Bayou.
Taylor can still hear the shouts and feel the joy that flowed from the 60 Golden Eagle Farm employees who gathered at his house to watch that Jim Beam. They knew that the most graceful of winning efforts followed a bumpy early career.
While John Mabee had been in what Taylor called "a selling mood" in the late 1990s, Event of the Year was not offered as a yearling because a cataract limited his vision in one eye to shadows and it was believed the issue would prevent a fair auction price. But thanks to surgery performed by Southern California veterinarian and ophthalmologist Alan McMillan, that vision would be restored to 90%.
As a juvenile, Event of the Year breezed for the Barretts March sale of selected 2-year-olds in training. Taylor said he completed a furlong in :10.1 and galloped out in :34 flat, but the colt was withdrawn when a knee issue flared up. That injury, minor at the time, would ensure Event of the Year would race with Golden Eagle.
"I remember after the sale Jerry Hollendorfer asking what had happened to him," Taylor said. "He said he was the best horse he saw at the sale and would love to train a horse like that someday."
Golden Eagle would grant Hollendorfer his wish.
"Jerry's one of the greatest horsemen I've ever seen in my life and he's particularly good with horses with little issues," Taylor said, noting that at that time, a spur in a hock was a bigger concern than the knee.
On Jim Beam day, the connections faced an odd circumstance. On the Saturday the Jim Beam was to be run, a morning wind storm knocked over poles that supplied the track's main power line. Turfway officials scrambled to make a decision regarding the day's card. Fans and horsemen expected to race that day, but welcoming a crowd expected to surpass 20,000 to a track without power would have created many problems. Also, the track near Cincinnati would not have been able to send out its simulcast signal. Turfway officials postponed their biggest race for one day to Sunday, March 29.
"It was weird," Battaglia said. "The wind was just so heavy it blew the pole down. There was no way we could run, we had to cancel."
Almost cruelly, a morning that had brought severe winds gave way to a spectacular day with temperatures in the high 70s. That coveted March sunshine would fall on an empty Turfway Park.
The schedule change resulted in Taylor leaving Northern Kentucky to return to Ramona, California while the Mabees extended their hotel room a night.
"John called me that evening and said the horse just looked great," Taylor said. "Of course on the other hand, Jerry, who never overlooks a thing, was a nervous wreck. He didn't like the delay one bit."
Turfway officials regrouped, working long hours to allow the race to be run the next day. Event of the Year would handle the delay in stride, living up to his name. Entered off that 3 1/2-length score in the El Camino Real Derby at Bay Meadows, the Seattle Slew colt raced fourth through a half-mile in :45.39, then unleashed his winning move in the far turn of the 1 1/8-mile race. He finished in 1:47.12, missing Hansel's track record by just 0.42 seconds.
"Nobody wanted to cancel Saturday but all of a sudden, we had no choice," Battaglia said. "We had no power and there was no way we were going to get it back. It was just craziness all around. Then to have a horse that good—Wow! It didn't affect him and it didn't affect the race. That was one of the best."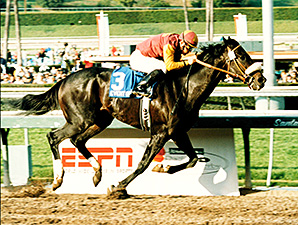 Photo: Benoit Photography
Event of the Year winning the Strub Stakes.
Fans in Northern Kentucky and the Cincinnati area often adopt the Spiral winner as "their Derby horse," and superstitious fans aware of Cincinnati's pattern of odd weather as a sports-greatness harbinger began Derby dreaming. After all, the Cincinnati Reds ended a 35-year drought by winning the 1975 World Series only after rain delayed and forced three days of postponements. The Cincinnati Bengals won their first AFC title in a 1982 game that featured wind chills of -59 degrees.
Alas, the Event of the Year story would prove to be another kind of sports story, the story of Barbaro, Gale Sayers, and the fictional Roy Hobbs. For Cincinnati area sports fans, it's like the injuries to All-Pro defensive tackle Tim Krumrie in the first quarter of a close 1989 Super Bowl loss to the 49ers, and to college basketball player of the year Kenyon Martin just days before his Cincinnati Bearcats started the 2000 NCAA Tournament.
While training at Churchill Downs just a week before the Derby, Event of the Year suffered a right knee injury. He would miss out on his Run for the Roses.
"John called me to say that he had worked and everyone said it was the best workout anyone had seen at Churchill," Taylor said. "Ten minutes later he called to say the colt was limping. John was just devastated."
Like many horses and athletes denied their big day, Event of the Year still had enough class to give fans something to remember. He would return to racing late in his 3-year-old season. At 4, he would win the Strub Stakes (gr. II) and place second in the Santa Anita Handicap (gr. I).
So like Roy Hobbs with the New York Knights, Event of the Year had his comeback even though many longed for more spectacular, injury-free days.
"It was just one of those freak things," Battaglia said of Event of the Year's injury. "It hit the wrong day, that's all. He was so good at the time. He was one of those horses that was coming together at the exact right time and that's what you have to do to win the Derby."
Editor's note: Word recently came to the Blood-Horse that Event of the Year died of colic complications in Venezuela, where he had been standing. His obituary proved to be one of the most-read stories of the week, an impressive amount of interest for a horse who never won a Triple Crown race or grade I event and didn't deliver a particularly successful stallion career.