(Originally from the March 16, 2013 issue of The Blood-Horse)

by John P. Sparkman
The engine of profit and success as a breeder for Carl Icahn's Foxfield was always stallion interests. Top stallions Crafty Prospector, Gulch, Deputy Minister, and his son Silver Deputy owed much of their success to the support of Foxfield; and Foxfield's general manager Rob Whiteley followed a similar, if less cash-intensive, plan with his Liberation Farm after Icahn ended his Thoroughbred operation in 2005.

Whiteley's arrangement with Richard and Audrey Haisfield's Stonewall Farm to support their young stallion Medaglia d'Oro resulted in grade I winner Champagne d'Oro (out of Champagne Glow, by Saratoga Six), grade II winner Vision in Gold (Corporate Vision, by Corporate Report), grade III winner Super Espresso (Amizette, by Forty Niner), and, indirectly, recent Palm Beach Stakes (gr. IIIT) winner Rydilluc.

Rydilluc's dam, Swift and Classy, by Clever Trick, was bred by Foxfield in 1991 and sold for $100,000 to Walter Bindner at the 1993 Fasig-Tipton Florida February 2-year-old sale. Swift and Classy won all three of her starts at 2 and 3 by open lengths, culminating in a 2 1⁄2-length score over champion Heavenly Prize in the six-furlong What a Summer Stakes at Gulfstream Park.

By the time Liberation Farm and Stonewall Farm paid $75,000 for Swift and Classy (in foal to El Prado) at the 2006 Keeneland November breeding stock sale, she had produced stakes-placed runners Whambam, by Lite the Fuse; and Dangerous Guy, by Awesome Again , from eight foals of racing age. Her then 2-year-old Gold Wonder, by Golden Missile, subsequently won stakes.

By 2009 both Liberation and Stonewall were feeling the effects of the crash in bloodstock prices and they sold Swift and Classy, in foal to Medaglia d'Oro, for $100,000 at Keeneland November to Hill 'n' Dale Bloodstock. Thus Hill 'n' Dale, which stood Medaglia d'Oro for his first season at stud in 2005, became the breeder of Rydilluc, in partnership with Gaines-Gentry Thoroughbreds.

Rydilluc is from the last crop by Medaglia d'Oro conceived at Stonewall Farm before the Haisfields sold their majority interest in the horse to Sheikh Mohammed in June 2009.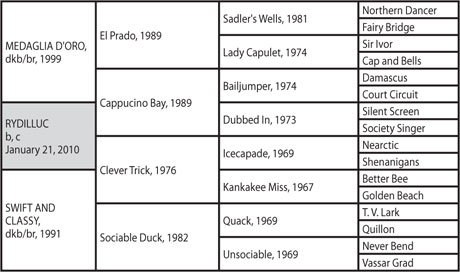 At the time of his sale to Darley, Medaglia d'Oro was the hottest young stallion in America. His brilliant daughter Rachel Alexandra (Lotta Kim, by Roar) had beaten colts in the Preakness Stakes (gr. I) two weeks previously, the day after another daughter, Payton d'Oro (Jealous and Jaded, by Jade Hunter) had won the Black-Eyed Susan Stakes (gr. II) at Pimlico.

Medaglia d'Oro has continued to build on his early success. Rachel Alexandra, who earned 2009 Horse of the Year honors, was the first of 10 grade or group I winners, led by Plum Pretty (Liszy, by A.P. Indy), who duplicated Rachel Alexandra's 2009 Kentucky Oaks (gr. I) victory in 2011, and 2012 grade I winners Marketing Mix (Instant Thought, by Kris S.) and Violence (Violent Beauty, by Gone West). Violence, once a top candidate on the Triple Crown trail, has been sidelined with a fractured sesamoid. With his more expensively bred crops conceived at Darley yet to reach the races, Medaglia d'Oro is sire of 40 stakes winners from 608 foals age 3 and up (6.5%).

With grade/group I winners on dirt, turf, and synthetic, Medaglia d'Oro sires progeny noted for their versatility, but Medaglia d'Oro himself raced only on dirt. Bred in Kentucky by Joyce and Albert Bell, Medaglia d'Oro was from the sixth crop of El Prado, a son of 15-time leading English sire Sadler's Wells.

By the time Medaglia d'Oro came along, however, El Prado was busily earning a reputation as a versatile sire of both dirt and turf runners. Medaglia d'Oro was his first U.S. grade I winner, a number that eventually grew to 11 as El Prado capitalized on the opportunities his persistent success afforded him at Adena Springs.

Second in his only start at 2, Medaglia d'Oro won his first start at 3 in Joyce Bell's silks but then was sold privately to Edmund Gann and transferred to trainer Bobby Frankel. Medaglia d'Oro immediately won the San Felipe Stakes (gr. II) but was beaten a head by Buddha in the Wood Memorial Stakes (gr. I). Fourth after a troubled trip in the Kentucky Derby (gr. I), Medaglia d'Oro threw in the only bad race of his career in the Preakness, finishing a well-beaten eighth behind War Emblem.

Medaglia d'Oro never again finished worse than second in 11 more starts over the next two years, winning six. Second, beaten a half-length by Sarava in the Belmont Stakes (gr. I), he then won the Jim Dandy (gr. II) and Travers (gr. I) stakes at Saratoga, but ran second to Volponi in the Breeders' Cup Classic (gr. I).

Medaglia d'Oro looked like the best horse in the country for the first half of his 4-year-old season, winning the Strub Stakes (gr. II) and Oaklawn (gr. II) and Whitney (gr. I) handicaps, but Candy Ride dismissed him in the Pacific Classic (gr. I) by 3 1⁄4 lengths, and he could not hold off Pleasantly Perfect in the Breeders' Cup Classic, finishing second again.

Medaglia d'Oro raced only twice at 5, winning the Donn Handicap (gr. I), but he and Pleasantly Perfect reproduced their form to the pound in the Emirates Airline Dubai World Cup (UAE-I), with Pleasantly Perfect winning by three-quarters of a length.

A beautiful physical specimen, Medaglia d'Oro also had a race record and conformation that were attractive to breeders when he retired to Hill 'n' Dale, but his pedigree was less encouraging. His dam, Cappucino Bay, was a minor stakes winner, but her sire, Bailjumper, by Damascus, was unfashionable, and there was little encouragement along the female line. Medaglia d'Oro's stud success has erased those doubts, and Cappucino Bay has since provided further evidence of her quality by producing Noble Damsel Stakes (gr. IIIT) winner Naples Bay, by Giant's Causeway .

If Rydilluc proves worthy of a place at stud, his pedigree will not face similar scrutiny. Swift and Classy is a half sister to stakes winner Seducer, by Housebuster, dam of grade III winner Seducer's Song, by Unbridled's Song, and to Silvery Swan, by Silver Deputy, dam of grade I winners and sires Roman Ruler, by Fusaichi Pegasus ; and El Corredor, by Mr. Greeley.

Both those horses were bred by Whiteley's Liberation Farm and partners. Sadly, Whiteley, too is now out of the breeding business, but it will be no surprise if more good ones come from the horses sold at his liquidation sale last fall.