In his second-to-last prep race before the Triple Crown, Affirmed won the Santa Anita Derby (gr. I) by eight lengths. In a vastly different approach compared with today's handling of top young horses, that Santa Anita Derby victory followed an allowance race win, a handicap victory, and a juvenile season in which he won seven of nine starts.

If all goes as planned, this year's Santa Anita Derby (gr. I) winner will ship to Churchill Downs to begin preparations for the Kentucky Derby Presented by Yum! Brands (gr. I)—but the most recent Triple Crown winner took a much different path.

Jockeys Steve Cauthen, who as a teen would guide Affirmed to victory in the three Triple Crown races, and Laffit Pincay Jr., who was already in the Racing Hall of Fame when he rode the Exclusive Native colt to an eight-length score in the Santa Anita Derby, recently discussed that magical spring 35 years ago. The two riders noted how horses are handled differently today, but stopped short of blaming the Triple Crown drought on those changes.

Last year I'll Have Another took today's accepted approach. After winning the Santa Anita Derby, the Flower Alley colt trained for four weeks up to his Kentucky Derby victory. He followed that Derby win with a Preakness Stakes (gr. I) triumph before an injury prevented him from starting in the Belmont Stakes (gr. I). This year's Santa Anita Derby winner is a lock to take a similar path of training for four weeks up to the 1 1/4-mile Louisville classic (for a preview of the upcoming April 6 Santa Anita Derby, click here)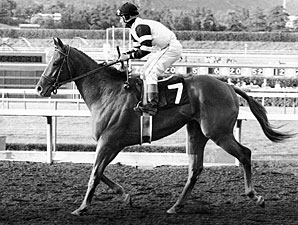 Photo: Santa Anita
Affirmed after the Santa Anita Derby.
Affirmed prepped in the Santa Anita Derby with a spectacular victory but his Triple Crown preparations would not end with that 1 1/8-mile score, held five weeks before the Derby that year. Affirmed returned two weeks later to win the 1 1/8-mile Hollywood Derby (gr. I) at Hollywood Park.

In all, Affirmed raced in four prep races as a 3-year-old before the Triple Crown. He won a March 8 allowance race at Santa Anita Park before taking the March 18 San Felipe Handicap (gr. II), carrying 126 pounds, followed by his Santa Anita Derby win. That campaign followed a full juvenile season in which Affirmed won 7 of 9 starts to earn champion 2-year-old male honors.

His celebrated Triple Crown rival, Alydar, would start six times as a juvenile and race four times as a 3-year-old before the classics.

"It seems like trainers are afraid to run horses more than once a month or every five weeks," Cauthen said. "That seems to be the minimum that they want to run horses back. In Affirmed's day, he ran nine or ten times as a 2-year-old with his first juvenile race (May 24)."

I'll Have Another had just two Triple Crown prep races as a 3-year-old after a juvenile season in which he started three times. One of this year's top West Coast-based sophomores, Flashback , will make his third seasonal start and just his fourth start overall in the Santa Anita Derby.

Other top 3-year-olds this season include Orb , who won the Besilu Stables Florida Derby (gr. I) in his third start of 2013 after four juvenile efforts; Verrazano , who is scheduled to make his fourth start this season in the Wood Memorial Stakes (gr. I) but did not start as a 2-year-old; and Revolutionary , who will train up to the Derby for five weeks after winning the Louisiana Derby (gr. II)—just his second start this year following four juvenile races.

Today, horses typically do not debut until the summer or fall. Alydar made his first start June 15 and Affirmed started in May, but I'll Have Another made his first start in July, Orb in August, Revolutionary in September, and Verrazano didn't start until Jan. 1 this year.

"It was just a different time and a different way of thinking about getting horses ready," Cauthen said. "The horses seemed to be made to be a little tougher. I don't know if the way they do it now is better. But it's how most of the trainers think about it today. They prefer to come into each of these races with a fresh horse."

One horse who is a bit of a throwback this year is Florida Derby runner-up Itsmyluckyday . The Lawyer Ron colt started seven times as a juvenile, debuting on June 1. The Florida Derby was his third start this year. Pincay said that kind of experience helps young horses progress but riders have to make sure not to ask too much.

"When I rode a young horse, I would try to teach him to come from behind, get some dirt in his face, not to try to abuse him when he won easily," Pincay said. "You'd always want so save some more. A good horse, you take care of him."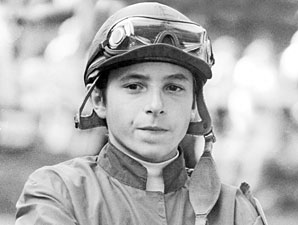 Photo: Blood-Horse Library
Steve Cauthen
Cauthen recalls Affirmed making steady progress as a young horse.

"On his progression, you could tell that he was well within himself," Cauthen said. "Everybody was making a big deal about us not winning our races by more than a length or two, other than the Santa Anita Derby when he won by eight. When I was riding him, he was winning by two or three lengths. But he was doing what he needed to do. He was going into the Derby in top form. The only thing I didn't know was that it appeared on the other coast that Alydar might have improved."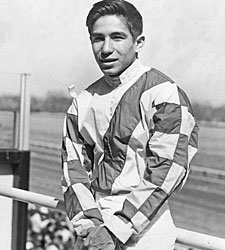 Photo: Jerry Frutkoff
Laffit Pincay Jr.
Pincay picked up the Santa Anita Derby mount because Cauthen had to serve a suspension for a riding infraction. While Cauthen rode Affirmed regularly as a juvenile, Pincay and Angel Cordero Jr. also rode the champion. Pincay said working Affirmed at Hollywood Park before their seven-length victory in the Hollywood Juvenile Championship Stakes (gr. II) sold him on the colt's greatness.

"I remember working him five furlongs and I thought he went in 1:01 and I was so surprised when they told me he went in :58 and change," Pincay said.

When trainer Laz Barrera had to replace Cauthen for the Santa Anita Derby, he could not decide between Pincay or Cordero and allowed a coin flip to decide. That toss went Pincay's way.

"I had to sit on the sidelines and I had to watch in pain," Cauthen said. But Cauthen would be back aboard in the Hollywood Derby when Affirmed defeated Think Snow by two lengths.

While Cauthen, who will be offering handicapping tips this season for Derby Experiences, recognizes the changes in training styles, he does not blame them for the 35-year run without a Triple Crown winner. He thought I'll Have Another had a great chance until the injury. He also said horses like Alysheba and more recently Big Brown seemed like horses who could've pulled it off.

Cauthen, who joined the racing Hall of Fame in 1994, said the biggest disappointment during the Triple Crown drought may be Point Given, who caught Cauthen's eye when he won the 2001 San Felipe and Santa Anita Derby by a combined 7 3/4 lengths.

"I thought he had a great chance of winning the Triple Crown," Cauthen said. "I went to the Kentucky Derby that year because I thought he had a chance to win the Triple Crown. But he ran fifth in the Derby. Then he easily beat those horses in the Preakness and the Belmont. For whatever reason, he just didn't show up at the Derby."

If anything, Cauthen believes more stamina in pedigrees may have provided horses from 35 to 40 years ago a better chance of winning the Triple Crown but he acknowledges that perhaps there is no reason. Perhaps the 1970s just saw a run of great horses.

"The 70s was a decade of just great horses and they were tough," Cauthen said. "Maybe back then there was still more stamina in the pedigrees. But the fact is they were just a special bunch of horse. ... It takes a special horse and you need everything to go right. You need good luck, good training."