"If horses could talk, what a job this would be," said one Gary Contessa, enjoying a bountiful breakfast in the Keeneland track kitchen. "I'd ask that sunofagun right now, 'Do you like that track as much as you like the grass?' And if he said yes, I would tell you he should be odds-on favorite, because I think my horse is better than all of those horses... but the Polytrack's an unknown."
Contessa was down from New York and in fine spirits after breezing Toyota Blue Grass (gr. I) contender Rydilluc over Keeneland's all-weather surface on a sunlit spring morning April 6. He talked the game of a horseman with great confidence in his runner, if not in the exact circumstances of his upcoming start, three days later at the April 10 post position draw. Rydilluc drew post 13 under Hall of Fame rider Edgar Prado, which made his trainer, who was born Oct. 13, happy since the race is on April 13, 2013.
The Blue Grass is worth $750,000 and 100 points to make the field for the Kentucky Derby Presented by Yum! Brands (gr. I), which means Polytrack or no Polytrack, and regardless of post positions, connections of all 14 contenders are dreaming of roses (full preview here).
Rydilluc is a sleek bay runner who has strung together three straight wins capped by a 3 1/2-length score over turf in the March 3 Palm Beach Stakes (gr. IIIT), these by a combined 13 3/4-length margin. Although his victories were all earned on the turf, Contessa finds something in this son of
Medaglia d'Oro
that tempts him to try the Triple Crown Trail via Lexington, a place that has been kind to him in the past.
In 1991, Contessa scored the first grade I win of his career when he sent out Do It With Style to take the Ashland Stakes at
Keeneland
.
"I haven't run a horse here, I'd say, in about four or five years, but every time I've come here I've done very well," the trainer said. "It's a great place for me; it's been a very good success. I haven't been here in awhile just because I haven't had the right horses. I don't want to come here with claiming horses or whatever. Had it not been for Rydilluc, we'd be talking in the
Belmont
track kitchen."
Rydilluc completed his major preparations for the Blue Grass by breezing through the Keeneland stretch the morning of April 11. With exercise rider Ricardo Orantes up, Keeneland clockers began timing the colt at the three-eighths pole for the move that produced fractions of :13, :24 3/5 and three furlongs in :37 2/5. Rydilluc galloped out a half-mile in :51 3/5.
"That was just a walk in the park for him," said Contessa, whose contender clocked seven-eighths in that April 6 breeze in 1:28 2/5 under Prado. "He will have an easy jog tomorrow morning and that will be it."
It is a well-known supposition that horses bred for turf often skip their way over synthetic surfaces, "often" being the operative word. Some horses, like 2012 Blue Grass winner
Dullahan
, make the transition and run well in the Derby (he finished third; 2011 Kentucky Derby winner
Animal Kingdom
won the grade III Vinery Spiral Stakes on Polytrack before taking the Run for the Roses). There is also the occasional dud, however, a contender who finds the artificial track tiring as quicksand or sticky as molasses. Here's the question—which one is Rydilluc?
"It's a real unknown, a real unknown for me," Contessa said, not at all hesitant to admit that if the horse runs up the track on Saturday, he'll be using a built-in excuse from the old trainer playbook. "If we were training up to a mile and an eighth race on the grass, I should be odds on favorite. But the Polytrack... I just can't say. I've looked at all the potential candidates for the race and think I'm as good as anybody—if I like the Poly as much as I like the turf."
Since arriving at Keeneland April 1, Rydilluc has been touting himself
Animal Kingdom
-style around the grounds of the Lexington oval (racing pundits could tell when the 2011 Derby winner was leading up to his greatest efforts, he just looked so good). Paddock schooling the morning before his breeze, the gleaming colt was accompanied by an entourage that included a groom on foot to lead him, Prado in the saddle, a stable pony ridden by an assistant at his side, and Contessa strolling along behind. Every few strides, Rydilluc let out a full-voiced whinny.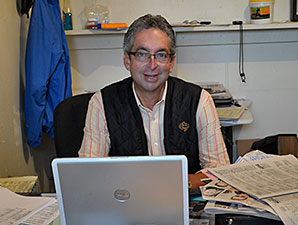 Photo: Claire Novak
Trainer Gary Contessa.
"He is a very vocal horse," Contessa said. "You are going to know that Rydilluc has entered the paddock when it happens. He screams at the top of his lungs, he carries on, he's difficult. He wants every horse in that race to know he is there and he is bad, and he is a bad hombre in the paddock."
There have been, shall we say, other signs of Rydilluc's "bad hombre" nature—put it this way, the horse would have no problem starting a stud career this afternoon. Testosterone-fueled misbehavior led to Rydilluc's only off-the-board finish, a fifth, on the dirt at
Belmont Park
.
"I forgive his first race on the dirt," Contessa said. "He lost his race in the paddock. I thought he was a cinch to win, and he never showed up. Second time out, we schooled the daylights out of him, and he was still bad in the paddock. Even in the Palm Beach, he was a case going into the paddock—but we were ready for him."
After the Palm Beach, Contessa started thinking of Derby prep races. His horse will need the 100 points the Blue Grass awards to the winner, or at least the 40 given to a runner-up, to make the Derby field.
"I pretty much laid down the groundwork with the owners," the trainer recalled. "I said, 'If we win the Palm Beach, guys, you might want to consider going to one of the big Poly races.' I was actually talking about the Spiral at the time, but after the Palm Beach I went to see him the next morning and he was a little bit down, so I didn't want to come back in 20 days. I said I'd rather take one shot at this and give him the five weeks and come back in the Blue Grass."
Rydilluc is owned by a group of nine overseen by managing partner Leonard Green. The horse's name is a combination of Ryan, Dillon, and Luke, names of a partner's family members. The colt was bred in Kentucky by Hill 'n' Dale Equine Holdings and Gaines-Gentry Thoroughbreds out of the stakes-winning Clever Trick mare Swift and Classy; he was a $55,000 yearling purchase by Secure Investments at the Keeneland September sale in 2011 before he RNA'ed for $90,000 at the Fasig-Tipton Florida March sale of 2-year-olds in training.
"At the sale, he flew a little bit under the radar, because he's a horse that wants to go a route of ground," said Contessa, who went to $150,000 for the colt at Fasig-Tipton's May Midlantic auction of 2-year-olds in training in 2012. "When you buy a 2-year-old, everybody's jumping all over those nine and fours, :10 flats. Gary Contessa buys the 10 and 3 who looks like he wants to go around the track again. I've made my successes buying horses that want to go long. Very rarely do you see a sprinter in my barn. If there's a sprinter in my barn, you know I screwed up.
"At the sale, I really liked him. I just loved the way he moved. His stride and his way of going always attracted me from the first time I saw him. He's definitely not your big, blocky linebacker; he's more of a wide receiver. I sent an e-mail to all my clients, 'OK guys, you want to buy the big horse? I think I found him.' One-by-one, this guy says 'I'll take 10%,' this guy says 'I'll take 20%,' the next guy says 'I'll take 5%,' I mean, we had 5% owners in this horse. It wound up being about 10 or 12 people to get this horse done, but I got him done, and I kept 10% for myself, too."
Contessa has been on the Derby trail before, but has never saddled a starter of his own for the big dance. He picked 2003 Blue Grass winner
Peace Rules
out of the Ocala Breeders Sales Co.'s select sale of 2-year-olds in training in 2002, but sold him to Edmund A. Gann and Hall of Fame trainer Bobby Frankel after three starts. Winning the Louisiana Derby (gr. II) by 2 1/4 lengths, Peace Rules took the Blue Grass by 3 1/2 before he finished third in the 2003 Kentucky Derby. Later that year, he won the Travers (gr. I).
"I could have been here with Peace Rules, but instead I chose to put two sons through college," Contessa said with a grin. "When I was with Stanley Hough, I was his assistant and we brought Reinvested down here. That was the year Gato Del Sol won the Derby (1982); we were third.
Contessa, 55, has saddled earners of $63.5 million and 2,008 winners since taking out his training license in 1985.
"That's what every trainer lives for, going to the Derby, and I would love to go. I'm not going to be dejected if this isn't the one... but it would be really nice," he said.