(Originally from the April 6, 2013 issue of The Blood-Horse)

by Anne Peters
Awesome Again is one of the most consistent sires of high-class runners in North America. He's represented by five stakes winners so far in 2013, including the outstanding older horse, Game On Dude, and classic contender Oxbow . His offspring have followed their sire's example, showing class at the highest level, and a fighting spirit bar none.

Homebred Awesome Again is a tribute to Frank Stronach's Adena Springs' breeding operation. Born in Ontario in 1994, he was the second foal out of the mare Primal Force, by Blushing Groom. Primal Force also produced 2000 champion 2-year-old male Macho Uno , and was named 2000 Kentucky Broodmare of the Year. Awesome Again's sire, Deputy Minister, was already established as a successful stallion, but this crop proved one of his best, with four grade I winners: Touch Gold, Awesome Again, Fabulously Fast, and Deputy Commander.

Awesome Again was unraced at 2, and broke his maiden in his second start at 3 in early June at Hollywood Park. Before the month was out, he had won the Queen's Plate in his third start, then added Saratoga's Jim Dandy Stakes (gr. II). He was third in the Travers Stakes (gr. I) behind Deputy Commander and Behrens, and then unplaced in the Super Derby (gr. I).

The Stronach colt returned at 4 and was undefeated in six starts for trainer Patrick Byrne, five of them in graded stakes ending with the Breeders' Cup Classic (gr. I). In that race Awesome Again defeated a cast considered one of the Breeders' Cup's best including Silver Charm, Swain, Victory Gallop, and Skip Away, who would be named that year's champion older male and Horse of the Year.

A tough and gifted performer up to 10 furlongs, Awesome Again retired to Adena Springs in Kentucky for the 1999 breeding season, and his first foals raced in 2002. Since then, he has helped carry Adena Springs to the title of leading breeder in North America by earnings for 10 straight years (2003-12) and five Eclipse Awards as outstanding breeder. Five of Awesome Again's grade I stakes winners were bred by Adena Springs, including Ghostzapper , Ginger Punch, Game On Dude, Spun Sugar, and Sugar Shake.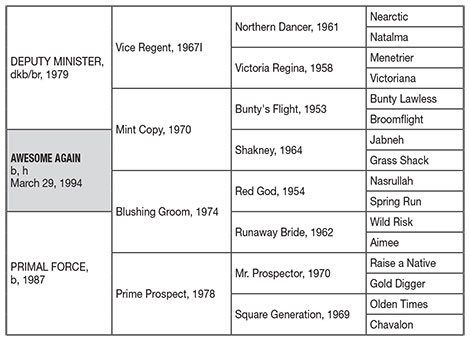 Few sires have put together such a résumé, with 52 stakes winners (6.2% stakes winners from foals; 3-year-olds and up), 29 graded winners, four Breeders' Cup winners, and two champions. His offspring tend to get better with age, and run on for years, such as Awesome Gem, who won a grade III as a 9-year-old, and his current star, 6-year-old Game On Dude. Most importantly, the Awesome Agains are in it to win.

Adena Springs manager Eric Hamelback recounted Ginger Punch's Breeders' Cup Distaff (gr. I) victory, during which the chestnut filly was bounced off stride down the stretch; and her own sire's recovery from colic surgery in 2011. "They fight through it. Their will to fight is unbelievable."

Awesome Again's stakes winners have come through 45 different broodmare sires, but no single bloodline steps forward as a truly dominating nick. He crosses with a little bit of everything.

Mares from the In Reality line have produced the most, with seven stakes winners. The best is 2004 Horse of the Year Ghostzapper, out of Baby Zip by Relaunch, by In Reality, (herself a Broodmare of the Year). Three more are out of mares by Relaunch's son Cee's Tizzy, all, coincidentally or not, full sisters to Tiznow : Tizso (the dam of Paynter , gr. I) and Tizamazing (the dam of Oxbow, gr. III, and Awesome Patriot ). Two are out of Known Fact mares (Awesome Action, Awesome I Am), and one is out of a mare by Kyle's Our Man (Awesome Alexandra), a son of In Reality.

According to Hamelback, Ghostzapper's dam, Baby Zip, is a very big, strong mare, and as Relaunch was bigger than the average In Reality, and likewise Cee's Tizzy, this could be a key. Awesome Again's progeny are sometimes knocked at the sales for not being big, eye-catching types, so it makes sense that he could benefit from mares that add size.

Awesome Again's other good crosses suggest the same thing. He has six stakes winners with Hail to Reason-line mares. Game On Dude is out of a mare by Devil His Due (by Devil's Bag), and Golden Mystery (gr. III) is out of a mare by Saint Ballado, a full brother to Devil's Bag, by Halo. Four stakes winners are from Roberto-line mares: Awesomemundo(gr. III), Jennie R., Awesome Bet, and Extra Exclusive.

Remarkably, these "best crosses" account for only six of his graded stakes winners. They don't include horses such as champion Ginger Punch, out of a mare by Bold Revenue; or grade I winners Awesome Gem, out of a mare by Pentelicus; or Wilko, out of a mare by Indian Ridge, for example.

In fact, even with Northern Dancer, Blushing Groom, and Mr. Prospector close up in his pedigree, the majority of his stakes winners are outcrosses at four generations. Only nine of his 52 stakes winners are inbred to Northern Dancer, seven are inbred to Mr. Prospector, and one is inbred to the mare Square Generation, his stakes-winning third dam. All the rest are outcrosses.

Without the help of high-end, fashionably connected broodmares, Awesome Again has just been doing a lot of this himself. What it may boil down to is simply Awesome Again's fighting spirit, which he passes on so generously. No breeding formula can beat a horse's will to win, but then again, isn't the will to win what breeding Thoroughbreds is all about?