(Originally from the April 13, 2013 issue of The Blood-Horse)
by John P. Sparkman
The overwhelming victory of Dreaming of Julia in the Gulfstream Oaks (gr. II) on March 30 provides an opportunity for what could be a final homage to the incredible career of her sire, A.P. Indy. Dreaming of Julia is one of 39 foals in A.P. Indy's current crop of 3-year-olds; only 36 foals are in A.P. Indy's final crop, current 2-year-olds.

Dreaming of Julia, winner of the Frizette Stakes (gr. I) last year, is the only stakes winner so far among A.P. Indy's 17th crop, but she is one of 148 stakes winners from 1,188 foals age 3 and up sired by the two-time leading sire. That 12.5% stakes winners to foals ratio is the best among contemporary American stallions of the big book era, a status that hints at A.P. Indy's unique role in the history of the modern American Thoroughbred.

In just about every way possible, A.P. Indy has been the ideal Thoroughbred of the international era of American racing and breeding. His pedigree is as good as it gets. His sire, Seattle Slew, has to be rated as no worse than the second best racehorse (to Secretariat) of the greatest decade of American racing, the 1970s, and he led the American sire list in 1984 when his son Swale won the Kentucky Derby (gr. I) and Belmont Stakes (gr. I) and his son Slew o' Gold was champion older horse.

Bred by William S. Farish of Lane's End and partner William S. Kilroy, A.P. Indy arrived at the 1990 Keeneland July sale of selected yearlings about two months after his half brother Summer Squall, by Storm Bird, had won the Preakness Stakes (gr. I), and the rest of his catalog page was just as impressive. His dam, Weekend Surprise, by Secretariat, was a multiple grade III winner who ran second in the La Canada Stakes (gr. I). She was a half sister to stakes winner Spectacular Spy, by Spectacular Bid, and stakes-placed stakes producer Lassie's Lady, by Alydar. That was about all the catalog page had room for, but there was much, much more, including top-class runners Plugged Nickle, Christiecat, Iron Ruler, Sauce Boat, and leading sire Raja Baba off the page in the family descending from A.P. Indy's fifth dam Uvira II, by Umidwar. The family has only gotten better since with Lemon Drop Kid , Duke of Marmalade, Court Vision , and Wolfhound.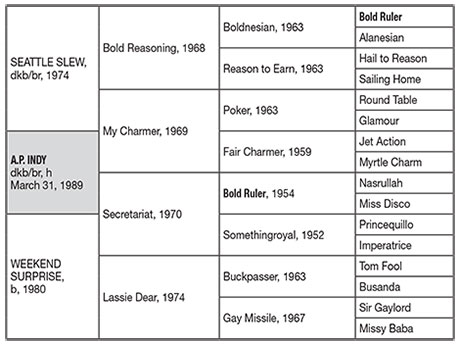 When yearling inspectors saw A.P. Indy was a near-perfect physical specimen (he walked a tad wide in front), it was obvious he would top the sale, and agent Noel O'Callaghan, representing Japanese businessman Tomonori Tsurumaki, outbid D. Wayne Lukas for the colt at $2.9 million.

Tsurumaki sent A.P. Indy to trainer Neil Drysdale in California, and he made his first start a little over a year later as the 2-1 favorite in a six-furlong maiden race at Del Mar. He finished a disappointing fourth, leading Drysdale to decide an undescended testicle was causing discomfort, and it was removed.

A.P. Indy rewarded the decision by winning seven races in succession, the third of those ending his juvenile year with a win in the Hollywood Futurity (gr. I). That seven-race winning sequence did not include the Kentucky Derby, but did include a Belmont Stakes. Given a break after the Belmont, he ran a dull race in the Molson Export Million Stakes (Can-II) at Woodbine, then stumbled at the start of the Jockey Club Gold Cup (gr. I) before a belated rally for third. A.P. Indy was back to his best for the Breeders' Cup Classic (gr. I) and closed his racing career with a comfortable two-length win over Gold Cup winner and champion older horse Pleasant Tap. A.P. Indy earned $2,979,815, making him the first top-priced yearling of his year to earn his purchase price since Majestic Prince.

A.P. Indy retired to Lane's End in 1993, and his success was immediate. Although he failed to win a grade I due to unsoundness and the vagaries of the American graded race system, Pulpit (out of Preach, by Mr. Prospector) was the best of his first crop, winning four of six starts including the 1997 Toyota Blue Grass Stakes (gr. II), a race then long overdue for grade I status.

As shown in the accompanying table, Pulpit has also been a highly successful stallion, ensuring the survival of his sire's line through his son Tapit , who is now well established as one of the top five sires in America. Pulpit's sons Essence of Dubai, Sightseeing, and Sky Mesa have also sired grade I winners, but have not yet matched the extraordinary record of Tapit, who has 12 grade I winners among his 40 stakes winners.

A.P. Indy has sired 29 grade I winners, and all but Symboli Indy won their top-level races in North America. That is the one blemish, if one wishes to call it that, on A.P. Indy's record as a stallion. Despite several opportunities A.P. Indy failed to sire major winners on European turf, an anomaly that eventually led to his being categorized—and dismissed by purely European owners—as a "dirt sire."

This judgment, of course ignored the undeniable fact that 18 of his 86 graded stakes winners and four of those 29 grade I winners earned graded brackets on grass. But while it is true that A.P. Indy was perfectly capable of siring good grass horses, his very best offspring, including champions Bernardini , Mineshaft , Rags to Riches, and Tempera were at their best on dirt.

That bias is also visible in the performance of A.P. Indy's sons at stud. Among his 24 sons that have sired grade I or group I winners to date, only Camden Park in South Africa, P. T. Indy in Brazil, and Bernardini in New Zealand have accomplished that feat in countries where the primary racing surface is grass. (While still a relatively small percentage, sons of A.P. Indy have sired group I turf winners in Chile, Peru, and Argentina.)

Of course, in the information age, such apparent biases quickly segue into the realm of self-fulfilling prophecy, and, in truth, few sons of A.P. Indy are now given opportunities in turf racing countries. That is why Bernardini's immediate success with group I and group III winners in his first crop in Europe so quickly propelled him to the top of the list of America's commercial stallions. Bernardini's brilliant juvenile daughter Ruud Awakening is currently perhaps expanding the horizon of the A.P. Indy male line in the Antipodes.

A.P. Indy's grandson Tapit has also shown minimal surface bias, and it is likely only a matter of time before he sires a top runner in Europe that could give A.P. Indy's male line a foothold there.

Such an achievement would check the very last box remaining on the list of the most coveted, prestigious accomplishments available for the contemporary Thoroughbred. Championship pedigree: check. Yearling sale-topper: check. Juvenile grade I winner: check. Classic winner and Horse of the Year: check. Leading sire: check. International sire-line founder: check.

If A.P. Indy is not what every contemporary breeder is aiming for, then we are doing something wrong.