A notable feature of this year's road to the Triple Crown is the almost unprecedented depth of trainer Todd Pletcher's 3-year-old team. Indeed, even after losing the highly-promising Violence to injury early in the season, Pletcher was represented by five starters on Derby Day, including Verrazano , Revolutionary , and Overanalyze , all of whom were coming off victories in major classic trials. The point, however, was hammered home during the final weekend of April when two Pletcher trainees that have been off the Derby trail for some time—Forty Tales and Capo Bastone —ran first and second in the Derby Trial Stakes (gr. III).
Over the years, and despite its name, the Derby Trial—the lone classic prep actually run at Churchill Downs—has become largely irrelevant to the great day. It's more than 50 years since a horse has won the Derby Trial, then returned to triumph in the Kentucky Derby itself. The horse in question was Tim Tam, who achieved the feat in 1958, when the Trial was on the Tuesday before the Derby. The double had been achieved previously by Dark Star (1953), Hill Gail (1952), Citation (1948), and Black Gold (who took the inaugural running in 1924). Other Derby winners, including Iron Liege (whose victims in the 1957 Run For the Roses included Bold Ruler, Round Table, and Gallant Man), and Triple Crown winners Assault (1946) and Whirlaway (1941), were beaten in the Derby Trial just days before their classic triumphs.
The Derby Trial was moved from Tuesday to the Saturday before the Derby in 1982, but that has made little difference to the picture. Still, winners of the race include a number of horses who went on to prove themselves high-class performers. The most notable include a pair of Belmont Stakes (gr. I) heroes in Caveat (1983) and Crème Fraiche (1985), and at the other end of the aptitude spectrum, two champion sprinters in Housebuster (1990) and Cherokee Run (1993). Other Derby Trial winners who went on to become grade I scorers include Alydeed (1992), Peaks and Valleys (1995), Richter Scale (1997), Midas Eyes (2003), and Macho Again (2008)—and last year Paynter , who ran second to Hierro, came close to taking the Belmont Stakes before capturing the Haskell Invitational Stakes (gr. I), so it's often worth keeping an eye on the winner with a view to the future.
It's possible this year's runner-up, Capo Bastone, will bid for classic glory, but if Forty Tales is to achieve further fame it is far more likely that it will be in emulating Housebuster, Cherokee Run, Richter Scale, and Midas Eyes, all of whom made their names as sprinters, rather than using the race as a stepping stone to the Preakness or Belmont. Forty Tales went two-for-two to start his racing career, taking a six-furlong juvenile maiden special weight at Aqueduct by 2 3/4 lengths, then adding an allowance over the same trip at Parx to start his sophomore campaign. He lost his unbeaten record in February, falling a half-length short of catching Honorable Dillon in the Hutcheson Stakes (gr. II), and in his only other start prior to the Derby Trial finished fifth, beaten 3 1/4 lengths, in the Swale Stakes (gr. III).
Forty Tales' sire, Tale of the Cat , won at as far as 8 1/2 furlongs and was runner-up to Awesome Again in the nine-furlong Whitney Handicap (gr. I), but as a runner, he's best remembered for his breathtaking victory in the seven-furlong King's Bishop Stakes (gr. II) . One of the most consistent stallion sons of Storm Cat, Tale of the Cat has been represented by 69 Northern Hemisphere stakes winners from his first 11 crops. Tale of the Cat tends to be associated with speed and precocity—he was leading sire of 2-year-olds in 2003—but his top runner, the three-time Eclipse Award winer Gio Ponti , won at as far as 11 furlongs, at which trip he captured two renewals of the Man o' War Stakes (gr. IT); and his other U.S. grade I-winning sons are Tale of Ekati , who was successful in the Wood Memorial Stakes (gr. I) at nine furlongs in, and Lion Heart, who took second to Smarty Jones in the 2004 Kentucky Derby in addition to juvenile and sophomore grade I wins.
Forty Tales' dam, Forty Love, also fit the speedy and precocious mold. She won over six and seven furlongs on her only starts at 2, and extended the streak to three with an allowance win over seven furlongs at Philadelphia Park at 3. The streak was snapped when Forty Love ran second in the 6 1/2-furlong Zadracarta Handicap at Woodbine. She started seven more times, but was never able to get her head in front again, although she picked up more black type with a distant third in the Summertime Promise Stakes over a mile on turf at Laurel Park. To an earlier assignation with Tale of the Cat, Forty Love produced Face the Cat, a five-time winner from six furlongs to an extended mile, and also placed third in the Prairie Meadows Derby. Forty Love is also dam of the Dixie Union gelding Bear Character, a three-time stakes winner in Canada and also runner-up in the Coolmore Lexington Stakes (gr. II).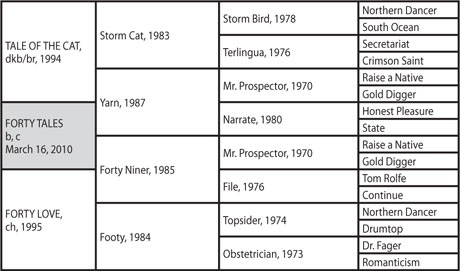 Forty Love was a sister to a more accomplished runner in Footing, who won the Prismatical and Grecian Flight stakes, and was also several times graded-placed, including when third in the Frizette Stakes (gr. I). Subsequently, Footing appeared as granddam of Banned, a Kitten's Joy son who captured a trio of graded stakes, including the Del Mar Derby and American Turf Stakes (both gr. IIT). Three other half sisters to Forty Love have produced stakes winners.
The second dam of Forty Tales, Footy, a daughter of the Northern Dancer sprinter Topsider, took the La Troienne, Junior Miss, and Sweet Diane stakes, and gained a graded placing when third in the Sorrento Stakes (gr. III). Footy is out of Obstetrician, a daughter of Dr. Fager and the prolific Bold Ruler mare Romanticism, whose 14 wins included the Interborough, Sequoia, and Wilshire handicaps. Romaticism was a sister to an even better runner in Terentia, who not only took the Ashland Stakes and Post-Deb Stakes, but numbered second in the Alabama Stakes, Alcibiades Stakes, Test Stakes, and Gazelle Handicap, and thirds in the CCA Oaks and Kentucky Oaks among her credits. Terentia is ancestress of numerous good winners and appears in a U.S. classic-winning pedigree via her great-grandson Boundary, sire of the 2008 Kentucky Derby and Preakness victor Big Brown. The family goes back to Golden View, a sister to Fair Play, who is enshrined in history as the sire of Man o' War. Golden Manda, the seventh dam of Forty Tales, is by Man o' War out of a granddaughter of Golden View, and so has the siblings 2x3, as well as a 3x4 cross of Man o' War's broodmare sire, Rock Sand.
Forty Tales is similarly a rather closely inbred individual, including having Mr. Prospector 3x3, Northern Dancer 4x6x4, Bold Ruler 5x6x5, and Round Table and his sister Monarchy 5x5. Tale of the Cat was among the first major stallion prospects out of a Mr. Prospector mare to retire to stud, so it was always going to be interesting to see how he reacted to inbreeding to that strain. The broad pattern of crossing back to Mr. Prospector-line mares has not been particularly successful, with nine stakes winners from 256 starters (3.5%), but from mares by Forty Niner and his sons—as here—there is a much more impressive total of four stakes winners from 38 starters (11%), and from the Fappiano branch, he also has three stakes winners from 25 starters (12%) out of mares by Unbridled's Song. Forty Tales' pedigree is actually quite complex, with the Mr. Prospector double being only part of the pattern: His sire and his dam are reverse Northern Dancer/Mr. Prospector crosses, and Tale of the Cat's dam, Narrate, is by a grandson of Bold Ruler out State, a daughter of Nijinksy II (Northern Dancer) and Monarchy, where Footy is by Topsider (by Northern Dancer out of a Round Table mare) with a second dam by Bold Ruler.