(Originally from the April 27, 2013 issue of The Blood-Horse)

by John P. Sparkman

Despite admirable objective accomplishments, some very good sires seem fated not to be fully appreciated within their lifetimes—or in cases like Empire Maker , during their too-brief innings at stud before premature export. When he died prematurely at the relatively young age of 13 in 2010, Dixie Union was viewed as a successful but not elite sire, if anything slightly disappointing, considering his exceptional good looks, grade I talent, and excellent pedigree.

At his death, Dixie Union had sired 34 stakes winners, but only two grade I winners, Dixie Chatter and Hot Dixie Chick. Since then, his son Union Rags won the 2012 Belmont Stakes (gr. I) and on April 13 his son Overanalyze became his fourth grade I winner with his victory in the Arkansas Derby, and could well supply Dixie Union with a second American classic winner. Very few contemporary sires achieve that distinction.

Bred in Kentucky by Herman Sarkowsky, Dixie Union raced for Sarkowsky and Gerald A. Ford's Diamond A Racing after being listed as sold for $425,000 to Ford at the 1998 Keeneland July select sale of yearlings. Trained by Racing Hall of Fame trainer Richard Mandella, he was one of the best 2-year-olds of 1999, winning his first three starts, including the Hollywood Juvenile Championship Stakes (gr. III) and Best Pal Stakes (gr. III). Forest Camp beat him in the Del Mar Futurity (gr. II), but Dixie Union turned the tables over the longer distance of the Norfolk Stakes (gr. II). Neither colt showed their best form in the Breeders' Cup Juvenile (gr. I) at Gulfstream Park, finishing fifth and sixth behind Anees, who had finished only third in the Norfolk.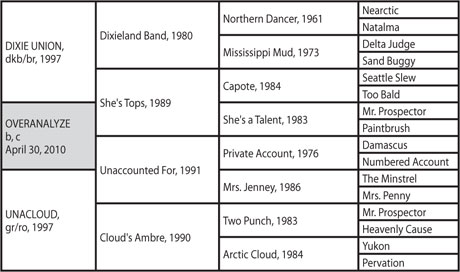 Dixie Union suffered a minor injury in the Juvenile and did not return to the races until the following May, winning a 61⁄2-furlong allowance race at Hollywood Park. Second to top sprinter Caller One (whom he had beaten at five furlongs in his debut) in the Laz Barrera Memorial Stakes, he then ran second again in future Horse of the Year Tiznow 's coming out party in the Affirmed Handicap (gr. III).

Dixie Union then produced the best performance of his career, rallying from sixth in the nine-furlong Haskell Invitational Handicap (gr. I) to beat grade I winners Captain Steve, Milwaukee Brew , and More Than Ready . That was probably about as far as Dixie Union wanted to go, however, and he was well beaten when fourth in the 10-furlong Travers Stakes (gr. I). Dixie Union raced only once more, beating Caller One again in the seven-furlong Malibu Stakes (gr. I).

Dixie Union possessed just about every credential commercial breeders look for when he retired to William S. Farish's Lane's End Farm at a fee of $30,000 for the 2001 breeding season. A high-class 2-year-old who won grade Is at up to nine furlongs at 3, his dam was a grade II winner from one of the best families in the American Stud Book, descending from his fifth dam Portage.

In conformation he was a throwback to the Northern Dancer type that dominated international racing in the 1980s but in a substantially taller package at 16 hands. Reasonably correct and extraordinarily powerful, there were not many better-looking stallions in Kentucky.

Dixie Union sired six stakes winners from 51 foals in his first crop, including graded winners Nothing But Fun (out of Zepa, by Theatrical) and Reunited (Tivli, by Mt. Livermore), but none were top class. That pattern continued really right up until Dixie Union's death from a neurological disorder in 2010. He always sired a good percentage of stakes winners—currently 6.25% of foals age 3 and up—but few really top-class runners. Dixie Chatter (Mini Chat, by Deputy Minister) won the Norfolk in 2007 and Hot Dixie Chick (Above Perfection, by In Excess) the Spinaway (gr. I) in 2009, but neither was able to repeat that top-level success as 3-year-olds.

Union Rags (Tempo, by Gone West) was something else altogether. A giant of a horse who otherwise resembles Dixie Union, he won the first three of his four starts at 2 in 2011, including the Champagne Stakes (gr. I), and failed by only a head to overcome a wide trip against Hansen in the Grey Goose Breeders' Cup Juvenile. Not the easiest horse to ride, he also suffered more than one fraught journey around the racetrack at 3, but finally got lucky in the Belmont Stakes (gr. I) when John Velazquez sneaked him through a narrow gap on the rail to beat Paynter by a neck.

Overanalyze was not quite as good a 2-year-old as Union Rags, winning three of five starts including the Futurity and Remsen Stakes (both gr. II), but he may yet prove himself another classic 3-year-old for Dixie Union. His Arkansas Derby win was as visually impressive as any Derby prep this year, and his pedigree and running style provide at least some encouragement that he will stay the Derby distance.

Overanalyze is the ninth foal and second grade I winner produced by Unacloud, an unraced daughter of Whitney Handicap (gr. I) winner Unaccounted For. Unaccounted For also placed in two of the most prestigious 10-furlong races in the country for older horses: the Jockey Club Gold Cup (gr. I) and Breeders' Cup Classic (gr. I). Unaccounted For was not a success as a sire (he also stood at Lane's End) in the U.S. but his foals' average win distance was 7.48 furlongs, a high figure in our sprint-centric system.

Overanalyze's half sister Meadow Breeze, by Meadowlake, was a sprinter, winning a substandard edition of the Matron Stakes (gr. I) in 2006. His half brother Mighty Monsoon, by Forestry, also showed more speed than stamina, finishing third in the 2011 Best Pal.

Unacloud's dam, Cloud's Ambre, by the sprinter Two Punch, produced two stakes-placed horses by Maria's Mon, including grade I-placed Ilusoria, dam of stakes winner Peak Maria's Way, by Pyramid Peak. Cloud's Ambre is half sister to Irish Cloud, by Private Terms, and Stormy Cloud, by Smarten, both tough, sound stakes winners on the Maryland circuit.

Overanalyze's third dam, Arctic Cloud, by Mr. Prospector's half brother Yukon (by Northern Dancer), was a very good filly, winning six stakes and earning $319,022. Further generations of the family back to the importation of his ninth dam Muzzie, by Pharos, in 1931 produced few memorable horses, however.

With both Yukon and The Minstrel, broodmare sire of Unaccounted For, on his bottom side, Overanalyze is inbred 3x5x5 to Northern Dancer, and there are also two crosses of Mr. Prospector in his fourth generation, bringing his inbreeding coefficient through the first six generations to 3.22%, a relatively high figure.

Like most contemporary American pedigrees this is not a pedigree that screams stamina, but with the stamina-leaning Unaccounted For as his broodmare sire and the impressive way he drew clear in the Arkansas Derby, Overanalyze appears to be more likely than most of his opponents to get the Kentucky Derby trip.

Whether he is good enough, of course, only the first Saturday in May will reveal.