(Originally from the May 4, 2013 issue of The Blood-Horse)
by Anne Peters
Horse racing has been lucky to see some remarkable older fillies and mares in the last few years. In America we got to watch Zenyatta,Rachel Alexandra, and Havre de Grace take turns as Horse of the Year from 2009-11. A few years ago we caught wind of something similar in Australia, and her name was Black Caviar. As it turns out, Black Caviar did our girls one better, racing from ages 2 to 6 with 25 starts, and never being beaten. She's just been retired, and thoughts now turn to which stallion her owners will send her to in the upcoming breeding season.

The Aussies say Black Caviar is the best they ever had, next to Phar Lap. Unlike Phar Lap, who was a grand stayer, Black Caviar is a sprinter par excellence. Her longest race was 1,400 meters, about seven furlongs. This is fitting because Australians are even crazier about speed than we speed-crazy Americans.

Although their two-mile Melbourne Cup (Aus-I) is "the race that stops a nation," the Thoroughbred in Australia has been shaped by generations chasing a victory in the Golden Slipper Stakes, the premier event for 2-year-olds in Australia run at 1,200 meters, roughly six furlongs.

In 1969 the Golden Slipper Stakes was won by a chestnut bolt of lightning named Vain, whose name is often called up as Australia's greatest sprinter, that is, until Black Caviar. Coincidentally, there are two crosses of Vain in Black Caviar's pedigree.

Black Caviar, or "Nelly" as she is known to her friends, was bred by Rick Jamieson and foaled Aug. 18, 2006, at his Gilgai Farm, near Nagambie, Victoria, Australia. She is the first foal out of her dam, a big, stout, unraced mare named Hel-singe, by Desert Sun.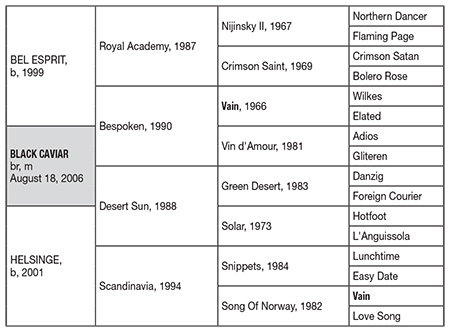 Jamieson chose Bel Esprit as the mare's first mate. Bel Esprit was a brilliant group I sprinter/miler at 2 and 3. He was sired by Royal Academy, winner of the 1990 Breeders' Cup Mile (gr. IT) and that season's highweighted 3-year-old sprinter in England. Royal Academy was by Nijinsky II out of Crimson Saint, a mare with world-record sprinting speed, and he was bred similarly to his nephew Storm Cat (see page 26), also sired by a son of Northern Dancer (Storm Bird), and out of Crimson Saint's fast daughter Terlingua.

Bel Esprit was the only stakes horse out of his dam, Bespoken, an unplaced mare by the brilliant Vain. Bel Esprit's second dam was by Adios, winner of the Royal Lodge Stakes at 2, and a son of Silly Season, a champion sprinter in England sired by Tom Fool.

Black Caviar's dam, Helsinge, was by Desert Sun, who was already famous for his daughter, the great racemare, Sunline. Desert Sun was by Green Desert (by Danzig), and out of Solar by Hotfoot. Helsinge's dam was the group II-winning sprinter Scandinavia, a daughter of Snippets, another champion sprinter in Australia.

Snippets was by Lunchtime, who won the Dewhurst Stakes at 2 in England, and went to stud in Australia. Lunchtime was a son of Silly Season, who, if you've been paying attention, is also found in Bel Esprit's pedigree. Snippets' dam, Easy Date, was a daughter of Grand Chaudiere, by Northern Dancer; and Easy Date's dam was Scampering brought to Australia from America in utero, sired by Misty Day out of Scamper Away by Hitting Away.

Helsinge's second dam, Song Of Norway, was another daughter of the great sprinter Vain, also the dam's sire of Bel Esprit, so Helsinge's mother, Scandinavia, was by a grandson of Silly Season out of a daughter of Vain. Compare this with Bel Esprit's dam, by Vain out of a granddaughter of Silly Season.

Vain is 3x4 in Black Caviar's pedigree, while Silly Season is 5x5, but it's the pairing of the two that seems significant. It's surely suspicious that Black Caviar, the greatest sprinter ever, is inbred to two champion sprinters—Vain and Silly Season, traveling in tandem. She is also linebred 4x5x6 to Northern Dancer, through crosses of Nijinsky II, Danzig, and Grand Chaudiere.

Given this wonderfully complex pedigree, where do the owners of Black Caviar go with her? It seems unlikely that her owners are willing to send her to England this year—it had been speculated she might be bred to Frankel—so it looks like one of the top Australian sires will be the winner.

In 2012 five stallions stood in Australia for A$100,000 or more. They were, in order, Fastnet Rock (by Danehill), Redoute's Choice (by Danehill), More Than Ready (by Southern Halo), Street Cry (by Machiavellian), and Lonhro (by Octagonal).

The highest-priced, Fastnet Rock, is out of a Royal Academy mare, and since inbreeding to Royal Academy 3x3 is not ideal (in my opinion), we can probably knock him off the list.

Redoute's Choice is out of a mare by Canny Lad, another Australian speed line, by Bletchingly out of a mare by Lunchtime. This would create linebreeding 5x5 to Lunchtime, found in Black Caviar's dam through Snippets. Redoute's Choice's second dam is by Nijinsky II, who would be 4x4 in this mating, and she's bred on a similar Northern Dancer/Sir Ivor cross as Helsinge's grandsire Green Desert. I like this mating very much, and this would get my vote, if anyone's asking.