(Originally from the May 11, 2013 issue of The Blood-Horse)
by John P. Sparkman
Gladys Mills (Mrs. Henry Carnegie) Phipps began the Phipps family's career in Thoroughbred racing in 1926 by purchasing five yearlings from H.P. Whitney. That draft included 1927 champion 2-year-old Dice, and in the 87 years since, the Phipps family has won just about every important race on the American racing calendar. Every race except the most coveted of all.
Thus, it is both ironic and exceptionally fitting that the Phipps family's 87-year quest for a Kentucky Derby victory finally ended with a descendant of another purchase from Whitney two years later. Orb , winner of the 139th Kentucky Derby Presented by Yum! Brands (gr. I) on May 4, 2013, is a seventh-generation descendant of 1930 Gazelle Stakes winner Erin, by Transmute, a Whitney-bred purchased privately for the Wheatley Stable of Gladys Phipps and her brother Ogden Mills in 1928.
Erin produced 1940 Pimlico Futurity winner Bold Irishman, by Sir Gallahad III, and two other stakes winners for Wheatley Stable, as well as stakes-placed Bransome, by Royal Minstrel, granddam of 1954 champion 2-year-old filly High Voltage, by Ambiorix. High Voltage, in turn, produced 1966 champion sprinter Impressive, by Court Martial, and is the granddam of top-class racehorse and important sire Majestic Light.
The branch of Erin's family descending from her daughter Bold Irish, by Fighting Fox, has provided much of the racing and breeding success for the breeding operation founded by Gladys Phipps' daughter Barbara and son-in-law Stuart Janney Jr. Bold Irish is listed as being bred by A.B. Hancock Sr., owner of Claiborne Farm, where the Phipps family has boarded its mares for generations, but she raced for Wheatley Stable.
She did not race very willingly, doing her best to avoid competing by bolting to the outside rail or bearing out as often as not. Racing Hall of Fame trainer James E. "Sunny Jim" Fitzsimmons managed to cajole two victories from 20 starts out of Bold Irish, but she proved far more reliable as a broodmare. Her son, The Irishman, was close to top class, winning the 1959 Sysonby Handicap, then equivalent to a grade I race.
Mrs. Phipps passed Bold Irish on to the Janneys, who bred Maryland stakes winner Knocklofty, by Parnassus, and the stakes-placed filly Shenanigans, by Native Dancer. Shenanigans' immortal daughter Ruffian, by Phipps-bred Reviewer, first brought the Janney name to national prominence. Winner of the first 10 of her 11 starts, Ruffian is still widely regarded as the greatest filly ever to race in the United States.
Shenanigans also produced the high-class but temperamental colt Icecapade, by Nearctic, whose male line still persists through his son Wild Again. Shenanigans produced another colt of similar ability in grade II winner Buckfinder, by Buckpasser.
Ruffian's half sister Laughter, by Reviewer's sire Bold Ruler, won four of 12 starts and proved an exceptional broodmare, producing five stakes winners. Best of those was Wood Memorial Invitational Stakes (gr. I) winner Private Terms, by Phipps-bred Private Account, who was the favorite for the 1988 Kentucky Derby but finished ninth. Laughter's second-best son, Blue Ensign, won the 1980 Woodlawn Stakes (gr. III).
Laughter's best daughter Steel Maiden, by Damascus, produced 1996 Black-Eyed Susan Stakes (gr. II) winner Mesabi Maiden, by Cox's Ridge, who is the first member of the female line listed as being bred by the partnership between Barbara Janney's son Stuart Janney III and her brother Ogden Phipps.
The Janneys retained full ownership of Steel Maiden's unraced full sister Laughing Look, dam of the top-class colt Coronado's Quest, by Forty Niner, and two other stakes winners. Orb's trainer Shug McGaughey declined to run Coronado's Quest in the 1998 Kentucky Derby despite the colt's victory in the Wood Memorial Stakes because of his volatile temperament. Coronado's Quest rewarded his connections with four more victories in succession, including the Buick Haskell Invitational Handicap (gr. I) and Travers Stakes (gr. I).
Despite this litany of success that had preceded her to the breeding shed, Mesabi Maiden produced only two winners from seven named foals, and none of her daughters had performed any memorable feats before Orb revealed his potential at Gulfstream Park last winter. Orb's dam Lady Liberty, by Unbridled, is easily the most accomplished of Mesabi Maiden's foals, having won four of 23 starts and earning $202,045.
Orb is Lady Liberty's fourth foal and second winner, following Cause of Freedom, an Alphabet Soup gelding who won three of 17 starts. After slipping foals by Dixie Union and War Front in 2011 and 2012, Lady Liberty produced a colt by A.P. Indy's son Flatter Feb. 10. On the recommendation of Claiborne Farm's Seth Hancock, she has been bred back to Malibu Moon .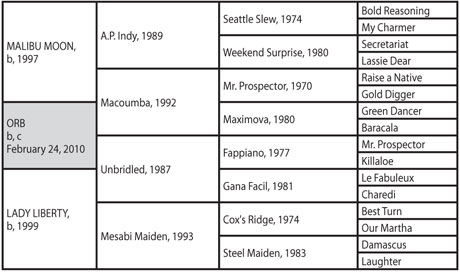 The race record of Orb's sire Malibu Moon is even less impressive than that of Liberty Lady, but his pedigree is almost as distinguished, and his record at stud has been far more in sync with his patrician heritage. Bred in Kentucky by B. Wayne Hughes, Malibu Moon raced only twice. Far more precocious than most sons of A.P. Indy, he started as the 9-10 favorite for a 4 1/2-furlong maiden race April 30, 1999, at Hollywood Park but was bumped at the start and closed late, finishing second, beaten 1 1/4 lengths. Favored again for his second start at five furlongs a month later, he rallied to win by 1 1/2 lengths in :57.41. He emerged from that second start with a fractured knee and could not race again.
While such precocity was unusual for a son of A.P. Indy, it was entirely in character both for his broodmare sire Mr. Prospector and for his speedy, precocious female family. The best son of 1977 Triple Crown winner and Horse of the Year Seattle Slew, A.P. Indy was already well on his way to dual North American sire championships by the time Malibu Moon arrived in his fourth crop, and much of his early success had come from alliances with Mr. Prospector mares.
The two best members of his first crop, grade I winner Tomisue's Delight and grade II winner and subsequent top sire Pulpit, were out of Mr. Prospector mares, and A.P. Indy subsequently sired Horse of the Year Mineshaft, champion juvenile filly Tempera, grade I winners Girolamo and Little Belle, and outstanding sire Congrats from the same cross.
Malibu Moon was the first foal out of Macoumba, a high-class filly from a family that blossomed upon its transition from America to Europe in the 1970s. Bred in Kentucky by Freddy Head's Janus Bloodstock, Macoumba raced for the Head family's longtime allies Haras d'Etreham.
Trained by Head's sister Criquette Head, Macoumba won both her starts at 2, including a narrow victory in the 1994 Prix Marcel Boussac Criterium des Pouliches (Fr-I). She maintained her unbeaten record with another narrow win in the Prix Imprudence the following spring but was well beaten in the Madagans One Thousand Guineas (Eng-I). Macoumba finished last in her only two subsequent starts, emerging from the Prix d'Astarte (Fr-II) with a fractured foot and was sold privately to Hughes.
Macoumba's precocity and ability were entirely commensurate with the recent history of her family. Her half brother, Septieme Ciel, by Seattle Slew, was a high-class miler who captured the 1990 Prix de la Foret (Fr-I). Another half brother, the Blushing Groom gelding Maxigroom, won two grade IIIs in the U.S., while half sisters Balchaia, by Blushing Groom, and Manureva, by Nureyev, were stakes winners. Manureva is the dam of Atto Mile Stakes (Can-IT) winner Riviera.
Macoumba's dam Maximova, by Green Dancer, was both more talented and tougher than her daughter, winning the Prix de la Salamandre (Fr-I) at 2 and placing in both the Poule d'Essai des Pouliches (French One Thousand Guineas, Fr-I) and Goffs Irish One Thousand Guineas (Ire-I) at 3. Maximova was a half sister to group winners Vilikaia, by Nureyev, granddam of 2011 Nearctic Stakes (Can-IT) and Breeders' Cup Turf Sprint (gr. IIT) winner Regally Ready, by More Than Ready.
Their dam, Baracala, by Swaps, was a minor winner in France, but a half sister to Nonoalco, the second-best son of Northern Dancer's sire Nearctic, who added the 1974 Two Thousand Guineas (Eng-I) to his 1973 French 2-year-old championship. The family descends from the good stayer Cinq a Sept, imported by Marshall Field in the late 1920s. She is also the fifth dam of Secretariat.
Malibu Moon's race record was not good enough for Kentucky, but his pedigree was good enough for anywhere else, and the Pons family of Country Life Farm in Maryland bought a half interest in the A.P. Indy colt and retired him to stud in 2000 at a fee of $3,000. Malibu Moon scored immediate success with seven stakes winners from 61 foals in his first crop, led by 2003 Best Pal Stakes (gr. II) winner Perfect Moon. That success motivated the Castleton Lyons Stud to purchase an interest in Malibu Moon before the 2004 breeding season and to install him as the first stallion at their farm near Lexington. Malibu Moon moved to his breeders' Spendthrift Farm in 2008 and now stands for $70,000.
Malibu Moon's second-crop gelded son Declan's Moon confirmed the wisdom of that move by earning an Eclipse Award as champion 2-year-old male that year. With the better mares available in Kentucky, Malibu Moon has gone from strength to strength, siring 68 stakes winners from 914 foals age 3 and up (7%), including nine grade I winners. Until Orb came along, however, all of his grade I winners except Declan's Moon had been females.
Orb is inbred 3x4 to Mr. Prospector, with additional duplications of Bold Ruler, Swaps, Native Dancer, Buckpasser, and Nasrullah within his first six generations for an inbreeding coefficient of 2.34%. Orb is the 18th stakes winner and fourth grade I winner by Malibu Moon inbred to Mr. Prospector.
Orb's pedigree is a testament and a memorial to the persistence and dedication to quality of the Phipps family's breeding operation for more than 80 years.