When Bruce Lowe created his numbering system for female families in the 19th century, he designated Families 1 through 5 as "Running Families," reflecting his belief that they tended to produce superior racehorses. Families 3, 8, 11, 12, and 14 were termed "Sire Families," indicating Lowe's conviction that stallions tracing to these families or inbred to them tended to be superior to those not so bred.

Time and evidence have discredited many of Lowe's ideas, but the fact remains that most successful racehorses and successful sires belong to the lower numbered families—not because there is any particular magic in them, but because these families have been prolific. Yet the higher numbered families, despite the handicap of smaller populations, sometimes have wielded significant influence thanks to a single matriarch. Lady Hamburg, for instance, was a member of Family 31, yet produced Chicle and Dis Donc, both of which did the Whitney family good service as sires.

More recently, Family 26 has reached the upper echelons of American breeding thanks to the 1986 mare Cee's Song. Bred by Cotswold Farms 1981, Cee's Song never showed more than modest ability, winning only once in 18 tries. But as a broodmare for Cecilia Straub-Rubens (who had purchased Cee's Song as a yearling), Cee's Song repeatedly was bred to Straub-Rubens' Relaunch stallion Cee's Tizzy, a union responsible for nine of the 14 named foals produced by Cee's Song. From those nine full brothers and sisters Cee's Song produced four stakes winners, one an important sire, and two multiple stakes producers, each with a grade I winner to her credit. That is quite a production record for any mare, and one that probably would have earned Cee's Song national Broodmare of the Year honors had she been based in Kentucky instead of California.

Sired by the Seattle Slew horse Seattle Song, a grade/group I winner in France and the U.S., Cee's Song came from a female line descended from the Argentine import Papila. A daughter of 1933 Gran Premio Nacional (Argentine Derby) winner Requiebro, Papila proved just below classic standard in South America, running second in Chile's Las Oaks. Following her importation to North America, she won three of 17 starts in 1947-1949 but did not pick up any more black type. As a broodmare, she produced seven foals; the best of them was 1961 co-champion juvenile male Crimson Satan. A useful sire, his name has been perpetuated in American pedigrees by his wickedly fast daughter Crimson Saint, dam of Royal Academy and granddam of two-time leading sire Storm Cat; he is also the broodmare sire of the successful sire Mt. Livermore.

Papila's daughter Blue Canary (by Buy and Sell, by Bimelech) was durable, winning 13 of 133 starts, but lived to produce only three foals, all winners. Among them was her only daughter, Sulenan (by 1960 Travers Stakes winner Tompion), who carried on the family. Her first foal was Swinging Lizzie, a multiple stakes winner by the good runner and sire The Axe II (by Mahmoud). Swinging Lizzie, in turn, produced the grade I winners Swing Till Dawn (by Grey Dawn II) and Lively One (by Halo) and is the ancestress of Brazilian group I winner American Gipsy

Despite Swinging Lizzie's accomplishments, it has been her winning half sister Sleep Lonely (by Olympia's good son Pia Star) who has been responsible for the most prominent modern branch of Papila's family. The dam of Maple Leaf Stakes winner Quantra (by Quadrangle) and multiple Canadian stakes winner Mr. Kapacity (by 1972 Canadian champion 3-year-old male Nice Dancer), she also produced Lonely Dancer, a winning full sister to Mr. Kapacity and a multiple stakes producer in addition to being the dam of Cee's Song.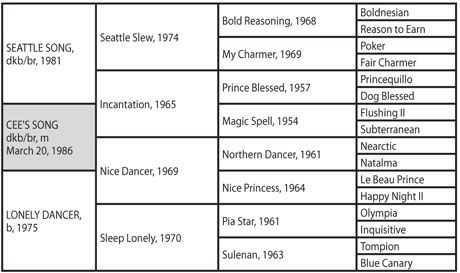 As the dam of two-time Breeders' Cup Classic (gr. I) winner and successful sire Tiznow , Cee's Song has guaranteed herself a place in American pedigrees for some time to come. By the time Tiznow came along, she already had earned her way into California fans' hearts via her gelded son Budroyale, a multiple grade II winner and multimillionaire who turned in the race of his career as runner-up in the 1999 Breeders' Cup Classic. Cee's Song also produced grade II-placed stakes winner Tizbud , now a sire in California, and grade II winner Tizdubai from her "marriage" to Cee' s Tizzy.

Ironically, it is two non-winning daughters of Cee's Song by Cee's Tizzy that are turning out to be the keys to continuing this family. The elder, the 1995 mare Tizso, failed to hit the board in two starts but has produced three stakes winners from 11 foals of racing age. The best of the trio is 2012 Belmont Stakes (gr. I) runner-up Paynter (by Awesome Again ), who looked like a potential champion while winning the Haskell Invitational (gr. I) but spiked a temperature two days later. His illness evolved into a months-long battle with colitis and laminitis, but the colt has beaten both his ailments and the odds and is back in training with the 2013 Breeders' Cup Classic as his long-term goal. Paynter's 3-year-old full brother Fire Flight has yet to hit the board in a race, but Tizso still has the 2-year-old Street Cry colt Chivalrous and an unnamed yearling colt by Malibu Moon waiting in the wings.

The 2013 Preakness Stakes (gr. I) winner Oxbow (by Awesome Again) is out of Tizso's 2002 full sister Tizamazing, who never even made it to the races. But she is already a multiple stakes producer as her 2008 foal is Oxbow's full brother Awesome Patriot , a grade III-placed stakes winner. Tizamazing produced another colt by Awesome Again, the aptly named Expect a Lot, in 2011 and has a yearling filly by Speightstown and a suckling colt by Unbridled's Song.

Given the very close genetic relationship between Paynter and Oxbow, it seems likely that Tizso and Tizamazing, as well as their daughters by other sires and their younger half sisters, will have more dates with Awesome Again or perhaps his son Ghostzapper , as well as other top sires. There is no guarantee that Cee's Song will become one of the great matriarchs of the breed but, with opportunities of this quality, the possibility is certainly there.