by John P. Sparkman
Nicks have a way of disappearing with repetition. Still, pedigree analysts would be foolish to advise owners of full sisters to 2000 Horse of the Year Tiznow to breed them to any stallion other than Awesome Again for the foreseeable future.

2013 Preakness Stakes (gr. I) winner Oxbow is the third stakes winner and second grade I winner among seven foals age 3 and up bred on that pattern, following 2012 Haskell Invitational Stakes (gr. I) winner Paynter and Oxbow's full brother, 2011 Alydar Stakes winner Awesome Patriot .

Why Awesome Again should cross so well with sisters to Tiznow is as impervious to glib hindsight as is the explosion of class set off by the cross of Tiznow's dam Cee's Song with his sire Cee's Tizzy. Bred in Kentucky by Cotswold Farms and purchased for $50,000 by Curragh Bloodstock Agency on behalf of the late Cecilia Straub-Rubens at the 1987 Keeneland September yearling sale, Cee's Song was a decent racemare with a decent pedigree.

Although she won only one of her 18 starts, and that a $40,000 maiden claimer at Hollywood Park as a 4-year-old, Cee's Song was a very consistent runner. She simply preferred to finish second rather than first, occupying the place slot eight times. In fact, after her first two starts, Cee's Song finished worse than fourth only once in 16 more races.

That acceptable but hardly exciting race record was entirely in keeping with her pedigree. Her sire, Seattle Song, was the best European-raced son of Seattle Slew, having won the Prix de la Salamandre (Fr-I) at 2 and running second in the Phoenix Champion Stakes (Ire-I) at 3. Seattle Song won the 1984 Washington, D.C., International (gr. IT) in his only start in the United States but fractured a cannon bone before he could run in the inaugural Breeders' Cup Turf (gr. IT).

The majority of Seattle Song's best runners in a modestly successful stud career (23 stakes winners from 332 foals) were grass runners, led by 1991 Prix Lupin (Fr-I) winner Cudas, German and Italian highweight Dictator's Song, and American grade II winner Irish Linnet. With the exception of Cee's Song, his record as a broodmare sire is equally unexceptional. Her offspring earned almost $10 million of the $40.5 million credited to the progeny of Seattle Song's daughters, and only one other daughter has produced an American grade I winner.

That mare, Our Seattle Star, dam of 2009 Ogden Phipps Handicap (gr. I) winner Seattle Smooth, by Quiet American, shares an interesting connection with the pedigree of Cee's Song. Her broodmare sire, Whitesburg, is a son of 1961 champion 2-year-old male Crimson Satan, whose dam, Papila, by Requiebro, is the fifth dam of Cee's Song, and thus the seventh dam of Oxbow.

A high-class racemare in Chile, Papila was imported by Peter Salmen, owner of Crimson King Farm, and bred stakes winner Cardinal Sin, by Papa Redbird, in addition to Crimson Satan. The success of Papila's female line has been somewhat sporadic but persistent. Her daughter Sister Satan, by High Bandit, is third dam of graded winners Til Forbid, Cinch, and Hold Old Blue, a gelding by Seattle Song, and of Australian stakes winners Imperial Salute and Prismatic Star. Til Forbid, by Temperence Hill, is dam of grade III winner Scoop, by Gone West, and granddam of graded winners Sara Louise and Just Louise.

Papila's daughter Blue Canary, by Buy and Sell, produced nothing of note, but her daughter Sulenan, by Tompion, stands at the head of the most successful branch of Papila's family. Sulenan's daughter, Swinging Lizzie, by The Axe II, won two stakes and produced grade I winners Lively One, by Halo, and Swing Till Dawn, by Grey Dawn II. Swinging Lizzie's daughter Sleep Lonely, by Pia Star, produced two Canadian stakes winners in Mr. Kapacity, by Nice Dancer, and Quantra, by Quadrangle.

Oxbow's third dam, Lonely Dancer, by Northern Dancer's Canadian champion son Nice Dancer, was a winning full sister to Mr. Kapacity, and is dam of stakes winners Ceetoit, by Cee's Tizzy, and Leery Baba, by Well Decorated. Leery Baba is granddam of 2007 Modesty Handicap (gr. IIIT) winner Bridge Game, by Giant's Causeway .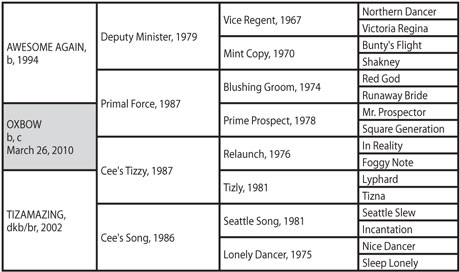 None of that pedigree background, positive as it might be, would have led anyone to believe that Cee's Song would produce four stakes winners from 14 foals plus two dams of grade I winners. All four of her stakes winners are by Cee's Tizzy, by Relaunch, a talented but unsound runner who never won stakes but placed in the 1990 Super Derby (gr. I). Cee's Tizzy sired 39 stakes winners from 732 foals age 3 and up (5.3%), including champion Gourmet Girland grade I winner Cost of Freedom, but more than 25% of the total earnings of his progeny is attributable to his nine foals out of Cee's Song.

Cee's Song came within 11⁄4 lengths of being the only mare to produce two winners of the Breeders' Cup Classic (gr. I). Cat Thief defeated her gelded son Budroyale, by Cee's Tizzy, by that distance in the 1999 Classic at Gulfstream Park a year before the first victory of his younger full brother Tiznow at Churchill Downs in 2000. Tiznow duplicated that feat at Belmont Park a year later at the emotionally fraught Breeders' Cup held in the wake of September 11, 2001. Retired to WinStar Farm in 2002 with a record of eight wins in 15 starts, Tiznow ranks as one of the country's best stallions with 44 stakes winners from 805 foals age 3 and up (5.5%), including champions Folklore and Bear Now, plus grade I winners Well Armed, Colonel John, Tizway, Morning Line , Bullsbay , Tough Tiz's Sis, Gemologist , and Da' Tara.

Cee's Song's Sorrento Stakes (gr. II)-winning daughter Tizdubai, by Cee's Tizzy, has yet to produce anything of note, but her unplaced full sister Tizso is the dam of Paynter, by Awesome Again, as well as stakes winners Tiz West, by Gone West, and Tizakitty, by Distinctive Cat. Tizso is also granddam of stakes winner Tiz Gianni, by Giacomo.

Oxbow is the third foal and second stakes winner out of the unraced Tizamazing. Her first, What Now , by Distorted Humor , has won four of 25 starts and earned $96,210. Awesome Patriot, a $350,000 Keeneland September yearling, won three of seven starts and placed in the 2010 Hollywood Prevue Stakes (gr. III) in addition to winning the Alydar Stakes the following year.

Bred in Kentucky by Richard Santulli's Colts Neck Stable, Oxbow also passed through the Keeneland sale ring, where he was purchased for $250,000 by Brad Kelley's Bluegrass Hall, with farm manager Eddie Kane signing the ticket. Tizamazing has since produced the appropriately named 2-year-old colt Expect a Lot, by Awesome Again (which failed to meet his reserve at $190,000 at the 2012 Keeneland September sale), a yearling filly by Speightstown, and a colt foal by Unbridled's Song. She has been bred back to Awesome Again.

Classically Awesome

Oxbow is the first classic winner sired by Awesome Again, a horse whose career as both a racehorse and stallion has revolved around the Breeders' Cup.

Bred in Canada by Frank Stronach, Awesome Again was clearly one of the two or three best racehorses of his generation but did not prove that until his 4-year-old season. Unraced at 2, Awesome Again began his racing career in late May of his 3-year-old season in California for trainer David Hofmans, where he won his second start before shipping to Woodbine to win the Queen's Plate Stakes.

Just as impressive in the Jim Dandy Stakes (gr. II) at Saratoga, he faded in the final eighth against Deputy Commander and Behrens in the 11⁄4-miles Travers Stakes (gr. I), beaten seven lengths in third. He finished his 3-year-old campaign with a dismal fifth in the Super Derby (gr. I) behind Deputy Commander again.

Transferred to trainer Patrick Byrne at 4, Awesome Again swept through six consecutive victories, culminating with a pulsating three-quarter-length win over Silver Charm and Swain in the 1998 Breeders' Cup Classic. Despite Awesome Again's unblemished record, however, Skip Away, who had finished sixth in the Classic, was voted both Horse of the Year and champion older male.

Awesome Again retired to Stronach's Adena Springs Kentucky division in 1999 alongside his owner's 1997 Belmont Stakes (gr. I) winner Touch Gold, another son of Deputy Minister, but Awesome Again has been a far better sire. Although he is hardly the most consistent stallion—his 52 stakes winners from 839 foals age 3 and up equals a 6.2% ratio—his remarkable record at the Breeders' Cup has effectively obscured any shortcomings.

Awesome Again has sired four individual Breeders' Cup winners, more than any other contemporary stallion, led by 2004 Breeders' Cup Classic winner and Horse of the Year Ghostzapper . His daughters Ginger Punch and Round Pond are both winners of the Breeders' Cup Distaff (gr. I) and his son Wilko accounted for the 2004 Breeders' Cup Juvenile (gr. I). Awesome Again's 13 grade I winners also include Game On Dude, second in the Breeders' Cup Classic in 2011 and Awesome Gem, third in the same race in 2007.

Paynter came within a neck of giving Awesome Again his first classic winner in last year's Belmont Stakes, finishing second to Union Rags . Paynter looked like the best 3-year-old remaining in training in his subsequent victory in the Haskell, and is now back in training after surviving a near-fatal brush with laminitis.

A generation or more ago Paynter, Awesome Patriot, and Oxbow would have been described confidently as "brothers in blood" because the names in the second generation of their pedigrees are identical. Modern genetic knowledge tells us that they share much less identical material than that archaic phrase implies, but in the chaotic dance of probability that produces any Thoroughbred, such obvious comparisons are irresistible, even to the most scientifically minded.

We may not thoroughly understand why the cross of Awesome Again on sisters to Tiznow works. But so far, it is undeniable that it does.