Leading commercial sire Unbridled's Song is still looking for his true heir as a stallion. Until the penultimate weekend of June, in fact, only one son had succeeded in siring a grade I winner (Even the Score , who has two in that category: Take the Points and Dullahan). Fans of Unbridled's Song should gain encouragement, however, from examples such as Sadler's Wells, who lacked an outstanding European sire son until the late stages of his career, when he came up with Montjeu and Galileo. Similarly, U.S. breeders had to wait until late in Danzig's career for a true star son—then War Front and Hard Spun emerged within his final four crops.
The coming two or three years have the potential to be pivotal for Unbridled's Song. His grade I-winning son First Defence is represented in 2013 by his first-crop 3-year-olds; Unbridled's Song sons with first-crop 2-year-olds this term include the brilliant sprinter Zensational, two other talented horses in Dunkirk and Old Fashioned, and New York-based speedster Noonmark; and his champion 2-year-old Midshipman currently is represented by his first crop of sucklings.
The first mentioned of that sextet, the grade I-winning sprinter First Defence, certainly is doing his best to lead a rally. He was represented by a first-crop group winner last year in Dundonnell, who won the Pinsent Masons LLP Acomb Stakes (Eng-III) at York and ran the accomplished Toronado to a half length in the One Call Insurance Champagne Stakes (Eng-II). This year Dundonnell has demonstrated that he has trained on with a win in the Coral King Charles II Stakes; in the meantime, however, a new star had been emerging for First Defence. Three-year-old filly Close Hatches didn't start until late January, when she scored by seven lengths going seven furlongs at Gulfstream Park. An allowance winner at the same venue the following month, Close Hatches took her record to 3-for-3, with a decisive 3 3/4-length victory over Princess of Sylmar in the Gazelle Stakes (gr. II). In the Longines Kentucky Oaks (gr. I), Close Hatches failed to fire for the first time in her short career and finished a distant seventh as her Gazelle victim, Princess of Sylmar, took the honors. Shortening up to a mile for the Acorn Stakes (gr. I), Close Hatches was bumped at the start and endured a four-wide trip. She stayed on from the rear well enough to claim second, but was never a threat to the 6 1/4-length victress, Midnight Lucky. In late June it was Close Hatches who scored a wide margin victory, crusing home 7 1/4 lengths clear of odds-on Dreaming of Julia to take the Mother Goose Stakes (gr. I).
Close Hatches was bred by her owner, Juddmonte Farms, Inc., in the name of Millsec. While her sire gives hope to those looking to the future of Unbridled's Song's sire line, Close Hatches' dam should be a cause of optimism to those contemplating the recently announced upcoming partial dispersal of Juddmonte stock. We are guessing that First Defence's dam, Rising Tornado, won't be among the "forthcoming attractions," but there are almost certain to be several mares with profiles similar to Rising Tornado at the time she was bred to First Defence: that is, members of strong foundation families, but with rather less stellar production closer up on the page.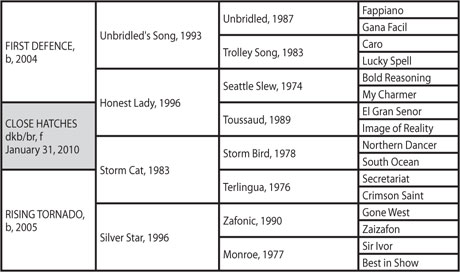 On the positive side, Rising Tornado is a daughter of Storm Cat. She showed only modest ability in her racing career, however, all of which took place in France. She earned a win, but it took until the fifth of her six starts, when a trip to Les Sables-d'Olonne in the provinces gave her the opportunity to break her maiden by three-quarters of a length. Rising Tornado's dam, the Zafonic mare Silver Star, won at 2 in France and collected some black type with a third in the Prix Coronation at 3; none of her six offspring to race have risen much above the ordinary. Silver Star was, however, a sister to European champion 2-year-old Xaar, winner of the Thoroughbred Corporation Dewhurst Stakes (Eng-I) and Prix de la Salamandre (Fr-I), and half sister to group winners Masterclass and Diese (dam of repeat grade I winner Senure), and stakes winner Ile de Jinsky. Silver Star's group-placed half sister Didicoy was a graded stakes producer who is also third dam of Cityscape, a horse who carried the Juddmonte colors to victory in the Dubai Duty Free (UAE-I), and another half sister, Victoriana, when bred to Zafonic, produced Silver Star's close relative In The Past, dam of Domesday, a grade II winner in Australia, where he's also made a good start as a sire. Monroe, the dam of Silver Star, won the Ballyogan Stakes (Ire-III) and took second in the Gallaghouse Phoenix Stakes (Ire-I). By Sir Ivor out of the great producer Best in Show, Monroe was a sister to Irish champoin 2-year-old Malinowski and group winner Gielgud, and half sister to Kentucky Oaks victress Blush With Pride.
As a daughter of Storm Cat, it was no surprise that Rising Tornado started her career with a visit to a son of Unbridled's Song. In the formative years of his career, the mating of Unbridled's Song with Storm Cat mares proved successful, producing such as grade I winners Buddha and Magnificent Song, and graded winners Half Ours and Noonmark. The nick's production rate has slipped in recent years, however, and since his 2003 crop (which supplied Magnificent Song, Half Ours, and Noonmark), the cross has produced only three new stakes winners, with Noble Tune alone in winning a graded event. Whether the drop off is due to a population of Storm Cat mares that in part has moved past its best producing years; a change in the pedigrees of a younger generation of Storm Cat mares bred to Unbridled's Song; or, as the nick became a "default option," a less careful selection on type; or to some other factor, is a matter of speculation. The raw statistics reveal, however, that there are now eight stakes winners by Unbridled's Song from 108 starters out of Storm Cat mares, slightly below Unbridled's Song's strike rate with all other mares, but an improvement for Storm Cat mares when bred to all other sires. There is only one stakes winner by Unbridled's Song from 51 starters out of mares by sons of Storm Cat, and Close Hatches is one of two winners from 35 starters by sons of Unbridled's Song out of Storm Cat mares. What shouldn't be overlooked, however, and may be more significant taking in the whole pedigree, is the affinity of ex-Juddmonte sire Empire Maker, a close relative to First Defence, who has grade I winners Bodemeister and In Lingerie out of Storm Cat mares, and two stakes winners (one graded) out of mares by sons of Storm Cat, for four stakes winners from 38 starters on the cross (11%). Also worth noting is that while Unbridled's Song and Storm Cat don't offer much in the way of inbreeding or linebreeding, there are some other similarities between the pedigrees of First Defence and Rising Tornado, with linebreeding to Mr. Prospector, Northern Dancer, and Best in Show. In fact, where First Defence's second dam, Toussaud, is by El Gran Senor (by Northern Dancer out of a daughter of Best in Show), Rising Tornado is by a grandson of Northern Dancer out of a granddaughter of Best in Show.