If we were put on the spot and asked to name the best North American dirt runner of the 21st century, we'd have no hesitation in casting a vote for Ghostzapper . In fact we'd go further and say that he was the best dirt runner since Holy Bull, and arguably for a considerable time before that. We're not alone in our estimation of the Horse of the Year and Hall of Fame inductee, either: He achieved the highest Beyer speed figure of all time for a two-turn event (128), and Len Freidman of the Ragozin organization described Ghostzapper as "the most consistently fast horse of all time."
With his standing as a racehorse backed by an excellent pedigree—he's by Breeders' Cup Classic (gr. I) victor and top-class sire Awesome Again , out of a stakes-winning mare who is also dam of grade I winner and successful sire City Zip—Ghostzapper retired to stud in 2006 at a fee of $200,000, a record for an incoming stallion in recent times. Tracking stud fees usually gives a fair barometer of a stallion's success, and the fact that Ghostzapper was advertised for 2012 at $20,000 live foal reveals that the highest expectations had not been met. Since then, however, Ghostzapper has been doing what champions do: fighting back. Last year he was represented by 16 stakes winners, 10 of them graded (a total of graded scorers that was exceeded only by Giant's Causeway ), and this year he already has 10 stakes winners to his credit, six of them graded. Three of those graded winners came on a remarkable July 6, when Ghostzapper was represented by Starship Truffles and Judy the Beauty, first and second in the Princess Rooney Handicap (gr. I); Schiaparelli, successful in the Royal Heroine Mile (gr. IIT); and Moreno, who took the Dwyer Stakes (gr. II).
All three were gaining their first graded stakes triumphs. Worth noting is that Starship Truffles and Schiaparelli are, respectively, 4 and 5 years old. Given that Awesome Again peaked at 4 and that Ghostzapper, although he was a spectacular maiden winner at 2 and a grade I winner at 3, was better at 4—and on the basis of his Metropolitan Handicap (gr. I) win, just as good at 5—it's not surprising that his offspring would do best when given time, and it's more than likely that this was the reason for his perceived initial "failure to launch."
That's born out when we start to consider the statistics. From Ghostzapper's first Northern Hemisphere crop were 11 stakes winners from 80 foals, including grade I winner Stately Victor and graded scorers Arena Elvira, Hunters Bay , La Cloche, and Pacific Ocean. Seven of a second crop of 89 named foals are now stakes winners with 2013 seeing Schiaparelli and Za Approval join Mystical Star and Matthewsburg on the list of graded scorers. There are now another 12 stakes winners in a third crop numbered at 84, among them grade I laureates Better Lucky, Starship Truffles, and Contested. From Ghostzapper's fourth crop, now 3, and which numbered only 60 foals, there are already four stakes winners, including Moreno and Hear the Ghost, both graded victors.
Some trends are apparent when we look at the trio of July 6 stakes winners. All three have Mr. Prospector in the pedigree: Starship Truffles is out of a mare by Mr. Prospector son Not For Love; Moreno's second dam, a close relative to Smart Strike, is a daughter of Mr. Prospector; and Schiaparelli's second dam is by Mr. Prospector's son Afleet. Ghostzapper himself carries Mr. Prospector but is a complete outcross at five generations, and his sire Awesome Again is also a relatively outcrossed horse, so it's not surprising to see him benefit from some duplications. Mr. Prospector duplications appear within four generations in the distaff of 18 of Ghostzapper's black-type winners and 13 of his graded winners. That's 17.5% stakes winners to starters, and 12.6% graded winners to starters, compared to 6.4% black-type winners to starters, and 2.8% graded stakes winners to starters that are free of Mr. Prospector within four generations on the distaff side of the pedigree.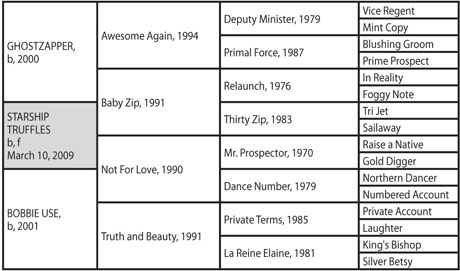 Moreno and Schiaparelli both are out of mares bred on a Seattle Slew/Mr. Prospector cross (one from a daughter of A.P. Indy, the other from an Avenue of Flags mare). The Seattle Slew strain also has proved beneficial for Ghostzapper, with six stakes winners from 44 starters (13.6%) out of mares by Seattle Slew, his sons or his grandsons. For what it's worth, Seattle Slew and Mr. Prospector both go back to the famed tap-root mare Frizette, via her extremely fast granddaughter Myrtlewood.
Ghostzapper also has sired two grade I winners and three graded winners out of mares from the male line of Roberto, a horse whose dam is bred on similar lines to the dam of Mr. Prospector.
After his bright season in 2012, Ghostzapper's stud fee rebounded to $40,000 for 2013. Given his current success rate, we would not be surprised to see the revival continue, especially as breeders become more aware of what works well with him.