White horses have had a touch of mystery and magic about them since the dawn of civilization. Among the ancient Romans and their later European successors, the white horse symbolized victory and therefore was the preferred mount of triumphant kings and generals. Other peoples dedicated such horses to the gods, or considered them particularly suitable for sacrifice. Many considered the birth of such a foal to be a portent of good or evil.

White horses are still rare, but their coloring now is understood to be the result of genetics rather than divine whim. Until recently, white Thoroughbreds were believed to originate in a variation of the sabino color pattern, which usually gives a horse white spots or markings. Commonly (although not always) chestnut, typical sabinos usually have blazed faces, white feet, and sometimes white body markings. In the case of all-white sabinos, the white coloring can be thought of as a single huge spot which happens to cover the entire body.

Modern genetic sequencing, however, has indicated that at least some and quite possibly a majority of the horses expressing "loud" or completely white coloring actually carry a different allele of the same gene (known to geneticists as KIT) that can cause sabino patterns. At least eleven such variants, grouped together under the heading of "dominant white," are known, though not all are found in the Thoroughbred. Only genetic testing can determine with certainty whether a horse that appears sabino or white carries the sabino allele or one of the dominant white versions of the KIT gene.

A current example of this unusual coat color is recent maiden winner Chief White Fox. Like many of today's white Thoroughbreds, he is a descendant of White Beauty, a 1963 filly bred by Herman Goodpaster who became the first Thoroughbred officially registered as white with The Jockey Club. She was sired by the chestnut Ky. Colonel, whose flashy markings included a large white spot at his girth and who was known to have sired several other unusually colored foals. The most dramatic other than White Beauty was War Colors, also foaled in 1963; while he was registered as a roan (a color then permitted by The Jockey Club), he was in fact mostly white with some chestnut markings.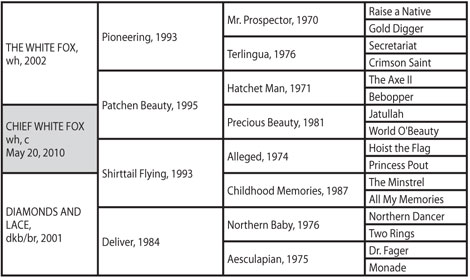 War Colors never raced, and White Beauty won only twice from 16 starts. But as a broodmare at Goodpaster's Patchen Wilkes Farm, she became the foundation of a line of white Thoroughbreds. Her fifth foal, the unraced Spotted Line filly Beauty 'n Motion, was white. Two of her other foals, the Sir Ribot colt Busy Fellow and the Reverse filly World O' Beauty, were registered as roans despite being sired by non-gray stallions, indicating that they too expressed sabino phenotypes.

Beauty 'n Motion produced only one foal—War Painting (by Whitesburg, a chestnut)—who, like Busy Fellow and World O' Beauty, was registered as roan; he never raced and left no progeny. But the white color reappeared in Precious Beauty (by Jatullah), an unraced daughter of World O' Beauty. Precious Beauty, in turn, produced Patchen Beauty, a white and the dam of five registered white foals. In Patchen Beauty's case, the white coloring (and presumably the loud sabino patterning seen in a number of her earlier relatives) stems from a dominant white allele identified as W2 rather than from a "true" sabino allele.

A winning daughter of the good racer and useful sire Hatchet Man, Patchen Beauty (who died earlier this year) received decent opportunities as a broodmare. Three of her white foals—The White Fox, Patchen Prince, and Patchen Princess—are by the Mr. Prospector horse Pioneering, a half brother to Storm Cat who has sired 37 stakes winners. Both Patchen Prince and The White Fox were winners, and The White Fox sired several white foals, including Chief White Fox, before his death in 2010. Patchen Beauty's other white foals are the non-winner White Prince (by Devil His Due) and the winning filly Spot of Beauty (by Skip Away). Spot of Beauty is now a broodmare at Patchen Wilkes Farm and has produced four white foals to covers by Whywhywhy, Devil His Due, and Thunder Gulch. Another daughter of Patchen Beauty, the juvenile filly Angel in Disguise (by Devil His Due) is registered as gray/roan but is in fact another carrier of dominant white; she is currently in training but was unplaced in her only start to date.

Another white Thoroughbred, Arctic Bright View (related story), never raced but has become a star in his own right thanks to his role as Silver in Disney's 2013 film The Lone Ranger. (He was one of four horses to play the role.) His color descends from the white mare Not Quite White (Northjet—Sad Song, by Roberto) through her son Airdrie Apache (by the chestnut Naevus, whose sabino-type markings included a conspicuous white spot on his near side), a liberally white-splashed chestnut who stood at Darlene Knight's Painted Desert Farm in Oregon and is now at Desert Oasis Performance Horses in Nevada. Airdrie Apache has proved a prolific source of white and paint Thoroughbreds, and his full sister, Spotted Lady, also has contributed to the cause as her unraced 2009 granddaughter My Fancy Pants (by Count Me In out of Holy Moly Molly, by Acaroid) is registered as white.

Arctic Bright View is owned by Paul Megson, who purchased many of Knight's mares and unraced youngsters for his breeding operation near Calvert City, Ky. Arctic Bright View was among his purchases, having been produced from Airdrie Apache's white daughter Articanna to the cover of the Theatrical horse Panoramic. Megson also owns the white colt Wear the Mask (by Airdrie Apache) who is in training with Ivan Vazquez and recently made his first start, finishing unplaced. Arctic Bright View himself stands at Cedar Brook Farm in Ohio; like Airdrie Apache, he is cross-registered as a Paint and is used mostly for show and performance breeding.

A third line of white Thoroughbreds descends from Puchilingui, a 1984 son of Native Royalty (bay) and the bay Needles mare Carolinaway. A bay-and-white horse who was registered as roan, Puchilingui was revealed by gene testing to carry a dominant white allele, but not the same one carried by Patchen Beauty and her family. (The variant he carried has been designed as W5). He sired several white foals prior to his death in January 2008 and is the grandsire of another of the horses that played Silver, a 2005 white Canadian-bred Thoroughbred named Cloud Ten. Sired by Puchilingui's son Sato (a registered palomino with white splashes over his belly and quarters) out of the chestnut Burlington Arcade (by Winged T.), Cloud Ten stands as a sire of sport and performance horses alongside his sire at Blazing Colours Farm in Ontario. Another white Thoroughbred stallion descended from Puchilingui is his maternal grandson Bright White (by Roanoke out of the "roan" Artic Squaw); while officially registered as a gray or roan, Bright White appears white and has four non-gray grandparents. He stands alongside Airdrie Apache at Desert Oasis.

The white and very loud sabino-patterned horses noted above all seem to have arisen from spontaneous mutations, also the likely source for the color of Turf Club. A 2005 white mare by Trust N Luck (a chestnut with only modest white markings) out of the dark bay/brown Gone West mare Deebrand, Turf Club placed once from six starts and is now a broodmare. Her fourth foal, a 2013 filly by Old Fashioned, is reportedly white but has not yet been registered with The Jockey Club.

So far, no white Thoroughbred has ever become a stakes winner in North America, but in Japan the white Yukichan (by Kurofune out of the Sunday Silence mare Shirayukihime, another white) won three stakes events in 2008-2010. The, but the generally indifferent record of white Thoroughbreds as racehorses probably has more to do with the modest ancestry from which most have sprung than with their color, as well as the fact that many have been diverted into sporthorse lines. But if Patchen Beauty, Spot of Beauty, Turf Club, and their daughters continue getting decent opportunities, a breakthrough for these horses of a different color may be only a matter of time.
Read also: Avalyn Hunter's March 2009 review of white Thoroughbreds.
Post-publication updates to this story include references to the dominant white gene in equine color theory and the citation of Yukichan as a non-North American stakes winner.