Kettle Corn isn't likely to be mistaken for a great horse. While he has competed with some pretty good horses here and there in his four seasons on the track, he doesn't beat them all that often. Nor does he stray much from his home base in California. But he is a consistent, hard-trying competitor of the kind that often wins a loyal fan following despite being less than absolutely top-flight. And on his day, he can be dangerous, as he proved July 27 when defeating Paynter in the San Diego Handicap (gr. II).

Owned by Lee and Susan Searing's C R K Stables, Kettle Corn is by Argentine-bred Candy Ride , who turned heads during a brief but impressive campaign in the summer of 2003. An unbeaten champion and world record setter in his native land at 3, Candy Ride was equally dominating in his three American starts at 4. After warming up with an allowance win at Hollywood Park, the colt won the American Handicap (gr. IIT) over Special Ring, a two-time winner of the Eddie Read Handicap (gr. IT). Next up was the 10-furlong Pacific Classic (gr. I) at Del Mar. In spite of the race being on dirt and at a longer distance than he ever had attempted, Candy Ride simply toyed with multiple grade I winner Medaglia d'Oro , winning by 3 1/4 lengths in track record time of 1.59.11 and earning a Beyer speed figure of 123. Unfortunately, foot problems prevented further racing, and Candy Ride retired to Hill 'n' Dale Farms having won all six of his starts by an average of nearly six lengths.

In spite of his demonstrated ability, Candy Ride's initial stud fee was set at a modest $10,000. Part of this was due to a relatively unimpressive physical package which, while obviously effective as a racing machine, included small feet and hind legs with a little too much angularity (a fault shared by such racing and breeding luminaries as Round Table and Never Bend).

The other reason for Candy Ride's relatively low introductory fee was his pedigree, which like his conformation is actually reasonably good but not fashionable. His sire, Ride the Rails, is a stakes-winning son of Cryptoclearance out of Herbalesian, a Herbager half sister to 1966 Santa Anita Derby winner and successful sire Boldnesian (by Bold Ruler) and 1968 Hollywood Gold Cup Handicap winner Princessnesian (by Princequillo). Although the sire of some good horses in Argentina, Ride the Rails got nothing memorable from his single season in California in 2004.

The distaff side of Candy Ride's pedigree also has quality connections but is not familiar to American breeders. A half brother to Argentine group III winner Candy Apple (by Halo Sunshine) and South African group III winner Candy Singer (by Singspiel), Candy Ride was produced from unraced Candy Girl. By the important Argentine sire Candy Stripes (by Blushing Groom) out of the Farnesio mare City Girl, Candy Girl is a full sister to dual Argentine classic winner City West and a half sister to Chilean group II winner City Hylton (by Jack Hylton). This female line entered Argentina from France in the 1970s and has been a good source of group winners since its introduction.

Candy Ride has sired 36 stakes winners from his first five crops of racing age, including seven grade I victors, and has been represented in 2013 by nine stakes winners including recent Californian Stakes (gr. II) winner Clubhouse Ride. His percentage of winners is not high—to date, he has sired 47% winners from his 516 Northern Hemisphere foals 3 years old and older—but the ones that get to the races have their fair share of ability. Candy Ride relocated to Lane's End in 2009, where he commanded a stud fee of $40,000 in 2013.

Kettle Corn's distaff pedigree is nearly as unfamiliar as his sire's. Bred in Kentucky by Jim Plemmons, he is by far the best runner produced from Somethingbeautiful, who was in turn the best of eight foals produced by the Argentine import Bubali. A winner of three of her 14 starts and $98,398, Somethingbeautiful is by 1992 Kentucky Derby (gr. I) winner Lil E. Tee, who got little respect when he retired to stud despite a career that saw him unplaced only once in 13 starts. A son of the multiple grade I winner but indifferent sire At the Threshold (by 1976 Canadian Horse of the Year Norcliffe, a son of Buckpasser) out of the For The Moment mare Eileen's Moment, Lil E. Tee was not a fashionably bred horse and his stud opportunities reflected this; while he eventually sired 20 stakes winners prior to his death in 2009, about the best was 1999 Oak Tree Derby (gr. IIT) winner Mula Gula. Since Lil E. Tee's Derby win, his family has been upgraded by the emergence of grade I winner and successful sire City Zip and 2004 Horse of the Year Ghostzapper , both grandsons of Eileen's Moment's stakes-winning half sister Thirty Zip (by Tri Jet).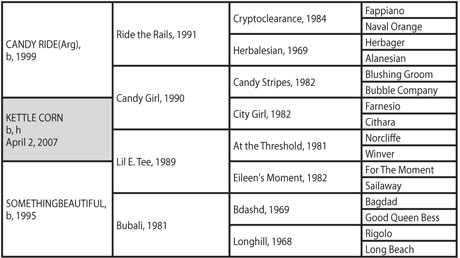 Bubali was a pretty good racer, winning two group races in her native Argentina and placing in the 1984 Gran Premio Seleccion (Argentine Oaks, Arg-I), but from there back, the pedigree is quite obscure by North American standards. A half sister to Argentine group III winner Lordship and Argentine stakes winner Alone (both by Malambo), Bubali was sired by Bdashd, a son of the good California stakes winner Bagdad who won several races but no black type before being exported to Argentina in 1977. Bubali's dam Longhill (by Rigolo) is a half sister to Argentine stakes winner Longdon (by Malambo) and is out of Long Beach, a full sister to 1961 Gran Premio Internacional Jockey Club del Peru winner Imbroglio.

With his good but not outstanding race record and offbeat ancestry, Kettle Corn is not likely to be offered a chance at stud outside California at the conclusion of his racing career. But he may have an honest chance to make it as a regional sire in the Golden State, where other horses with rather odd pedigrees such as In Excess, Bertrando, and Flying Paster have made significant contributions. In the meantime, he is likely to continue providing honest value and entertainment as a racehorse, and there's much to be said for that in a day in which most equine heroes fade away all too soon.