Ireland's Coolmore Stud reported Aug. 28 that multiple grade/group I winner St Nicholas Abbey "was comfortable and walking as well as can be expected" after a setback in his recovery from a life-threatening fracture and a bout of colic.
"A major complication in St Nicholas Abbey's recovery arose on Monday (Aug. 26) evening as he appeared a little uncomfortable," said a statement on Coolmore's website. "Radiographs showed the steel weight-bearing pin in his cannon bone had broken and after consultation, the surgeons decided to take it out.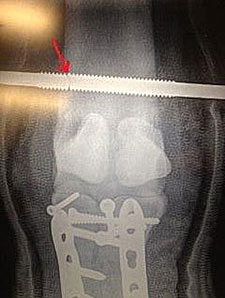 "The damaged pin can be clearly seen on the radiograph. This procedure was done Monday night, the leg has been re-cast and St Nicholas Abbey is now bearing weight on the fractured leg.
"This development has come sooner than we would have ideally liked, so the next week is a very tentative period for us. This (Aug. 28) morning St Nicholas Abbey is comfortable and is walking as well as can be expected. His temperament and demeanor are a tremendous plus both for him and the team treating him."
A 6-year-old son of Montjeu, St Nicholas Abbey fractured his right foreleg while training at Ballydoyle July 23. He underwent surgery for the injury July 24 and two days later was operated on for colic.