It isn't every day that a mare has two new grade I winners added to her family, let alone in back-to-back races on the same card. But that's exactly what happened on Aug. 24. In the Foxwoods King's Bishop Stakes (gr. I) at Saratoga Race Course, Eclipse Thoroughbred Partners' Capo Bastone pulled a 28-1 upset in an impressive come-from-behind performance. Less than an hour later, Willis Horton's Will Take Charge nipped Moreno on the line to win the Travers Stakes (gr. I) over pro tem divisional leaders Verrazano, Orb, and Palace Malice.
A hunch bettor with a taste for both puns and pedigree research would have found a good parlay here, for the fifth dam of both colts is the appropriately named Times Two.

A 1958 foal by four-time leading broodmare sire Double Jay out of Warner Jones Jr.'s mare Bayadere, by two-time leading sire Chance Play, Times Two was a younger half sister to Royal Bay Gem (by Royal Gem II), a five-time stakes winner with enough class to place in both the 1953 Preakness Stakes and Belmont Stakes. Times Two was not quite that good herself but was far better than an empty stall; not only did she prove tough and hardy by winning eight of her 51 starts over three seasons, but her 20 placings included second- or third-place finishes in seven stakes races, among them the Selima Stakes (then an important juvenile event) and the Kentucky Oaks.

Times Two was acquired by Leslie Combs II (who bred a number of Times Two's foals in partnership with Fourth Estate Stable) and had her best successes with stallions standing at Combs' Spendthrift Farm. She produced the multiple juvenile stakes winners Heisanative (by Raise a Native) and Two Timing Lass (by Prince John), as well as multiple stakes-placed Director (by Swaps). Director, in fact, was a later-maturing version of her dam, winning 10 of her 72 starts over five seasons including six stakes placings at ages 4 through 6.

Four of Times Two's daughters became stakes producers. As might be expected, Two Timing Lass was one, producing the Canadian grade III-winning colt Cost Control (by Intrepid Hero), but her branch of the family has not produced much since. Times Two's first foal, Predate (by Nashua) did better, throwing 1973 Blue Grass Stakes (gr. I) winner My Gallant and becoming the great-granddam of grade III winner Biogio's Rose, although Biogio's Rose has been a disappointing broodmare despite good opportunities.

Director has had better fortune over the long run, even though her own production record was not particularly memorable. Of her seven foals, six raced and won, including Irish stakes winner God's Mark (by Little Current), but none showed any great talent. Her best daughter, Grand Bonheur (by Blushing Groom), was a sprinter and probably had ability comparable to that of God's Mark, winning or placing in five of her nine starts while racing in decent company.

Grand Bonheur produced group I-placed Northern Tryst (by Northern Baby) and stakes-placed Zarbyev (by Nureyev), as well as Irish hurdle stakes winner Rogerdor (by Tom Rolfe). But her most important foals were her last two: unraced Felicita (by Rubiano) and the non-winner She's Got Class (by Trempolino), dam of 2010 Breeders' Cup Turf Sprint (gr. IIT) winner Chamberlain Bridge (by War Chant).

Felicita proved a good broodmare, the best of her three stakes winners being Take Charge Lady (by Dehere). A good filly anywhere, Take Charge Lady was the queen of Keeneland in 2001-03, taking the 2001 Walmac International Alcibiades Stakes (gr. II), the 2002 Ashland Stakes (gr. I), and the 2002 and 2003 editions of the Overbrook Spinster Stakes (gr. I). In her turn, Take Charge Lady has been a first-rate broodmare for Eaton Sales, producing 2012 Florida Derby (gr. I) winner Take Charge Indy (by A.P. Indy) and the newly-minted Travers Stakes winner Will Take Charge (by Unbridled's Song). Take Charge Lady had no produce in 2011 but has a yearling filly from the last crop of Indian Charlie and a 2013 colt by hot sire War Front .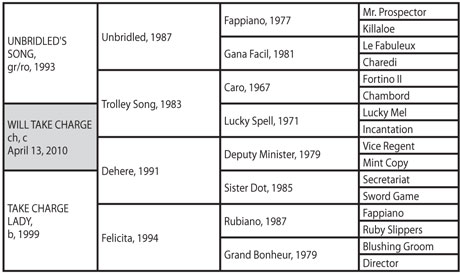 Felicita is also the granddam of another good stakes winner through Eventail, a stakes-winning daughter of the good Roberto horse Lear Fan. Bred to Giant's Causeway , Eventail produced 2011 Autumn Stakes (Can-II) winner Straight Story.

The other significant line descending from Times Two stems from her winning daughter Quadruple (by Fleet Nasrullah), who produced French group III winner Tobin Lad (by J. O. Tobin); stakes-winning fillies La Jalouse (by Nijinsky II; dam of three stakes winners) and Stephanie Leigh (by Northern Dancer); and Springtime Fantasy (by Affirmed), dam of 1998 Canadian champion juvenile filly Fantasy Lake (by Salt Lake). Fantasy Lake, in turn, is the dam of stakes winners South Bay Cove (by Fusaichi Pegasus; dam of multiple Irish group III winner Free Judgement) and Hello Maggie May (by Lemon Drop Kid).

Stephanie Leigh produced only three foals, and her winning daughter Love Is Love (by Secretariat) produced only one, stakes-placed Fight to Love (by Fit to Fight). But Fight to Love is now a grade I producer thanks to the mating with Street Boss that produced Capo Bastone (bred by Hargus Sexton, Sandra Sexton, Tom Bozarth, and Silver Fern Farm), and her daughters should have a chance to continue the line. Fight to Love had produced four winners, including a graded stakes-placed winner, from six foals of racing age prior to Capo Bastone. Her juvenile filly by Corinthian, La Sorella, has yet to race, and she has a 2013 filly by Flatter .

With its rather hit-or-miss record, the family of Times Two is not one of the great ones of the American Turf, nor has it shown a clear affinity for any particular sire line. But as long as a family keeps being bred to good stallions and turning up some good runners from time to time, there is always a chance that a branch will flower into something better—though when and where is always subject to the whims of chance