The 2012 Breeders' Cup Mile (gr. IT) was everything we hoped it would be. We followed Wise Dan into the race with faith that Charlie LoPresti wasn't just full of trainer speak, that this horse was actually as brilliant as his conditioner said. We'd seen him win the Shadwell Turf Mile (gr. IT) at Keeneland, the Woodbine Mile (Can-IT) at Woodbine, the Fourstardave Handicap (gr. IIT) at Saratoga Race Course, the Ben Ali (gr. III) in a record-setting route back in Lexington at the beginning of the season. But the Breeders' Cup at Santa Anita Park would be his proving ground.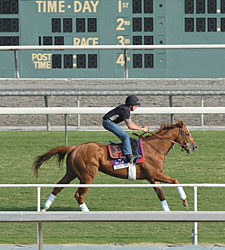 I'll always remember watching the Wiseman's Ferry gelding walk through the backside Nov. 1 en route to his first gallop on the California lawn. He took in new surroundings with a confident air, strolling quietly beside the pony as he made his way to the track. Charlie walked up into the grandstand and settled down—seat 9, row 2—to watch his racehorse jog on by. There was a little haze surrounding the San Gabriel Mountain range, but the oval itself was drenched in sunlight and Wise Dan's copper coat glinted in the beams. Anyone who watched him gallop that morning, neck bowed strong into the bridle, could see he was a force to be reckoned with.
I walked back with Wise Dan after the race, missing much of the Classic festivities, just standing there listening while he cropped at grass outside Barn 36. It was quiet and peaceful, and I felt the deep satisfaction that comes from knowing a horse is good, from knowing you've witnessed his best moments. The 2012 Mile was proof a great runner can come from anywhere.
Once in a while, this game actually does deliver on all its promises.