For those who like to follow trends in breeding, one of the more interesting features of the last 10 days or so has been the hot streak for young sire sons of Street Cry. The streak began when Capo Bastone upset the King's Bishop Stakes (gr. I) to become the first graded stakes winner for second-crop sire Street Boss . Then, on the most recent weekend, two more Street Cry stallions, Street Hero and Street Sense , were represented by major winners.
Street Hero, who did already have a Southern Hemisphere group I winner to his name, recorded his first Northern Hemisphere graded winner when his first crop son Gabriel Charles took a division of the Del Mar Derby (gr. IIT). Just a few hours prior to Gabriel Charles' win, Sweet Reason, from the third crop of Street Sense, splashed home 5 3/4 lengths clear in the Spinaway Stakes (gr. I).
Street Sense himself was a member of Street Cry's stellar first crop that produced 16 stakes winners from 66 starters and 88 foals, and also included Zenyatta. He remains the only horse in a span now approaching 30 years to capture the Bessemer Trust Breeders' Cup Juvenile (gr. I) and then go on to triumph in the Kentucky Derby Presented by Yum! Brands (gr. I), both victories coming under Calvin Borel's patented rail-hugging rides. In addition to those two victories, Street Sense also captured the Travers Stakes (gr. I), Jim Dandy Stakes (gr. II), and Tampa Bay Derby (gr. III), and he missed by a head to the division's champion, Curlin , in the Preakness Stakes (gr. I).
Retired to Darley in Kentucky, Street Sense didn't make the start to his stud career that his performance and pedigree (in addition to being a son of Street Cry, he's also from the immediate family of successful sires Mr. Greeley and Danehill Dancer) had led his supporters to hope for. By the end of last year, Street Sense had been represented by five stakes winners from a first crop of 114 foals, with only Iroquois Stakes (gr. III) scorer Motor City and Southwest Stakes (gr. III) captor Castaway tallying at the graded level. At the same stage, the sole stakes winner from Street Sense's second crop was Unlimited Budget, successful in the Demoiselle Stakes (gr. II).
With that in mind, it came as little surprise to hear that Street Sense would be joining the Darley Japan roster for 2013, and for those who believe that a stallion will become good the minute he is exported, it will also be no surprise that Street Sense's record is much improved this term. Indeed, it's improved so much that with 10 stakes winners to his name in 2013, six of them graded, he currently reigns as leading third-crop sire. That initially somewhat disappointing first crop has produced four new group or graded scorers this year with Aubby K (Humana Distaff Stakes, gr. I), Fleet Street (Elm Stakes, Jpn-III), Ice Cream Silence (Hilliard Lyons Doubledogdare Stakes, gr. III), and Cigar Street (Skip Away Stakes, gr. III). Last year's graded winner Unlimited Budget has added the Fair Grounds Oaks (gr. II) and Rachel Alexandra Stakes (gr. III), and Sweet Reason's Spinaway romp propelled her to the top of her division.
Sweet Reason's dam, Livermore Leslie, now has the distinction of producing one of the best runners for two different sires, as she's also dam of the Kafwain filly Don't Forget Gil, successful in three black-type events including the Florida Oaks (gr. III), and runner-up in the Coaching Club American Oaks (gr. I). There is nothing immediately obvious in Livermore Leslie's background to explain why she should have become such a notable producer. She was a tough and useful performer, winning six of 33 outings and never starting for a tag, but the peak of her achievement in black-type company was a second in the 6 1/2-furlong Marigold Stakes at Turfway Park. Similarly, her sire, Mt. Livermore, has been a good, but not outstanding, broodmare sire, and Sweet Reason follows Flashy Bull as only the second grade I winner out of a Mt. Livermore mare.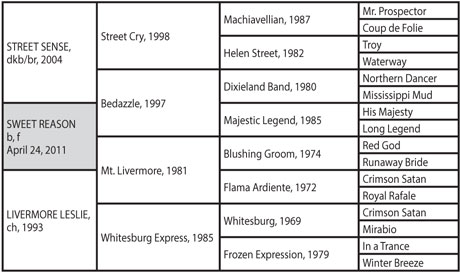 The story is somewhat similar when we consider Livermore Leslie's female line. She is a half sister to the Los Angeles Handicap (gr. III) scorer Highland Gold, and to stakes-placed Fountain Square, in turn the dam of Pennsylvania Derby (gr. II) hero Timber Reserve. Her dam, Whitesburg Express, a daughter of the tough Midwestern sire Whitesburg, had a similar record to Livermore Leslie, winning seven of 40 starts and taking second in the H.B.P.A. Handicap and third in the La Troienne Stakes and Gowell Stakes.
Whitesburg Express's dam, Frozen Expression, also produced the listed winner Cabrini Express, but her descendants are the only stakes winners to stem from Livermore Leslie's third dam, the Nearctic mare Winter Breeze. Things improve considerably when we go back a further generation, as Winter Breeze is out of the National Stallion Stakes victress Lady Brilliance, who in turn was out of multiple stakes winner Staretta, also granddam of Matriarch Invitational Stakes (gr. IT) winner Asteroid Field.
Staretta's dam, Gambetta, was also a talented runner, her most prestigious win coming in the Debutante Stakes. Gambetta turned out to be even more distinguished as a producer, appearing as dam of the three-time champion Gamely and as ancestress of a slew of other major winners. A daughter of My Babu out of the great foundation mare Rough Shod II, Gambetta was also closely related to Rough Shod II's celebrated offspring Ridan (champion at 2), Moccasin (Horse of the Year at 2 on some polls), and Thong, who has exerted enormous influence on the breed as the granddam of Nureyev and third dam of Sadler's Wells.
Looking at the pedigrees of the mares in the female line, one can see quite a lot of inbreeding and linebreeding. Winter Breeze was 3x4 to the great racehorse and sire Hyperion. Frozen Expression had Hyperion 4x4x5 and was also 5x4x3 to Nearco (with the two crosses in her sire, In a Trance, coming via the closely related Nasrullah and Royal Charger). In a Trance also has Ambiorix, a close relative to My Babu (who we mentioned as sire of Frozen Expression's fourth dam), and My Babu's own dam is also closely related to Nasrullah and Royal Charger. By way of contrast, Livermore Leslie's dam, Whitesburg Express, is an outcross at five generations, but inbreeding resumes in Livermore Leslie's pedigree as she is 3x3 to Mt. Livermore's broodmare sire, champion 2-year-old colt Crimson Satan.
With Sweet Reason (TrueNicks-rated A+), we are back to more of an outcross, as at five generations the only inbreeding or linebreeding is a 5x5 cross of Nearctic. Street Sense does, however, have eight crosses of Hyperion and 11 of Nearco—eight of those through either Nasrullah or Royal Charger—so perhaps he's hitting up the concentrations in the background of Sweet Reason's female line. More prosaically, we can note that Street Sense has also sired graded stakes winner Castaway out of a mare by Storm Cat, a horse whose dam, Terlingua, is a product of the same Nasrullah/Crimson Satan cross as Mt. Livermore.