The inaugural Breeders' Cup Classic (gr. I) at Hollywood Park Nov. 10, 1984, had more drama than even John Gaines could have envisioned when he conceived the World Championships.
The race itself was indeed a classic, with longshot Wild Again, prohibitive favorite Slew o' Gold, and quirky Gate Dancer battling to the wire in a physical slugfest. Less than a length separated the three game racehorses, with Wild Again the winner, followed by Gate Dancer and Slew o' Gold. After what seemed like an eternity (actually eight minutes), stewards upheld 31-1 shot Wild Again's first-place finish, but placed Slew o' Gold second and Gate Dancer third after ruling the hooded Gate Dancer had impeded the 3-5 favorite.
As exciting as that was, the back story of how Wild Again got there makes the first Classic even more compelling.
Although Wild Again had won the Meadowlands Cup (gr. I) for the Black Chip Stable of Bill Allen, Terry Beal, and Ron Volkman, the diminutive nearly black son of Icecapade trained by Vincent Timphony went into the Classic off a third-place finish in allowance company at Bay Meadows and was seemingly overmatched against the likes of Slew o' Gold, arguably the best older horse in the country, and top 3-year-olds Gate Dancer and Precisionist.
In 1984 Allen was a client of the Dick Lossen Agency, where I was working as an assistant doing research and helping with contracts. I had gotten my position at the bloodstock agency thanks to my friend Vicky Van Camp (later Vicky Lossen), with whom I had previously worked at BRIS before I went to Bowling Green, Ky., to work as a newspaper reporter for a couple of years.
As the Breeders' Cup approached, Allen and partners considered entering Wild Again in the Classic but hedged because they would need to ante up a $360,000 supplemental fee for horses not initially nominated to the Breeders' Cup.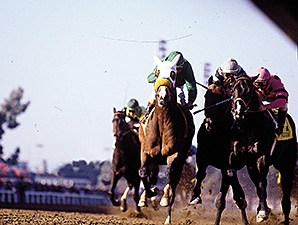 As an employee of the Lossen Agency, then one of the largest volume bloodstock agencies in the U.S., I had a window to the discussions about what to do. Although Allen, a known risk-taker, did not want to put up the money to run, Lossen said recently the owner relented after the bloodstock agent pointed out that he would recoup most of the investment just by running third.
Working with a vice president at then-First Security National Bank in Lexington, Lossen drew from his personal line of credit for the $120,000 early bird payment and hand-delivered it to the Breeders' Cup offices. After pledging one of his top mares in foal to Blushing Groom as collateral, Allen borrowed the entire $360,000 from the bank.
In the end, it was a risk worth taking, as Wild Again earned $1,350,000 for the win.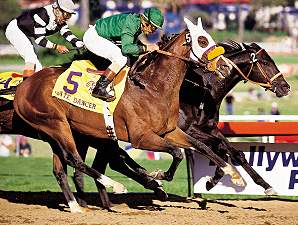 Were it not for the confidence Allen and Timphony had in their colt and Lossen's banking connections, the inaugural Breeders' Cup Classic could have been a two-horse race.
Allen and Timphony both died in 2008. Wild Again went on to become one of the leading sires in North America and was euthanized in 2008 at age 28 at Three Chimneys Farm, where he stood most of his career.