The day prior to the 1998 Maryland Million at Laurel Park, I had the good fortune of taking a trip up I-95 to Michael Dickinson's Tapeta Farm near North East, Md. The affable trainer moved quickly while proudly showing off his immaculate 40-stall barn and the highlight of his farm—his training gallops with different cuts of grass and his patented Tapeta racing surface.
Two years earlier Dickinson had sent out Prestonwood Farm's Da Hoss to win the Breeders' Cup Mile (gr. IT) at Woodbine. While the Gone West gelding hadn't started in nearly two years, he remained "in training" and had then made a comeback effort Oct. 11 of 1998 in a nine-furlong allowance race on the turf at Colonial Downs.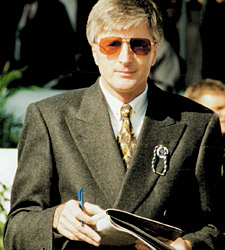 Dickinson was intent on returning Da Hoss for a second run at the Breeders' Cup, bringing the 6-year-old up to a world-class level race off one minor prep race in two years.
As the crowd left the paddock at Churchill Downs prior to the race two weeks after my trip to the farm, Dickinson's partner, Joan Wakefield, was separated from the group and wound up riding on the old press box elevator at the Louisville track. She watched the race standing next to me in the outside area and screamed her head off as she jumped up and down as Da Hoss led, then was passed by Hawksley Hill, only to battle back and get the nose advantage in the final few heart-pounding strides. Several curmudgeons of the press box loudly reprimanded her with the "no cheering in the press box" adage. She couldn't have cared less—she just wanted to find her way down to the winner's circle.
It was a memorable moment for the horse, his incredible training team, and the Preston brothers.
For what it's worth, I have always been a fan of Da Hoss. When my aunt and uncle traveled to New York for the 1995 Breeders' Cup, they asked my opinion for a horse to play. My lone suggestion was Da Hoss, a 10-1 shot in the Sprint (gr. I). Needless to say he ran last that day, beaten 27 lengths. Little did we know that Da Hoss would come back to win not one, but two Breeders' Cup races in the coming years. At least I cashed out on the last one.