If you ever want to bait an East Coast racing fan—and we West Coasters delight in doing so regularly—mention Sunday Silence's 1989 Breeders' Cup Classic (gr. I) victory.
What makes it such fun is that Easterners will NEVER admit defeat. Affirmed was better than Alydar, people. Deal with it. And don't start with me about Swaps and Nashua, or I'll bring up Swaps' bad foot—and I wasn't even around then.
But the one they really take personally is Sunday Silence because he proved himself over the very popular Easy Goer. Even 23 years later, an Easterner will say "Easy Goer and Sunday Silence." Look at the score—3-1. Doesn't that earn Sunday Silence the right of being named first?
Both were superb horses with incomparable trainers. Charlie Whittingham had so many good horses that Sunday Silence may not have even been his best. Shug McGaughey, who trained Easy Goer, has shown this year with Orb just how talented he has always been.
I was covering that Breeders' Cup at Gulfstream Park for "The Thoroughbred of California" magazine. Even though Sunday Silence won the Kentucky Derby (gr. I) and Preakness Stakes (gr. I) to Easy Goer's Belmont Stakes (gr. I), all I heard on the backstretch the entire week was how Easy Goer was going to show that West Coast horse who the real champ was. (By the way, both horses were bred in Kentucky, which makes the whole "controversy" even more amusing.)
Charlie, being Charlie, simply went about training Sunday Silence quietly. Shug, a humble man, didn't engage in the nonsense either. They both knew the quality of their horses.
By the time of the Classic, I had received good-natured abuse from every East Coast friend I had in the media. I stood in the grandstand, trying to hold onto my reporter's detachment. But when Easy Goer ranged up to Sunday Silence on the final turn, I started screaming. Knowing how handy Sunday Silence was in the turns, I was not surprised when Chris McCarron let out a notch and Sunday Silence pulled away, his sights set on Slew City Slew and Blushing John ahead of him.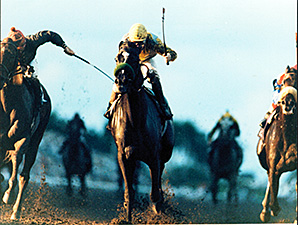 Easy Goer wasn't finished with Sunday Silence, though. The Easterner powered up in the stretch after Sunday Silence put away the others. I was jumping up and down like a maniac, yelling at the top of my lungs for Sunday Silence to crush the Easterner.
This was apparently nothing compared to what was going on in the Santa Anita press box. My husband, Jon White, told me later that he thought the press box might fall down with all the hollering and foot stomping going on from every reporter and handicapper left in California.
When Sunday Silence repulsed Easy Goer by a grim neck, his West Coast fans, no matter where they were, felt vindicated. The huge grin on my face never left, becoming especially wicked whenever I encountered someone from the East.
Much later, Bill Leggett of Sports Illustrated walked up and handed me a wad of cash. I had persuaded Jon to take part in a media office pool at Gulfstream on the entire Breeders' Cup card. Heading into the Classic, Jon and Sue Finley, a New Yorker and one of Easy Goer's biggest fans, were tied for first, and, well, you can imagine which horse each of them picked in the final race.