If I had witnessed the 1988 Breeders' Cup Distaff (gr. I) in person, I would have been a 7-year-old child, wide-eyed and full of admiration of the amazing feat accomplished by one of the greatest racemares in history. Perhaps if I had seen the race up close at that time, Personal Ensign would have inspired my interest in the Thoroughbred industry much earlier.
But as fate would have it, I didn't learn the filly's story of survival until much later down the road, and while the poor video quality depicting her Breeders' Cup triumph certainly didn't do her justice, I was still inspired beyond words.
A relative newbie to the industry when I started working at The Blood-Horse in the spring of 2005, I found much joy in talking with breeders and owners still high off their respective victories from the weekend races.
One Sunday afternoon I conducted a phone interview with a breeder who began weeping when she recounted how her horse had suffered from a life threatening illness as a foal, but had overcome that adversity to notch an important stakes score.
"This horse is like my Personal Ensign," said the breeder. When I asked who Personal Ensign was, I could hear the shock in her voice. "You don't know who Personal Ensign is? Honey, you need to go and watch her 1988 Breeders' Cup Distaff right now. You'll never be the same."
After hanging up, I immediately went online to read about Personal Ensign and discovered a video of the filly's legendary Breeders' Cup race.
Bred and raced by Ogden Phipps and trained by Shug McGaughey, Personal Ensign flashed immense promise during her juvenile season in 1986 when she broke her maiden by 12 3/4 lengths, followed by a head victory in the Frizette Stakes (gr. I).
A fracture to her left hind pastern bone and subsequent surgery to insert five screws in her left hind leg put an abrupt end to Personal Ensign's season, however. The timing was unfortunate, as it occurred shortly before the Breeders' Cup Juvenile Fillies (gr. I), a race she would have been favored to win. While such an injury would have been a death sentence to most horses' careers, Personal Ensign had other plans.
The daughter of Private Account fully recovered and returned to racing with a vengeance in the fall of her 3-year-old season, winning four more races, including two stakes. As a 4-year-old in 1988, Personal Ensign was undefeated in seven starts, six of which were group I events.
Personal Ensign's Breeders' Cup Distaff, in which she prevailed by a narrow nose over that year's Kentucky Derby (gr. I) winner Winning Colors was without doubt the most defining race of her illustrious career.
After appearing to be completely out of the race when coming wide into the stretch, Personal Ensign was able to switch leads under jockey Randy Romero and pursue the front-running Winning Colors. How she conjured enough strength and courage to outlast her rival in the final jump, thus keeping her career record perfect, I'll never understand.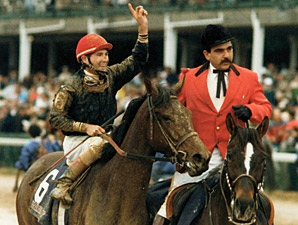 "To get one like her is one in a million," said Romero on the television broadcast following the race. "What's so good about her...she don't want to get beat. She's determined to get the job done, and that's what she did today."
In spite of my inexperience in the industry and tendency to sometimes get intimidated or discouraged, I find great hope in the story of Personal Ensign, who overcame the longest of odds in both career and life. Eight years after first learning her story I'm no less amazed or inspired by her incredible heart.