When 2005 NetJets Breeders' Cup Mile (gr. IT) winner Artie Schiller ended his racing career in 2006, a number of questions hung over him. At the time, his now-deceased sire El Prado (by Sadler's Wells) was a proven success but not a proven sire of sires. El Prado was from what was perceived as a European sire line, and no one knew whether his success in North America was a fluke or if it represented the establishment of a branch adapted to American conditions. Artie Schiller himself was a good racehorse but not a great one, and his female family had racing class but little in the way of sire power in recent generations. And of course, there was the typical American bias against turf horses as sires. Thus, he stood his first season at Hurricane Hall in 2007 at a relatively modest fee of $15,000.
Now at WinStar Farm, Artie Schiller stood the 2013 season at a fee of $10,000, but his fortunes may be taking a turn for the better if the recent Keeneland meeting is any indication. On Oct. 4, his daughter My Conquestadory won the Darley Alcibiades Stakes (gr. I) impressively for Conquest Stables, becoming the stallion's first North American grade I winner. The following day, his son We Miss Artie upset the Dixiana Breeders' Futurity (gr. I), carrying the silks of Ken and Sarah Ramsey and vaulting his sire to second place on the current juvenile sire standings.
If Artie Schiller is able to build on these results, he will become the third son of El Prado to achieve notable success at stud in the U.S. The first, of course, was Medaglia d'Oro , whose case was helped by both his status as a multiple grade I winner on dirt and his exceptional good looks. The leading second-crop sire of 2009, Medaglia d'Oro has sired 50 stakes winners to date including 2009 Horse of the Year Rachel Alexandra.
The second, 2004 champion turf male Kitten's Joy , has been more of a surprise but has had the benefit of excellent support from his owner-breeders, the Ramseys, as well as an affinity for mares returning Roberto (sire of Kitten's Joy's broodmare sire, Lear Fan) in their pedigrees. The leading third-crop sire of 2011, Kitten's Joy has sired 42 stakes winners—including five that are grade or group I winners in 2013—and is a close second (by only $2,142 to Speightstown as of Oct. 10) on the general sires list.
While a male-line descendant of Northern Dancer, Artie Schiller is free of Mr. Prospector, Hail to Reason, Seattle Slew, and In Reality, making him a potential outcross for much of the broodmare population. Both My Conquestadory (bred by Paul Tackett) and We Miss Artie (bred by Richard L. Lister) are inbred 4x5 to Northern Dancer, hardly uncommon these days, but in both cases the strain in the dam comes through Danzig. This is potentially interesting, both because of the increasing number of good runners in Europe combining Sadler's Wells and Danzig and because Artie Schiller has also sired Australian group III winner Big Chill and U.S. listed stakes winner Senator Beck from mares returning Danzig.
To date, Artie Schiller has sired 19 stakes winners in both hemispheres, including 2013 Turkish group I winner Cakal Carlos and 2012 Flinders Lane Rosehill Guineas (Aus-I) winner Laser Hawk. This is reasonably encouraging compared to the performance of other sires from Artie Schiller's immediate female family. While his dam, Hidden Light (by the good racer and sire Majestic Light), was a dual grade I winner, her full brother Prince True, also a two-time grade I winner, made no show as a sire in Australia. Tallahto (by Nantallah), the dam of Hidden Light and Prince True, was also a multiple grade I winner but produced no other colts of any significance, and her half sister Banja Luka was the dam of the ill-fated 1987 Horse of the Year Ferdinand (by Nijinsky II), another disappointing stallion.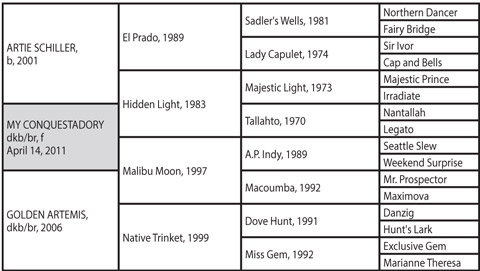 In fact, while Artie Schiller is a direct descendant of Frizette—the ancestress of Mr. Prospector and Seattle Slew—in the female line, he is from a branch of the family that has a less than stellar record as a producer of sires. Descended from 1942 champion 3-year-old filly Vagrancy, whose son Black Tarquin (by Rhodes Scholar) won the 1948 St. Leger Stakes but proved an indifferent sire, this branch includes KTOB Broodmares of the Year Natashka (1981) and Banja Luka (1986) but also includes the mediocre sires Gold and Ivory, Distant Relative, Ezzoud, and Anees, all champions or highweights on the track.
Still, there are exceptions to every rule, and the exception in the case of Vagrancy's family has been Elusive Quality, who like Artie Schiller is a fifth-generation descendant of the champion filly and, again like Artie Schiller, showed his best form at a mile on turf. The leading sire of 2004, Elusive Quality has sired top runners on all surfaces including 2004 champion 3-year-old male Smarty Jones , 2008 Breeders' Cup Classic (gr. I) winner Raven's Pass, and current European star Elusive Kate, a multiple group I winner on turf.
Artie Schiller has yet to sire a top runner on dirt, which is still the most common surface in American racing. Nonetheless, the recent accomplishments of My Conquestadory and We Miss Artie should give him a boost with bookings for the upcoming breeding season. With the right mares, further successes should be only a matter of time.