Being a tried-and-true Californian in the vast world of horse racing, there's nothing I enjoy better than seeing one of our own vanquish the greatest on the sport's biggest stage. For his amazing accomplishments, Tiznow will always be "our" horse, the champion from central California.
Before his Horse of the Year accolades and back-to-back Breeders' Cup Classic (gr. I) wins, Tiznow got his start as a gangly Cal-bred colt, born at a sprawling Coalinga farm best known as the state's biggest cattle ranch.
The desolate region was an unlikely birthplace for a horse that moved on to become an influential bluegrass stallion. Halfway between Los Angeles and Sacramento, Harris Ranch's steak house is a favorite stop for travelers on Interstate 5, about 200 miles from either destination. The nearby feedlot is constantly packed with about 100,000 cattle. Tiznow was born and raised at Harris Farms' Thoroughbred nursery, upwind from the cows.
Tiznow was one of nine offspring of Cee's Tizzy, his bleached white sire, and the Seattle Song mare Cee's Song. It was a match that worked. Tiznow's older brother Budroyale finished second in the 1999 Breeder's Cup Classic and the gelding earned more than $2.8 million over 52 races during a seven-year career. Brothers Tizbud and Tizdubai also became stakes winners. Little sister Tizamazing produced 2013 Preakness (gr. I) winner Oxbow .
Breeder Cecilia Straub-Rubens tended to name all her horses Cee's something. Her racing partner, Michael Cooper, recalled he asked Cee the woman, in half-joking desperation, "Can't we have a Tiz now?"
Straub-Rubens, who died just a few days after the 2000 Breeders' Cup, had to wait before Tiznow started his career. His huge size and niggling injuries delayed his debut until April in his 3-year-old year and it took him three starts to break his maiden. He missed the classics for his ever-patient trainer Jay Robbins, but won the Super Derby (gr. I) by six lengths over Belmont Stakes (gr. I) winner Commendable following a runner-up finish in the Pacific Classic (gr. I). Robbins aimed him for the 2000 Breeders' Cup.
This was before I went to work for The Blood-Horse, but I wasn't going to miss it. For the Sacramento Bee, I flew to Louisville for the Breeders' Cup as a photographer, along with reporter Debbie Arrington. Tiznow was our "local" story for the Bee, which covers most of Central California.
With his lightning bolt blaze, Tiznow had character and fame in California racing thanks in no small part to his jockey, the popular Chris McCarron. And he had already proven he could take his act on the road.
But Tiznow was a long shot, a California oddball among racing's blue bloods. This classic starred Giant's Causeway , the Irish champion and proclaimed super horse. Kentucky Derby (gr. I) winner Fusaichi Pegasus and Lemon Drop Kid also were among the favorites.
And this was Churchill Downs.
But Tiznow, in a race that still gives me goosebumps, did not disappoint at 9-1 odds. Hooked up on the lead to the outside of Jockey Club Gold Cup (gr. I) winner Albert the Great at a quick tempo, the big bay edged ahead in upper stretch but was quickly challenged by Giant's Causeway on his outside. He could easily have given way under the pressure. But Tiznow would not let the Irish superstar past. Nearly headed at the furlong marker, he won by a determined neck and was actually inching away as they reached the wire.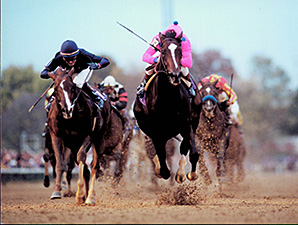 Blurry eyed from celebrating California's only BC Classic champion, Debbie and I queued up at the checkout line at the Louisville airport rental car agency before dawn the next morning. Standing there waiting for the attendant, we looked up at the next customer—and it was trainer Jay Robbins. He looked a little tired, too, but seemed more relieved than anything else. We offered him our heartiest congratulations. But I think we were all a little in shock after what had happened.
Robbins, for an encore, brought Tiznow back from a six-month layoff with a hind end injury to repeat in the 2001 Classic, beating Prix de l'Arc de Triomphe (Fr-I) champion Sakhee by a nose in another stirring finish.
Tiznow, of course, stands at spectacular WinStar Farm in Versailles, where he has become one of the nation's leading sires. I visited him a few years ago along with Ron Mitchell of The Blood-Horse while spending some time at the home office in Lexington. I'll never forget his handler whistling to him from across his spacious paddock and how the big fella came bounding toward us. I wanted to get a photo with my equine hero. But on a frigid spring morning, Tiznow had designs on my coat instead. In a good-natured way, he nearly managed to wrestle it off my back. Quite a character. Quite a horse.