Sometimes you marvel at a racehorse's performance, sometimes you shake your head, and sometimes you do both.
Such was the case Sept. 27, 1986, at Philadelphia Park, when heavy favorite Broad Brush took command entering the far turn in the Pennsylvania Derby (gr. II), and then took a sharp right turn to the outside rail nearing the stretch and apparently lost all shot. In a remarkable effort, however, he straightened out under Angel Cordero, blew past the horses that had passed him, and won by 1 1/4 lengths on a sloppy track.
Broad Brush was one of my favorite horses. He had 3- and 4-year-old seasons in which he earned $1.4 million and $1.2 million, respectively, but never raced in a Breeders' Cup event. He also was the leading sire by earnings in 1994—thanks to his son Concern.
Concern, like Broad Brush, was owned by Robert Meyerhoff and trained by Richard Small. He not only raced in the Breeders' Cup, he won the $3 million Classic (gr. I) at Churchill Downs as a 3-year-old in one of the more dramatic finishes in the history of the race.
He was another favorite of mine, not only because of his sire but because of his running style. There were rare occasions during his 30 career starts that Concern wasn't far back early, which no doubt led to his 11 third-place finishes. But he did win seven times and finish second in seven races.
Concern was a throwback-type horse that raced 14 times at 3—Broad Brush did, too—with a ninth-to-first neck victory in the Arkansas Derby (gr. II) at 20-1 and a neck loss to Holy Bull in the grade I Travers Stakes at 5-1 among his most productive efforts in 1994.
Small prepped Concern for the Breeders' Cup in the Oct. 1 Super Derby, then a grade I event, at Louisiana Downs. He finished a neck short of making up more than 10 lengths behind the winner, Soul of the Matter.
There was no standout in the 1994 Classic in the absence of eventual Horse of the Year and 3-year-old champion Holy Bull. The older horse division wasn't well-populated, which led to seven 3-year-olds in a field of 14; four of them finished one-two-three-four in the Classic.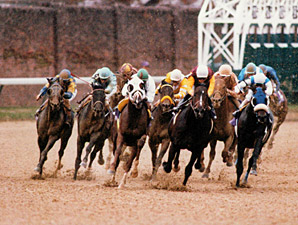 The track was fast and the time was average, but it was pretty cool to tout and bet a 7-1 shot in the Breeders' Cup Classic and watch him roll home from 14th and last early in the race. Concern, ridden by Jerry Bailey, just got up to nail favored Tabasco Cat by a neck, with Dramatic Gold third and Soul of the Matter fourth.
Was it as dramatic as the Pennsylvania Derby win by his sire? No, but it was pretty close.