He was riding in Seattle at the old Longacres Racetrack when this concept came along, the next big thing in horse racing. Now a Hall of Fame member, Gary Stevens remembers his 20-year-old fresh-faced self, thrilled at the opportunity to ride at least one of the races in the inaugural Breeders' Cup World Championships.
Exactly 99 Breeders' Cup mounts and eight wins later, Stevens returns off a seven-year absence, his comeback launched in January and already a huge success with victories in the Preakness Stakes (gr. I) and, more recently, the Awesome Again Stakes (gr. I) aboard Mucho Macho Man . Will an arsenal of talented competitors—led by Mucho Macho Man in the Breeders' Cup Classic (gr. I) and Beholder in the Breeders' Cup Distaff (gr. I)—bring him back to the winner's circle at Santa Anita Park Nov. 1-2?
Here, the 50-year-old reinsman shares his favorite Breeders' Cup memories, talks about the hardest Breeders' Cup races to win, and fills us in on his roster of runners.
First Million-Dollar Win, First Breeders' Cup Victory: In the Wings, 1990 Turf (gr. IT)
"Nothing ever beats the first one. That moment with In the Wings took a big load off my shoulders because that win was a long time coming. It was frustrating; I'd ridden some horses that people didn't have a lot of respect for that really ran the races of their lives. I'd had good results in the Breeders' Cup without winning any, had some tough beats. And Sheikh Mohammed had been a big supporter of me from my early years, so to win one for him and Andre Fabre was something special.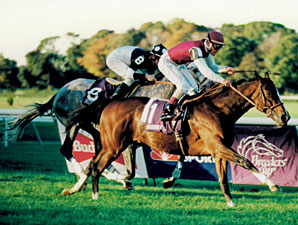 "I remember walking into the paddock and Andre giving me instructions. He told me he would be mid-pack, just wait, wait, wait, and when he straightened out in the last furlong to ask him for his best. Everything was like a playbook that was drawn up, and very rarely does everything go according to plan, but that day it did. For my first win in a million-dollar race to have happened to be the Breeders' Cup Turf on such a nice horse—he ran spectacularly—it helped put me on the map and I knew there were more to come."
Riding Youngsters: Brocco, 1993 Juvenile (gr. I), Silverbulletday, 1998 Juvenile Fillies (gr. I), Anees, 1999 Juvenile (gr. I)
"Sometimes you know if they're something special or if they're just precocious and ahead of their generation. Silverbulletday was not only ahead of her generation; I knew from her mindset and athleticism that she was going to move forward with age. So many times, with a lot of young hype horses, in the back of your head you know this is as good as it's going to get, and you'd better get while the getting's good. With her, that wasn't the case. She was just better and she was on the improve, and we were pretty confident going in.
"With Brocco, the first time I worked him he was still a maiden, and it was getting pretty late in the year to be thinking about the Breeders' Cup. I remember telling Randy Winick after I breezed him the first time, I said, 'You're going to think I'm crazy, but we'll win the Breeders' Cup with him.' To do it in such a short time with such a lack of experience, he was pretty special. And Anees was very intelligent as well. I think that's a key with any young horses to handle this kind of big-day environment."
Hardest Race, Won it Twice: Da Hoss, 1996 Mile (gr. IT), War Chant 2000 Mile (gr. IT)
"The Breeders' Cup Mile is the toughest race to ride because there's so much luck involved running into the first turn. The best horse doesn't always win the Mile, and while that can be true of any race, it's even more true in the Mile. It's a race that will just make you pull you hair out. Maybe that's why I'm bald right now.
"It's the race where you worry the most about the trip, and the first quarter of a mile or the first 70 yards is so important. The Breeders' Cup Mile and the Breeders' Cup Sprint, to me, are the two toughest races to win."
Building a Reputation: One Dreamer, 1994 Distaff (gr. I), Escena, 1998 Distaff (gr. I)
"The one thing I've seen evolve over the years is, just like the Kentucky Derby (gr. I), people with good horses are constantly looking for jockeys that have had success in these races. It's like a snowball effect, success breeds success, and now that's become true of the Breeders' Cup. People are looking for jockeys who have had success in the series on a regular basis, whether it's winning or getting a piece of it on horses that didn't really figure."
Sideline Reporter: Memories of the 2011 Breeders' Cup Turf
"The coolest Breeders' Cup moment I can remember when I was working as a reporter was being in the jockeys' room at
Churchill Downs
to watch 18-year-old Joseph O'Brien ride for his dad (trainer Aiden O'Brien) and to be able to pull it off (winning the Turf with
St. Nicholas Abbey
). To have watched the kid evolve and know that he was special, riding a special horse, and to know the pressure he had to have been under...I saw him a couple hours before the race and he acted like it was nothing big and then to see him after the race and see how excited he was, to see the emotions he shared with his family, that even made me cry.
"He's somebody so gifted and he's not going to let this opportunity slide away. Silently, we've probably all put a timeline on how long we thought he'd be riding, and he's already passed the timeline I had on it. I'd be surprised if we don't see a lot more from his career."
Evolving Industry: Special Nature of the Breeders' Cup Races
"I wish that people could fall in love with our sport to come out to the tracks on a regular basis, but there isn't a Breeders' Cup every weekend. It used to be at Santa Anita—at all our South Cal tracks, really—every weekend was a big event. Now, I think, too much is too much. We have too much mediocre product and that's why the Breeders' Cup is so special—because it's not mediocre."
Runners This Year: Mucho Macho Man, Beholder, and Beyond
"One of the great stories is that I happen to be riding Mucho Macho Man in the Breeders' Cup Classic this year. I've been a fan of his since early in his 2-year-old season, and to see him progress...I was a fan of his last year going into his runner-up finish in the Classic, and now to be on his back at this point in his career, the way he's doing, I'm pretty excited about that. A year ago, if somebody told me I would be riding him in the Classic, I couldn't imagine it."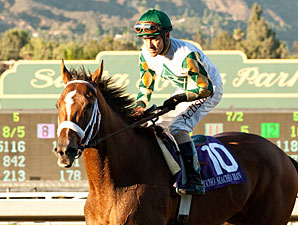 "Not only him, I'm excited about a bunch of them. Beholder in the Distaff,
Marketing Mix
in the Filly & Mare Turf,
Ever Rider
in the Marathon...
Caracortado
in the Turf Sprint,
Starship Truffles
in the Filly & Mare Sprint... there are nine of them that I'm very excited about. What's amazing is that after all of my riding in the Breeders' Cup and being away for seven years, this is probably the most well-armed I've ever been."
Watch Silverbulletday win the 1998 Juvenile Fillies.