Oddly enough events conspired to prevent me from watching live one of my best Breeders' Cup wagers. Instead, the welcomed news of Anees' 1999 Juvenile (gr. I) victory arrived via a friend's phone call to the Charleston (W.Va.) Gazette news room.
"You were right! Anees was the only one running in the stretch," said my friend, who at some point after listening to what must have sounded like endless babbling from me in the days leading up to the Breeders' Cup came around to my belief that 30-1 shot Anees would rally to win the Juvenile at Gulfstream Park.
While in my turf writing career I've been fortunate to enjoy access to many special Breeders' Cup moments, I thought I'd write about a race from when I was just a betting fan. I love writing about the people in this sport but solving the puzzles of each race and selecting a winning horse also fascinates me.
In part because of my usual 4 p.m. to midnight hours, I'd settled into routinely playing California races on my off days and quickly learned the importance of pace in those races. The pace angle for the 1999 Juvenile jumped out at me. By my count 12 of the 14 starters appeared to be early runners. Surely this would set up for a closer, and the only horse who appeared to be a two-turn closer was Anees.
The Thoroughbred Corp's Anees, who was trained by Alex Hassinger Jr., had already closed from fourth to win his maiden race and improved from sixth to finish third in the one-mile Norfolk Stakes (gr. I). The extra half-furlong of the Juvenile wouldn't hurt the son of Kentucky Derby (gr. I) winner Unbridled who surely would have a hot early pace to run at. I liked that Gary Stevens was sticking with him.
I went out on a limb in that day's Charleston Gazette sports section and made Anees my best bet of the eight Breeders' Cup races.
On the day of the race, I had to work in the afternoon so I made an early trip to Tri-State Greyhound Park to put in my Breeders' Cup wagers. I backed my opinions at the windows and went into work where the local NBC station had opted to show a college football game instead of most of the early Breeders' Cup races.

The local station would join the Breeders' Cup coverage sometime before the final race or two, documenting Cat Thief's Classic (gr. I) victory. That's why my friend's phone call would provide the winning news that Anees had rallied from last, passing 13 rivals.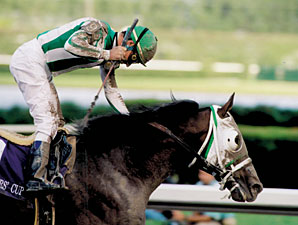 While I didn't see the race live, I have watched the replay numerous times. If I wager on the wrong end of a photo finish, there's always the 1999 Juvenile replay on YouTube to pick up my spirits, with Tom Durkin's midstretch call, "Anees is rocketing down the center of the track...He's going to blow by them all!"