By Christine A. Wittmer

The last Breeders' Cup I attended in person was in 2006. It was a profitable day, as I made enough to take my little group out for dinner afterwards. But by far the most memorable race for me was the Breeders' Cup Juvenile (gr. I).
I had already made my bet on the race, but a friend and I were watching the horses in the paddock and a couple caught our eyes. She liked Circular Quay and I liked Scat Daddy, or maybe it was vice versa. So, we decided to put a little money down on these paddock picks. If you've been to the Breeders' Cup, you know how futile it was to try to bet this close to post time. Lines are long, and they seem to move very slowly. So, we were still in line when the race began, and we watched it unfold on the little monitor beside the teller.
Scat Daddy had to steady early, and I didn't think much of his chances. My friend picked up Circular Quay, and sensed him beginning a run. But, there was another horse making steady progress on the rail. He got up to the front, and then took off like a rocket, leaving the others far behind. Even on the small screen, it was an impressive, breathtaking move.
Suddenly, I yelled, "wait, that's my horse." My friend was confused, as it was neither Circular Quay nor Scat Daddy. "It's Street Sense ," I explained, "that's the horse that I actually bet."
My pick of Street Sense was partially based on sentiment. Like many others, trainer Carl Nafzger won me over with his personal call of Unbridled's Kentucky Derby to Frances Genter in 1990. Furthermore, I was a longtime supporter of Calvin Borel, and liked to see the local jockeys do well in the big show. This was before Borel was known nationwide and, one could argue that, it was Street Sense that propelled him toward his current status.
However, I also liked Street Sense because of his style, and because he appeared to still be improving. He crossed the wire 10 lengths in front in the Juvenile, paying a nice $32.40.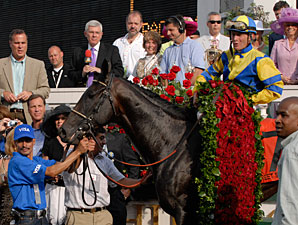 Many Breeders' Cup races represent the culmination of a career, the last stop before retirement. But the Juvenile represents hope for the future. Immediately after the race, we are thinking Kentucky Derby.
In reality, this is an unreasonable hope. Many times, the Juvenile is won by a horse that is bred to be fast early, and who doesn't have the stamina to continue to the Classics. For them, the Juvenile is the high point. But for Street Sense, his win felt like the beginning, not the end, and it was.