From the Middle Ages onward, the study of the nobility has tended to focus on the male lineage. This attitude has often carried over to equine royalty, with much attention paid to male lines. But every horse has two parents, and there are more ways than one for a horse's genes to be spread throughout the breeding pool. For an example of this principle, one need look no further than Herod, one of the three horses (along with Eclipse and Matchem) to which all modern Thoroughbreds trace in the direct male line. Eclipse, of course, is the male-line progenitor of some 95% of living Thoroughbreds; most of the rest trace to Matchem. In contrast, Herod's male line has been teetering on the edge of extinction for decades, yet, thanks to his broodmare daughters and those sired by his sons and grandsons, Herod is estimated to have contributed as much as 17-18% of the genes of the modern Thoroughbred, more than any other single ancestor of the breed.
The great Secretariat is not exactly in Herod's position yet as a universal influence on pedigrees, but he may be moving in that direction. Like Herod, he has not proven a great progenitor in the direct male line. But through a few key daughters, he is seen as the broodmare sire of a number of important sires. Further, those sires have not only been good sires of winners but are proving important broodmare sires as well; in fact, Secretariat has four maternal grandsons—A.P. Indy, Storm Cat, Gone West, and Dehere—among the current top 20 North American broodmare sires. And since Secretariat's grandsons appear to be working effectively with one another in pedigrees, the upshot is that an increasing number of good horses are appearing with inbreeding to Secretariat as a feature in their ancestries. In fact, Secretariat inbreeding within five generations has already appeared in over 160 graded/group stakes winners, headed by 2012 Horse of the Year Wise Dan.
Wise Dan's background is a bit atypical of most pedigrees featuring a double dose of Secretariat. While he is a male-line descendant of Storm Cat, the Secretariat cross on his distaff side comes through his maternal granddam Askmysecretary. Other top runners whose inbreeding to Secretariat includes a cross with Secretariat as a sire of a mare in the direct female line include grade/group I winners Telling, Que Vida Buena, Hakassan, Unbridled Command, Dominican, Majestic Warrior, Kung Fu Mambo, and Medici.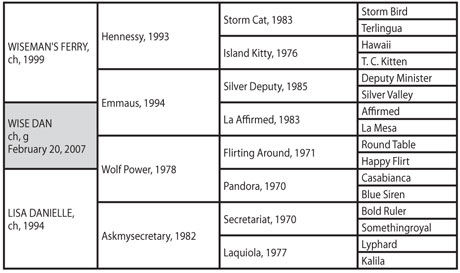 Another relatively uncommon avenue for Secretariat inbreeding is for one cross to be through a son—most likely 1979 Travers Stakes (gr. I) winner General Assembly, who was a fairly useful sire. Of the 10 graded or group stakes winners featuring General Assembly as one of two or more crosses of Secretariat, the best-known in the United States is Pure Clan (Pure Prize—Gather the Clan, by General Assembly), whose six graded stakes wins included two at the grade I level. Another fine runner bred on a similar pattern is 2010 Prioress Stakes (gr. I) winner Franny Freud; one of two grade I winners sired by the Storm Cat horse Freud, she is out of a mare by Secretariat's son D'Accord, a useful regional sire in New York.
One reason that doubling up on Secretariat through his maternal grandsons is the most common route in good-quality horses is simply sheer numbers. So far, just seven of Secretariat's maternal grandsons—A.P. Indy, Storm Cat, Gone West, Dehere, Chief's Crown, Volksraad (a six-time leading sire in New Zealand), and Summer Squall—have sired over 7,700 foals of racing age between them. While that does not equal the total output of Secretariat's granddaughters, a good many of the foals produced by those granddaughters are at a level unlikely to receive the same breeding opportunities as daughters of any of the sires named. Add that to the fact that several of these horses are also successful sires of sires, and it is easy to see why Secretariat's name is more commonly found in top-level pedigrees through these maternal grandsons than through other sources.
As with any other name in pedigrees, inbreeding to Secretariat is not a magic formula for success. Far more bad horses than good ones have been produced by such matings, and the ones likeliest to fail are the ones where the quality of the parents and grandparents involved has been wanting. For Secretariat, as for all other horses targeted for inbreeding, the golden rule for maximizing the odds of success is "to and through": inbreed to good horses (as proven by racing or breeding performance) through good horses (ditto).
Inbreeding to Secretariat has already struck Breeders' Cup gold once with Speightstown (2004 Sprint, gr. I), and fans of Secretariat may want to pay particular attention to this year's Breeders' Cup, as the favorites for this year's card include two runners inbred to the great Triple Crown winner. One, of course, is the aforementioned Wise Dan, who will attempt to defend his crown in the Breeders' Cup Mile (gr. IT). The other is Princess of Sylmar, by the A.P. Indy son Majestic Warrior (himself inbred 3x4 to Secretariat) out of the Storm Cat granddaughter Storm Dixie, who appears headed for the Breeders' Cup Distaff (gr. I). A victory by either would add that much more luster to the genetic legacy left by one of the greatest runners of all time.