One thing about covering horse racing, when the phone rings, you never know who will be on the other end of that line.
For me that proved true a week or so after the 2005 Breeders' Cup when I returned to my desk at Thoroughbred Times from a break to listen to a voicemail from Merv Griffin requesting I call back. The voicemail was from Merv Griffin! Wow, you don't get a call like that every day.
Griffin had secured his biggest victory as Thoroughbred owner with Stevie Wonderboy in the 2005 Bessemer Trust Breeders' Cup Juvenile (gr. I), a race I covered at Belmont Park.
Griffin had named his star horse in honor of the amazingly talented Stevie Wonder, recalling the day the young, aptly named singer performed on his show. Upon returning Griffin's call, he thanked me for the magazine story I'd written on Stevie Wonderboy, calling it the best he'd ever read about one of his horses.
Upon the conclusion of the phone call I couldn't help but be humbled by someone of Griffin's stature reaching out. Upon his passing a couple of years later, I remembered how much those kind words meant to me. Better still, I recalled the elation he showed in winning a Breeders' Cup race.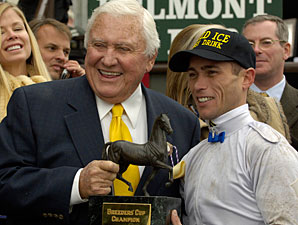 I'd like to tell you that some great inspiration came to me in writing that story but the truth is—like so many times—
the willingness of Griffin, trainer Doug O'Neill, his brother Dennis, and jockey Garrett Gomez to tell their stories is the main reason it all came together.
One of the reasons I moved from general sports writing to covering horse racing is that the people involved in racing have fascinating stories. The overwhelming majority of them will take the time to tell them. At a Breeders' Cup, those stories are too many to count.
Talking with the O'Neills at the barn long after the 2005 Juvenile had concluded, I wandered over to Stevie. At one point I must have put my arm out and the soon-to-be crowned juvenile champion gently wrapped his tongue completely around my forearm. He didn't tug. We stood there, oddly relaxed. Silent.
It was probably an idiot move on my part—I'm typically cautious on the backstretch—but sometimes you have a feel about a horse, a trust.
And, about people.
I can't wait for this year's Breeders' Cup.