To most everyone, the 2010 Breeders' Cup Classic (gr. I) was a punch in the gut; the end of a magical run that brought an eerie hush to the crowd at Churchill Downs. Even after three years, many still find it difficult to watch the spectacular run by Zenyatta from last fall a head short of catching a courageous Blame .

The emotions following the race seemed to jump uncontrollably from pride and admiration to utter despair. Going into the race, Zenyatta had become so much more than a racehorse to her vast legion of worshippers, who looked upon the magnificent mare as a powerful force in their lives. Some even sought an audience with her at her Hollywood Park barn as a cathartic experience to heal them, both spiritually and physically.

No horse had ever affected so many people in this way, and to witness her losing for the first time in her life brought a stunned silence from some and tears from others. When the horses returned, it was a feeling unlike anything I had ever experienced before at a racetrack, listening to the loud ovation that rained down for the vanquished Zenyatta. Several yards up the track, the victorious Blame, a magnificent horse in his own right, walked into the winner's circle in dead silence. Not even the pleading from jockey Garrett Gomez, who kept waving his arms at the crowd to acknowledge his horse, could evoke a cheer.

The roller coaster of emotions began when Zenyatta made her usual auspicious entrance, walking past the stands with that unique "dance" step that set her apart from other horses. Before anyone knew what hit them, the race was off and Zenyatta immediately retreated so far off the pace many feared something was wrong with her. She continued to lose touch with the field, trailing by some 20 lengths. She had fallen 10 lengths behind the next-to-last horse and looked to be out of the race.

But then she began her move, weaving her way between horses, making up ground at an amazing rate. The crowd was now re-energized by the power of Zenyatta, and they let out with a deafening roar. Mike Smith had to avoid a tiring Quality Road , which might have cost her valuable momentum. Finally he made his way to the outside and Zenyatta, as she had done in the previous year's Classic, began gobbling up ground with those gargantuan strides. This was it—a miracle finish and a 20-race unbeaten streak.

But Blame dug in and fought back. Zenyatta kept coming, but her big move fell just short. One stride past the wire, her head was in front. The fairy tale ending that was to provide a fitting conclusion to the Zenyatta legend had been ripped out, as were the hearts of her fans.

But to me, and others, the real story of the 2010 Classic was just beginning. No words can aptly describe the following day at the barn.

There is something about vulnerability that endears us to someone, whether a human or a Thoroughbred. Zenyatta's defeat brought out an outpouring of affection and admiration that transcended even the emotions she stirred in people during her 19-race winning streak. For several hours in the morning and then again in the afternoon, Zenyatta was taken out to graze, drawing hundreds of fans to the fence along Longfield Avenue. They brought cakes and signs, and carrots, and apples...and love.

Every so often, a Louisville police car would stop and an officer would tell the people parked on Longfield to move their cars. His words fell on deaf ears.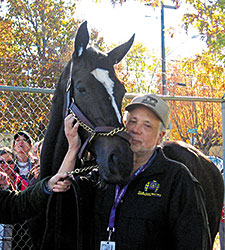 All the while, Zenyatta posed for photos, as dozens and dozens of people inside the backstretch lined up to have their picture taken with her, myself included. Several women broke down in tears afterward, one of them putting her arms around owner Ann Moss and thanking her. Through it all, Zenyatta never once became agitated, and accepted the kissing, the hugging, and the petting as if part of her normal routine. Occasionally, the chant of "Zen-Ya-Ta!" went up from the crowd outside the fence. As Zenyatta was brought up to the fence to graze and get close to her fans, they kneeled down and fed her carrots through the bottom of the fence. It was a scene that assuredly will never be witnessed again.

Jerry and Ann Moss and Dottie Ingordo Shirreffs, wife of trainer John Shirreffs, came over and thanked everyone for their support. John Shirreffs on occasion would stop by and chat with the people. It was a true love fest.

At 5 p.m., when Zenyatta was led into the barn to get ready for her trip back to California, the crowd gave her a warm round of applause. The great mare had lost, but her aura had grown into something magical; something people would cherish for years to come.