Point of Entry is now off to stud, but the Phipps family may already have his replacement for next season's major turf distance events. Their homebred 5-year-old Imagining has been lightly campaigned, with two layoffs of six months or more since beginning his career at age 3, but he appears to be headed in the right direction at last. He has won three of his last four starts, including the Nov. 16 Red Smith Handicap (gr. IIIT).

Whatever Imagining's issues have been, the handsome chestnut has as aristocratic a pedigree as any Thoroughbred in North America. His three-time leading sire, Giant's Causeway (Storm Cat—Mariah's Storm, by Rahy) needs little introduction. Currently third on the general sire list, Giant's Causeway has been represented by 20 stakes winners in 2013, including group I winners Dalkala, Penelopa, and Blueridge Mountain, and grade I-winning steeplechaser Gustavian.

On the distaff side, Imagining belongs to the family of Striking (War Admiral—Baby League, by Bubbling Over—La Troienne), which has been a linchpin of the Phipps breeding program since Ogden Phipps acquired the filly in utero from the division of Colonel E. R. Bradley's bloodstock. A full sister to 1945 Horse of the Year Busher, Striking won the 1949 Schuylerville Stakes and produced five stakes winners.
Striking's stakes-placed granddaughter Intriguing (Swaps—Glamour, by Nasrullah) is the granddam of three notable sires. One, 1985 Irish champion juvenile Woodman (Mr. Prospector—Playmate, by Buckpasser), sired 100 stakes winners during a prolific stud career. The other two, Private Account (by Damascus) and Polish Numbers (by Danzig), were out of Playmate's full sister Numbered Account, the champion juvenile filly of 1971. A multiple grade I winner, Private Account sired 57 stakes winners including undefeated champion Personal Ensign. Polish Numbers, stakes-placed on the track, sired 49 stakes winners, including Peruvian champion and Argentine group I winner Eithan. Both Playmate and Numbered Account were inbred to the War Admiral/La Troienne cross, as Buckpasser was out of Busanda (War Admiral—Businesslike, by Blue Larkspur—La Troienne).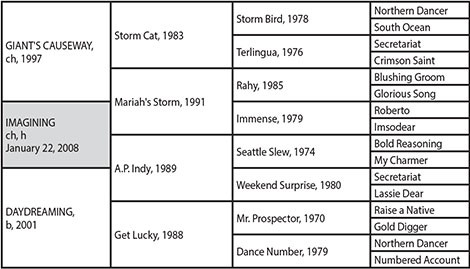 Numbered Account's other important foal was the 1979 Northern Dancer filly Dance Number. The winner of the 1983 Beldame Stakes (gr. I), Dance Number produced 1989 champion juvenile male Rhythm (by Mr. Prospector) and his full brother Not for Love, the latter a perennial leading sire in the Mid-Atlantic region. Dance Number's other foals include the winner Oscillate (out of Numbered Account), whose sire Seattle Slew was out of My Charmer, a mare inbred 4x4 to War Admiral and Baby League through the full sisters Striking and Busher. Bred to Seeking the Gold, a maternal grandson of Buckpasser, Oscillate produced Mutakddim, the leading sire in Argentina in 2006.

Get Lucky (a full sister to Rhythm) was the best of Dance Number's daughters on the track, winning the 1992 Affectionately Handicap (gr. III), and has also been her best producing daughter. She has produced four stakes winners, three of them graded, and all by stallions whose pedigrees return Buckpasser. The best of the four is 2010 Vosburgh Stakes (gr. I) winner Girolamo (by Seattle Slew's best son, A.P. Indy), whose first foals will come to the races in 2015.

Get Lucky is also the granddam of five graded stakes winners, all produced from her A.P. Indy daughters Daydreaming, She's a Winner, and Supercharger. As a grandson of Storm Cat, Imagining (Giant's Causeway—Daydreaming) is closely related to 2006 Haskell Invitational Stakes (gr. I) winner Bluegrass Cat (Storm Cat—She's a Winner). The others are 2010 Kentucky Derby Presented by Yum! Brands (gr. I) winner Super Saver (Maria's Mon—Supercharger), 2011 Sam F. Davis Stakes (gr. III) winner Brethren (Distorted Humor —Supercharger), and Lord of the Game (Saint Ballado—She's a Winner). Super Saver has perhaps the most interesting pedigree of the group, as he has another generation of line breeding back to the War Admiral/La Troienne cross thanks to his sire Maria's Mon, a great-grandson of Buckpasser.

Get Lucky, Supercharger, and She's a Winner were all sold by the Phipps family prior to producing their grade I winners, but the Phippses did retain Daydreaming, a 2001 full sister to Supercharger, and She's a Winner. Easily the best of the sisters on the track, Daydreaming won the 2004 Top Flight Handicap (gr. II) and placed twice in grade I company. Imagining is her first winner and first stakes winner.

Imagining has some other interesting elements to his pedigree besides his stellar female line. Inbred 4x4 to both Northern Dancer and Secretariat, he also combines the mutually compatible lines of Roberto, Mr. Prospector, and Blushing Groom, as well as crosses of Halo (like Northern Dancer, a male-line descendant of Nearco and a grandson of Almahmoud) and Sir Gaylord (a half brother to Secretariat). Perhaps the best evidence of the sheer strength of this pedigree is that Imagining's parents, grandparents, and great-grandparents were all graded stakes winners. You don't see that too often.

Even if he never wins another race, Imagining will probably get a place at stud somewhere on the strength of his pedigree—preferably where he will have access to mares returning Seattle Slew and/or Buckpasser, given the history of his family. But with continued development and a little luck, he could well become the next star for a family that has already produced a galaxy.