Wildcat Heir isn't a great sire if one is looking for a potential classic runner. He is, in fact, pretty one-dimensional: he gets speed, often with a good dollop of precocity thrown in. But what he does, he does well. The sire of 25% juvenile winners and 66% winners from foals 3 years of age and older over his career, Wildcat Heir gets solid sprinters that can handle a variety of surfaces, stay reasonably sound, and usually train on well.

Given Wildcat Heir's consistency, it was only a matter of time before he added a grade I winner to his résumé. That hole was filled Dec. 26 by Heir Kitty, the upset winner of the La Brea Stakes (gr. I). Previously graded stakes-placed at Santa Anita over 8 1/2 furlongs, the wiry bay is now doing what she does best—sprinting. Racing for David A. Bernsen and Paul Makin, Heir Kitty has now bankrolled $370,272 while winning or placing in eight of her 15 starts.

Heir Kitty's victory was not enough to allow Wildcat Heir to catch With Distinction in the 2013 Florida sire standings by progeny earnings; With Distinction finished the year more than $280,000 ahead. Nonetheless, Wildcat Heir has compiled a remarkable record within the state. He was leading general sire in Florida in 2010 and 2011, runner-up in 2012 and 2013, and was the leading Florida freshman sire and juvenile sire of 2009 when he set a North American record for number of juvenile winners with 39. He will stand the 2014 season at Journeyman Stud for $10,000.
Wildcat Heir's proclivities at stud are not surprising when one considers his own racing performance and pedigree. Graded stakes-placed as a juvenile, he scored the biggest win of his career in the 2004 Frank J. DeFrancis Memorial Dash Stakes (gr. I), defeating a tough group of sprinters that included grade I winners Midas Eyes and A Huevo. His sire, Forest Wildcat (Storm Cat—Victoria Beauty, by Bold Native), was a multiple grade III winner over sprint distances and likewise proved a good speed sire before his death in 2008. His 67 stakes winners included English highweight sprinter Var, Puerto Rican Horse of the Year D' Wildcat Speed, and grade/group I winners Forest Secrets, D'wildcat, and A Shin Forward.

Wildcat Heir is the best of four stakes winners produced from Penniless Heiress, a winning daughter of the good Florida sire Pentelicus. Her dam, Royal Ties (by the speedy Never Bend horse Distinctive), failed to win in four tries but produced multiple graded stakes winner On to Royalty (by On to Glory), dam of 1996 Preakness Stakes (gr. I) winner Louis Quatorze (by Sovereign Dancer) and 1997 Gazelle Handicap (gr. I) winner Royal Indy (by A.P. Indy). Royal Ties also produced 1994 Boojum Handicap (gr. II) winner Meritocrat, who was exported to India for stud duty in 1998. The family traces back to Stavroula, a full sister to 1955 Horse of the Year Nashua.

An attractive, well-balanced, rather elegant horse that is a good choice for mares needing a bit of refinement, Wildcat Heir has done well with mares whose pedigrees feature Mr. Prospector (the grandsire of Pentelicus) or more Northern Dancer blood (his own male line). In Heir Kitty's case, Mr. Prospector is the factor in play. Bred in Florida by Pedro Gonzalez and Jorge Herrera, Heir Kitty is the fifth winner from seven foals of racing age produced from stakes-placed Be Silver, a maternal granddaughter of Mr. Prospector's good son Afleet.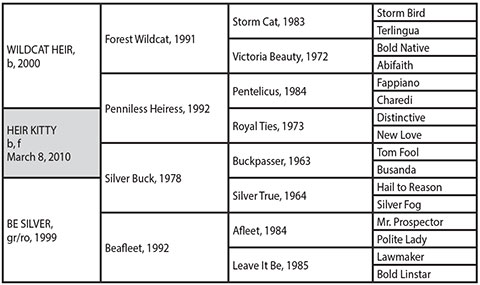 Of course, Be Silver brings a bit more to the table than a cross of Mr. Prospector. Sired by 1981 Suburban Handicap (gr. I) winner Silver Buck, another good Florida sire, she is out of the good producer Beafleet (by Afleet), dam of nine winners (including two stakes-placed runners and a Puerto Rican grade II winner) from 10 named foals. Beafleet herself, in turn, is one of 11 winners from 13 named foals produced from Leave It Be, a tough daughter of the Round Table horse Lawmaker whose 24 wins from 66 starts included the 1990 Sixty Sails Handicap (gr. III) and 14 other stakes tallies.

A $32,000 purchase at the 2012 Ocala Breeders' Sales April sale of 2-year-olds in training, Heir Kitty has already provided a generous return on her purchase price. Even if she never races again, she will have substantial value as a broodmare prospect. But for now, she looks like a rising contender in the filly and mare sprint division and a worthy heiress to her sire's legacy of speed.