In our last column, we considered Mr Speaker , a 2014 classic hopeful with some pedigree and ownership links to the 2013 Kentucky Derby Presented by Yum! Brands (gr. I) victor Orb . This week, we'll consider another up-and-coming classic aspirant, in this case one who is by Orb's own sire, Malibu Moon .
The horse in question is Noble Moon, who impressed with a determined two-length victory in the Jan. 4 Jerome Stakes (gr. II) at Aqueduct. This was just the third start of Noble Moon's career. He'd made a winning debut when defying odds of 25-1 to lead throughout for a three-quarter-length tally in a six-furlong maiden at Belmont Park in September.
The bay returned just over seven weeks later in the one-mile Nashua Stakes (gr. II), but he was bumped at the start and trailed the 12-horse field at the halfway point. Fanned six wide into the stretch, Noble Moon made impressive headway before flattening out a little to finish a creditable third to Cairo Prince . Noble Moon was slated for a rematch with Cairo Prince in the Remsen Stakes (gr. III) but suffered a case of the hives, and so was on the sidelines as Cairo Prince missed by a nose to A.P. Indy's son Honor Code .
Prior to Orb's classic triumph, Malibu Moon had been establishing something of a reputation as a "filly sire." Since his move from Maryland to Kentucky for the 2004 season, he has sired the grade I-winning distaffers Life At Ten, Devil May Care,Ask the Moon, Malibu Prayer, Funny Moon, Malibu Mint, and Eden's Moon. We were never convinced, however, that Malibu Moon really had a genetic disposition towards siring females, noting that his first crop included grade II-winning gelding Perfect Moon, one of the better 2-year-olds of 2003, and his second crop included his sole Eclipse Award winner to date, champion 2-year-old male Declan's Moon.
Our suspicion is that when Malibu Moon—who is a very substantial individual—moved to Kentucky, he began to cover a bigger, stronger type of mare than he had generally met in Maryland, and as a result many of his colts were on the heavy side. It's also our suspicion that breeders began to adjust the type of mare that they sent, as Malibu Moon sired only two graded stakes-winning males (both at the grade III level) in his first four Kentucky crops, but he was represented by Prospective , a multiple graded winner of over $700,000, from his foals of 2009; Orb and the runaway Peter Pan Stakes (gr. II) scorer Freedom Child from foals of 2010; while the 2011 crop has produced not only Noble Moon but also Saratoga Special Stakes (gr. II) victor Corfu.
A $200,000 Keeneland September yearling, Noble Moon was bred by the Estate of Edward P. Evans; the late Mr. Evans also appeared as breeder of Malibu Moon's grade I-winning daughter Malibu Prayer. Noble Moon's dam, Mambo Bell, was a Saratoga allowance winner and has bred three previous winners from her four prior foals, including Mambo Fever, a Stormin Fever filly who won twice and took second in the Tempted Stakes (gr. III) and third in the Davona Dale Stakes (gr. II). A daughter of Kingmambo, Mambo Bell is three-quarters related to a trio of stakes winners out of her dam, Music Bell, in the Swaps Stakes (gr. II) victor Silver Music and his brother, Red Smith Handicap (gr. IIT) victor Musical Ghost (both by Silver Ghost), and Prospector's Song, a daughter of Prospector's Music who captured five black-type events and was also graded stakes-placed.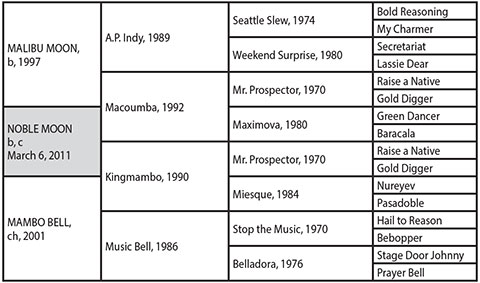 Noble Moon's third dam, Belladora, took the Poinsettia Stakes (gr. III) and also appears as granddam of the South African group I winner All Will Be Well. By Stage Door Johnny, Belladora was three-quarters related to Silent Screen (by Stage Door Johnny's sire, Prince John), the champion 2-year-old colt of 1969. Prayer Bell, the dam of Belladora and Silent Screen, was unraced but has become an extremely influential tap-root mare, her descendents including this year's Irish Two Thousand Guineas (Ire-I) and Breeders' Cup Turf (gr. IT) hero Magician ; other European classic winners Henrythenavigator (by Kingmambo, and so bred on similar lines to the dam of Noble Moon), Saffron Walden, and Sequoyah; Mujahid and Listen, both champions at 2 in Europe; grade/group I winners Malibu Prayer, Graydar , Ron the Greek, Swagger Jack, Dolphin Street, Insight, and Beethoven; and the Kentucky Derby and Preakness Stakes (gr. I) third-place finisher Musket Man.
Sharp-eyed readers will have noticed that Malibu Prayer, who we'd mentioned as an Evans-bred daughter of Malibu Moon, is among the litany of notable descendents of Prayer Bell. The similarities between the pedigrees of she and Noble Moon extend further than being by Malibu Moon and out of great-granddaughters of Prayer Bell, as the broodmare sires of both are by stallions bred on the Mr. Prospector/Northern Dancer cross. This may well be significant, as Malibu Moon's dam, Macoumba, who took the Prix Marcel Boussac Criterium des Pouliches (Fr-I), is by Mr. Prospector out of a mare by Green Dancer, a grandson of Northern Dancer. All three of Malibu Moon's grade I winners with Mr. Prospector inbreeding—Declan's Moon, Malibu Prayer, and Devil May Care—have Mr. Prospector through Mr. Prospector/Northern Dancer crosses, as here with Noble Moon.