Compared to some of his contemporaries on the West Coast, Candy Boy has been the gangly, immature kid who languishes on the second string while his more precocious and polished peers grab the early headlines. But his smooth, professional performance in the Feb. 8 Robert B. Lewis Stakes (gr. II) suggests that the big, long-striding colt is starting to come into his own.
Candy Boy, who races as a homebred for Lee and Susan Searing's C R K Stable, is a son of Lane's End stallion Candy Ride (Ride the Rails—Candy Girl, by Candy Stripes), whose champion son Shared Belief missed the race due to a foot injury. Fourteenth on the 2013 general sire list and 10th on the juvenile sire list, Candy Ride was represented by 14 stakes winners last year, five of them of graded caliber.
Although a brilliant racehorse who was both a champion in his native Argentina and an impressive grade I winner in the U.S., Candy Ride made only six lifetime starts and is not the most correct of individuals. He is not a particularly consistent sire of winners either, with strike rates of only 64% starters and 44% winners from his first six crops of racing age. But those of his progeny that do manage to get to the races tend to have ability; to date, he has sired 36 stakes winners from 441 starters (8.2%), including eight grade I winners.
Candy Boy was foaled in Kentucky, but the pedigree of his dam, She's an Eleven, reads like a "Who's Who" of modern California breeding. A restricted Cal-bred stakes winner at 3, She's an Eleven is by the late In Excess (Siberian Express—Kantado, by Saulingo), the sire of 63 stakes winners and a two-time leader of the California general sire list. An extremely fast horse who won four grade I stakes as a 4-year-old in 1991, In Excess was also the leading juvenile sire in California four times.
From a female line developed by Old English Rancho in conjunction with various partners, She's an Eleven was produced from stakes-placed She's a Sensation, a half sister to 2005 Test Stakes (gr. I) winner Leave Me Alone and Cal-bred restricted stakes winner Stoney, both by Bold Badgett. The sire of She's a Sensation, Flying Sensation, scored his only victory from 23 starts in the 1993 California Cup Juvenile Stakes and sired only five foals, three of which won. But his sire, Flying Paster, was a top-class horse. Though he was no match for his crop-mate Spectacular Bid, the son of the good California sire Gummo won three grade I races and sired 48 stakes winners from 428 foals while standing in his native state.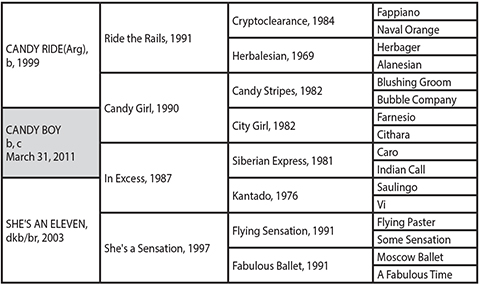 She's a Sensation is a closely inbred mare as she is the issue of a sire and dam who both had another notable California sire, Somethingfabulous—a Northern Dancer half brother to Secretariat—as their broodmare sire; in addition, she carries a third cross of Northern Dancer in the fourth generation through her dam's sire, Moscow Ballet, a son of Nijinsky II (by Northern Dancer) who sired six Cal-bred champions during his career. Her dam, Fabulous Ballet, is also closely inbred with crosses of 3x3 to Northern Dancer and 4x4x6 to Princequillo.
Fabulous Ballet failed to win in seven tries, but her dam, A Fabulous Time, had some talent, placing in four stakes races including the 1988 Linda Vista Handicap (gr. III). Inbred 3x5 to Princequillo, she was produced from stakes-placed Interview Time, whose sire, Looks Impressive, was a stakes-placed son of Lucky Mel. A speedy son of Olympia, Lucky Mel won four stakes as a juvenile in 1956—good enough to earn a rating of 118 pounds on the Experimental Free Handicap in what turned out to be a vintage crop—and sired 26 stakes winners. Interview Time is out of the Prince Murk mare I'll Call You, whose broodmare sire, El Drag (by Rex Ellsworth's foundation sire Khaled), was another Cal-based speedster who set a world record of 1:20 for seven furlongs at Hollywood Park.
Candy Boy, then, is the product of two generations of outcrossing on what had become an intensely inbred female line, though he does have a sixth-generation cross of Northern Dancer on the sire's side to link with the Northern Dancer inbreeding found in his granddam. While this gives him a pedigree that may be open to a wide variety of potential mates, a more immediate concern is what kind of stamina it has granted him. While his running style certainly suggests a colt who would appreciate a distance of ground, both his sire and maternal grandsire have tended to throw more brilliance than classic stamina despite being grade I winners at 10 furlongs themselves, and the female line seems distinctly tilted towards speed. This may be cause for concern since Candy Ride has sired only one American stakes winner at 10 furlongs or more, Santa Anita Handicap (gr. I) winner Misremembered , whose broodmare sire was the staying Quack. But for now, Candy Boy seems to be a colt developing and maturing at the right time, and that should be enough to place him among the favorites for the Santa Anita Derby (gr. I).