What makes a man take a longshot gamble, and how often can he expect to be on the winning end? In a restaurant on Bourbon Street, Ron Paolucci contemplated this question.
"That's how you hit the home runs," he said. "You also have a lot of times where your horses don't work out. But to me, the home runs outweigh the others. If they don't work out, you just have to move on."
In mid-February at
Fair Grounds Race Course & Slots
, owner Paolucci and trainer Jeremiah Englehart came to town to assess the progress of
Ria Antonia
, winner of the Nov. 2 Breeders' Cup Juvenile Fillies (gr. I). They were eager to start her 3-year-old season in the Feb. 22 Rachel Alexandra Stakes (gr. III), not only as a prep for bigger races but also in search of validation.
Three months ago Paolucci took the filly, who had only a six-furlong maiden win on Polytrack over the boys under her belt, and entered the Breeders' Cup off a fifth-place finish in the Frizette Stakes (gr. I). Skeptics who found Ria Antonia overmatched were proven wrong when she crossed the wire second by a nose in the $2 million contest at
Santa Anita Park
. In the time-warped haze of a lengthy review, before eventual champion filly
She's a Tiger
was taken down and Ria placed ahead at odds of 32-1, the owner didn't care about the inquiry. He'd already gotten what he came for.
"I was vindicated that I was right about this filly and what she could do, because so many people called me an idiot and said, 'What the heck are you doing running this filly here?' " Paolucci recalled. "It was just gratifying that she was first or second, regardless of whether she won."
The gamble paid off for Paolucci that day, and for 37-year-old Englehart, a Finger Lakes-based trainer who took out his license in 2003. Neither had won a grade I, and while many recognized the trainer—son of well-known conditioners Chris and Sheila Englehart—few had met the owner who claimed his first Thoroughbred in 2011 for $2,500.
No one really knows what to make of Paolucci, who drives a Dodge truck with 80,000 miles on it but owns 70 Thoroughbreds at tracks from Santa Anita to
Thistledown
with eight different trainers at all different levels. Even Paolucci's partner in Ria Antonia, 38-year-old New Yorker Chris Dunn, admits the managing owner is far from easy to figure.
"I do think he's crazy, and I love him for it," Dunn remarked. "No one in their right mind would have run that horse in the Breeders' Cup, but that's Ron. We break the rules in horse racing and sometimes it works out."
Paolucci, 44, is an Ohio native who splits his time between the Buckeye State and Las Vegas. He tried harness racing before switching to Thoroughbreds, bought about 20 racehorses privately, and claimed dozens more prior to landing Ria Antonia. Straight-shooting and unapologetic, he does things his own way.
"The people who are haters when you don't win are going to hate anyway," he said. "Even when you do win, they're still going to hate. They're still going to find some reason."
The current reason for hating is Ria Antonia's next scheduled start. The Rachel Alexandra is on the same card as the Risen Star Stakes (gr. II), in which the filly had originally been slated to run—a race, of course, for colts that leads down the road to the Kentucky Derby Presented by Yum! Brands (gr. I). And the Derby was a target Paolucci mentioned in the euphoric glow of the Breeders' Cup win.
But now questions of such glory have faded in the face of a very present reality
—
the simple need to get Ria Antonia back to form.
"When Ron started talking about the Derby after the Juvenile Fillies, I was like, 'Slow down; let's think this through,' " said Dunn. "He's not putting on a show; that's just him. He might say something that's maybe the right thing to do, or maybe sometimes we need to look at the alternatives. But when he comes up with these horse racing strategies that are so outlandish, behind all that, there is a sense of reason. Are his ideas crazy? Yeah, absolutely."
---
Two weeks out from the Rachel Alexandra, Ria Antonia went winging her way around the Fair Grounds oval with workmate
Bump Bump
in futile pursuit. It wasn't that the Juvenile Fillies winner overpowered her stablemate so much as Bump Bump didn't put up much of a fight, and Ria Antonia eased clear without testing in 1:01 4⁄5 for five furlongs. It was a fine work under regular rider Elizabeth Dobles, but not outstanding, not the kind Englehart saw the week before Breeders' Cup when Ria Antonia came pounding through the fog and he kept thinking, "I wonder if that's her; I hope that's her," because the horse that was breezing looked so incredibly sharp.
The filly's coat looked a little dull, and in her first start off the layoff she was headed in against the likes of potential starters
Streaming
and
Untapable
—in short, she was in deep in New Orleans, where she's been training since arriving with Dobles and groom Enrique Luna in early January. When asked if he felt as confident heading into this race as he was going into the Breeders' Cup, Paolucci said no. Still, he defended his earlier thought about running against the boys.
"Most colt races, the fractions are fast early and slower late whereas in filly races the fractions are slow early and faster late," he remarked. "In the Derby they're balls to the wall. That's why I'm thinking the Derby would be more suitable for her, even though it's tougher competition. The pace scenario would look good. In the Breeders' Cup she ran a 10 Ragozin; she ran an 11 Thoro-Graph. The boys ran an 11 Ragozin and a 13 Thoro-Graph. And who wouldn't want to win the Derby?
"But what I didn't take into consideration in my learning curve of being an owner with this kind of horse is the maturation from 2 to 3. I saw all these impressive colts who have already been running this year, and said, 'Whoa, at this stage let's just get her back racing before we try to take those on.' "
The owner is heartfelt in his defense of Ria Antonia, so irate when others fault her that even his own trainer can't resist temptation. Englehart got down to the core with a grade I sense of humor when he had a friend bash the filly via Twitter.
"When Ron said Joe Talamo is going to come ride Ria Antonia, I originally wanted my friend to respond 'Who cares?!' " said Englehart, who tweets as
@JCERacing
. "But he took it to another level. He went, 'I don't think Talamo is going to ride your one-hit wonder.' "
"Every day I'm taking some kind of hit somewhere," Paolucci recalled of his adventures on Twitter as
@LooochRacing
. "I have so many people that are looking for me to do something stupid or say something stupid, I really sat back and thought about it."
He wanted to tweet a string of expletives, but he didn't.
" 'If she was a one-hit wonder, that was a pretty good hit,' " he wrote.
---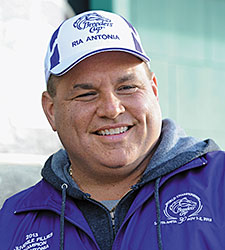 Paolucci was raised on the ponies from the time his mind wrapped around the fact that
Thistledown
was a racetrack, when his grandfather, Tony Paolucci, spent every Saturday there with him and his dad. Tony Paolucci died in 1976, but the other two Paoluccis continued his traditions and handicapping method—a system that involved speed ratings long before Beyers and Ragozin numbers. Paolucci used to dream about going to the windows, and by 16 years old he was often going truant to head to the races.
"I'd lose all my money, go to the car to find change, and try to make it all back," Paolucci said. "When I was 17, 18 years old, that's what I was doing. My dad, even though he went to the races all the time, was a controlled gambler. He paid his bills first, took care of the kids. He finally stopped going for a while and admitted later that's why he stopped, because he couldn't watch what it was doing to me."
One of the best high school baseball stars in Ohio, playing for the Akron St. Mary St. Vincent team in 1987, Paolucci neglected his studies and cost himself a chance to attend a division I school. He went to Brewton Parker College in Georgia and even took several turns at bat in a game against John Smoltz—going two for three against the righty, who would become a legendary pitcher for the Atlanta Braves—but even though he returned to play for Akron University and was drafted by the Cincinnati Reds, he never signed and dropped out after a season.
"The year Personal Ensign won the 1988 Breeders' Cup (Distaff, gr. I), instead of going to practice, I was in the room watching races," he recalled. "The pro scouts were calling my dad. 'We love your son,' and I basically gave up my baseball career to gamble."
After a tenure as a car salesman in Ohio, Paolucci changed his fortunes when a friend told him to quit his job and come to South Carolina. He joined Tom Granada in the temporary staffing business; they built their fortunes and went out on their own in 2005. Now Paolucci works as a consultant. He has two older children but settled down and turned his life around for good when 6-year-old daughter Cassie was born.
"She changed my whole attitude, and then my son (Anthony) was born, and I just wanted a better lifestyle," he said. "I'm a lot more responsible. My dad told me a long time ago, 'Son, if you're going to gamble, out-earn your habit.' And I did, and he was right. But it's been a rough road; that's for sure."
Paolucci could take or leave slots, baseball games, even poker (he played in the World Series in 2011, finishing 477th out of about 9,000); all he really cares about is horses. His handicapping skills have merged into his research as an owner. Selecting runners to fill his stable fills his days.
"The part that keeps me interested is picking my own horses," he said. "If I couldn't do that, I wouldn't be in the game. I will sit for seven, eight straight hours and watch tapes, look at numbers, go over PPs. I look at every track, and every night I do the Ragozin sheets for the next day. I get every track that runs and look for claims. I love trying to find the unobvious."
A member of the Xpressbet select group, an elite 20-member club for big-dollar players, Paolucci also wagers "every day there's racing," mostly exotics. His biggest payday was the Juvenile Fillies, where he bet $6,000 on Ria Antonia and walked away with $700,000.
---
The contrast between Paolucci and Englehart is intriguing. Both are fierce competitors, strong-willed; but where Paolucci speaks without a filter and dives headfirst into new enterprise, Englehart is more tactful, cautious.
They've been on-again, off-again—"It's like a bromance," Englehart said. "We're the odd couple of horse racing"—but somehow in the case of Ria Antonia, Paolucci knew this young horseman could get the job done.
"When I bought Ria, a lot of people tried to steer me in different directions," the owner recalled. "I talked to a lot of trainers. Most of them told me I was crazy. Jeremiah didn't, and I felt like he was the right person for her. He can give her more attention, he's going to try harder, and he's very good with young horses."
Englehart ought to be. While Paolucci grew up betting the races, he grew up knowing what goes into them--filling feed buckets, walking hots. He already had runners for Paolucci among about 60 for various owners at Finger Lakes and on the New York Racing Association circuit. When he saw Ria Antonia, there was something about her that caught his eye.
"I knew how much Ron liked the horse, and I liked the horse," he said. "You could tell she just meant business. She was classy."
Paolucci first spotted Ria Antonia, originally purchased for $9,000 by
Woodbine
trainer Ricky Griffith at the 2012 Fasig-Tipton Kentucky October sale from the Mill Ridge Yearling Sales consignment, when Griffith was running her on the Polytrack at the Canada oval. He looked up the filly and saw she was by
Rockport Harbor
.
He knew Rockport Harbor was a son of
Unbridled's Song
who won the Breeders' Cup Juvenile (gr. I) going two turns on the dirt. And, despite not being a pedigree buff, he wondered why she wasn't running on a natural surface.
Bred in Kentucky by Lynn B. Schiff out of the Mr. Greeley mare Beer Baroness, Ria Antonia was big and elegant with a fine head and intelligent eye. She started first time out in a stakes going five-eighths, then broke her maiden going six furlongs by six lengths against the boys. She covered ground so effortlessly it looked like she was in slow motion.
Bloodstock agent Chris Jackson worked hard to get the deal done because somewhere during the negotiations, word slipped that Paolucci wanted to run the filly on dirt—so her Woodbine trainer sent her through a brilliant move over the natural oval there. Her affinity for the surface was an eye-opener and word came back that Griffith no longer wanted to sell. After Paolucci raised the price and Dunn came in for 25%, Griffith finally agreed to continue with the contract.
"I wired the money and the next thing I know, Chris calls me," Paolucci said. "He says, 'Ricky changed his mind.' I said, 'Chris, I already sent the money; it's gone.' "
Jackson called Griffith, whom Paolucci had done business with before. He would look in his account, he told them. If the transfer had cleared, Paolucci could keep her. If it hadn't, no deal.
The money was there.
---
Questions raised by those who observed Ria Antonia's victory and have been waiting for her comeback are legitimate.
"When you get a horse like Ria with just the Breeders' Cup and a maiden win, you're going to wonder," Englehart said. "I'll look at comments about her and they'll say, 'She won a single race and she needed the stewards' help to do it; she seems to be getting a lot of publicity; does she deserve it?' Sure, those things are going to weigh on my mind. But we talked about giving her time off after the Breeders' Cup and the main thing bringing her back was to have her third race be her best race, to have her physically and mentally prepared then. I worked back from the first weekend in May, and I think from now until her third start, wherever it is, she's still going to improve."
As always in racing, something leaves us wanting more. But Paolucci's gamble has already paid off, and as he anticipates the start of the season, anything Ria Antonia does will be a bonus for him.
"I love this filly," he said. "I love her more than I can love any horse. If I could French kiss her, I would. If I didn't think she'd bite me, I would. I mean it. I love her. And if she never did another thing on the track, she's done enough for me."
A copy of this story originally appeared in the Feb. 22 print edition of the Blood-Horse Magazine under the headline "Swinging Away: Owner Ron Paolucci, trainer Jeremiah Englehart swing for the fences with Ria Antonia."