One of the earliest juvenile stakes winners on the West Coast last year, Kobe's Back captured the June 15 Willard L. Proctor Memorial by 3 1/4 lengths on his racetrack debut. Kobe's Back broke in the air in the Willard Proctor, but his superiority over the field rendered that incidental. In his next start, the Hollywood Prevue Stakes (gr. III), the gray was again away slowly, but this time he was faced with the task of conceding ground to the eventual champion 2-year-old male, Shared Belief. Not surprisingly, this proved beyond him, but Kobe's Back did make a good run from last in the five-horse field to reach a threatening position in mid-stretch before the effort told. Shared Belief drew off to tally by 7 3/4 lengths, with Kobe's Back hanging on to second, 4 3/4 lengths clear of the third-place finisher.

Shared Belief and Kobe's Back both returned for the CashCall Futurity (gr. I) in mid-December, with Shared Belief drawing off to take what has turned out to be a formful renewal—subsequent graded winners Candy Boy and Tamarando taking second and third—while Kobe's Back suffered a rough trip and dropped back to finish 10th of 12 after clipping heels with a rival a half-mile from home.

If the bare form line may have given the impression that Kobe's Back was an early season 2-year-old flash in the pan, any such thoughts were dismissed Feb. 16 when he scored an impressive 5 1/4-length win in the San Vicente Stakes (gr. II), an effort that sees him ready to take the next step on the classic trail.

Kobe's Back's precocity on the track was presaged by early ability flashed at the Ocala Breeders' Sale Company's selected sale of 2-year-olds in training last March, where he impressed enough to realize $480,000. On his previous trip through the ring he had fetched $60,000 at the 2012 Fasig-Tipton Kentucky October yearling sale.

Kobe's Back is not the first Flatter colt to go through the Fasig-Tipton October yearling sale and turn out to be a talented juvenile on the West Coast. Back in 2008, Jack o' Lantern, a member of Flatter's second crop, sprang a surprise to take the Hollywood Prevue Stakes. Flatter was standing for a stud fee of $5,000 when he sired Jack o' Lantern, and that was still his fee when Kobe's Back, a member of his seventh crop, was conceived. However, the son of A.P. Indy has overcome his relatively modest initial opportunities to the point where he's standing for a fee of $20,000 in 2014.

A son of A.P. Indy out of the Mr. Prospector mare Praise (and thus bred on an identical cross to a trio of successful A.P. Indy stallion sons in Pulpit, Malibu Moon , and Mineshaft , as well as Flatter's full brother Congrats , the leading freshman sire of 2010) and from the Glowing Tribute branch of the La Troienne family, Flatter began his racing career attempting to live up to an illustrious pedigree. Unraced at 2, he finished fourth in a 6 1/2-furlong maiden on his debut at 3. After an easy victory in a one-mile maiden at Churchill Downs, Flatter started just twice more that year, taking a nine-furlong Arlington Park allowance contest by 11 1/2 lengths, and completing the campaign with an allowance score at Turfway Park. In all three of his wins, he led throughout. At 4, Flatter didn't return to action until the end of June, having suffered a cannon bone fracture severe enough to require the insertion of a plate and numerous screws. Despite the injury and a near 10-month layoff, Flatter produced an impressive display on his return in a 7 1/2-furlong Churchill Downs allowance event, dueling for the lead through the first half-mile before drawing away for a 5 1/4-length tally.

Flatter's next outing saw him move into stakes company for the Washington Park Handicap (gr. II). He stumbled at the start, but recovered to prompt the pace through the first three calls, before fading to finish third, 6 1/4 lengths behind winner Perfect Drift. An injury suffered in a subsequent workout prevented Flatter from starting again, and he retired to stand at Claiborne Farm. From his first seven crops, Flatter has now sired a total of 29 stakes winners, including four stakes winners in his current crop of 2-year-olds. In addition to Kobe's Back and Jack o' Lantern, his best also include Flat Out , a multiple grade I winner of $3,645,383; the grade II scorers Tar Heel Mom and Apart; and graded stakes victors Mad Flatter and Single Solution.

Kobe's Back is out of the winning Well Decorated mare Well. She is the dam of three winners from her first four foals, and they also include the sprinter Well Spelled (by Spellbinder), successful in the Jersey Shore Stakes (gr. III) and Gallant Bob Stakes. The second dam, Faith Tested Raye, is by Runaway Groom, from whence Kobe's Back derives his gray coat color. Faith Tested Raye was unraced, and although she produced nine winners from nine starters, none were of great consequence. She was, however, a half sister to the Berkeley Stakes (gr. III) winner My Creed (by Beau Genius, who, like Flatter, stems from the Boldnesian branch of the Bold Ruler line, albeit through Bold Ruckus rather than Seattle Slew).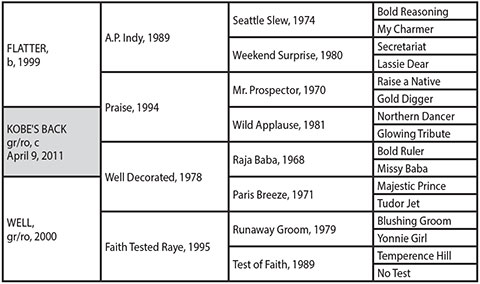 The third dam, Test of Faith, was a minor winner and is of interest here primarily as a half sister to Notation, a son of Kobe's Back's broodmare sire, Well Decorated, who took the Lexington Stakes (gr. II) and Chesapeake Stakes. Test of Faith's dam, No Test, was a well-bred individual being by champion racehorse and leading sire Nodouble out of the Jasmine Stakes (gr. III), Mimosa Stakes (gr. III) and Demoiselle Stakes (prior to the institution of the graded system) victress Protest. Rather interestingly, No Test is a half sister to the very good European sprinter Indian King—successful in the Vernons Sprint Cup (Eng-II), Diadem Stakes (Eng-III), Cork and Orrery Stakes (Eng-III), and Prix du Palais Royal (Fr-III)—he a son of Well Decorated's sire, Raja Baba. The family goes back to a renowned foundation mare, as Protest is a great-granddaughter of the imported Blandford matron Minnewaska, granddam of a celebrated trio of sisters in How, Cherokee Rose, and Sequoia, the first two successful in the Coaching Club American Oaks, the third a winner of the Spinaway Stakes, and all three later important foundation mares.
We've noted that the female line has produced Kobe's Back's dam, Well, and graded scorer Notation to the cover of Well Decorated, a son of Raja Baba, as well as Indian King to Raja Baba himself. This is rather interesting in the context of the pedigree of Kobe's Back, as his grandsire, A.P. Indy, is a Bold Ruler line horse out of a great-granddaughter of the mare Missy Baba, while Raja Baba is by Bold Ruler out of Missy Baba. Given these connections, one might have thought that A.P. Indy line stallions would have crossed well over Raja Baba line mares, but from 83 starters on the cross of A.P. Indy line stallions with Raja Baba line mares, there are only two stakes winners: Kobe's Back and Check My Cheeks, a stakes winner in Puerto Rico by Flatter's brother, Congrats.
As a sprint stakes winner on his debut, Kobe's Back has obviously already demonstrated plenty of speed. A more germane question, given his classic aspirations, is how far will he be able to carry it? The evidence here is somewhat conflicted given that his dam has already produced a graded stakes-winning sprinter. Flatter himself had plenty of speed, and he's sired some talented sprinters such as Tar Heel Mom and Pashito the Che. On the other hand, his best son, Flat Out, is a grade I winner at 10 furlongs; Apart was a graded winner at nine furlongs, making him one of four Flatter stakes winners to score at that trip.
The broodmare sire, Well Decorated, was a sprinter as a mature horse, but there is more stamina in the sires of the next three dams: Runaway Groom captured the Queen's Plate before defeating the winners of each of that year's Triple Crown events in the Travers Stakes (gr. I), Temperence Hill took the Belmont Stakes (gr. I), and Nodouble captured several important 10-furlong contests. Overall, it is possible to interpret Kobe's Back's pedigree in more than one way on the count of potential distance capacity, and indeed reiterations of the mating may well provide individuals with different aptitudes. Our guess is that he may prove capable of stretching out to capture another Derby prep in the spring, but ultimately may be most effective as a sprinter/miler, rather like one of last year's California classic crop, Goldencents .