Art Sherman may be New York-bred and Kentucky-bound, but his heart is lodged squarely in California. After all, the West Coast not only produced Sherman trainee
California Chrome
—who is heading for the Triple Crown trail via the March 8 San Felipe Stakes (gr. II) at
Santa Anita Park
—it's also where Art and wife Faye raised their two boys, Steve and Alan, now trainers as well.
California plays a role in Sherman's best tales—galloping California-bred Swaps, who won the 1955 Kentucky Derby; getting to meet then Vice President Richard Nixon after riding a winner in Maryland and reminiscing with Nixon about their alma mater, Whittier High School; and riding California Kid.
California Kid, like Swaps a son of the stallion Khaled bred by Rex Ellsworth, didn't go down in racing history as a great horse. He only won one stakes, the 1956 Prairie State Stakes, and his full brother Correspondent made more headlines by winning the 1954 Hollywood Gold Cup.
Still, Sherman will never forget California Kid. When the legendary Bill Shoemaker was unable to ride, Sherman subbed for Shoe and broke the runner's maiden at
Gulfstream Park
in Florida.
"I raised that horse from a baby because his mother had died of a twisted intestine," said Sherman. "He got spoiled. He used to follow me around in the paddock at Ellsworth's farm."
As California Kid grew up and went into training at the California farm, Sherman rode him every day for more than a year.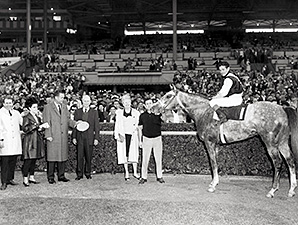 Sherman grew up cross-country in Brooklyn, but moved to California at age 7. He chose his profession after overhearing clients at his father's barbershop talk about how he should be a jockey because both of his parents were small, and started at the racetrack under contract with Ellsworth. He spent 23 years in the irons, riding in Ohio, Kentucky, New York, Florida, and California, then turned to training after hanging up his tack following a one year stint in the racing office in Northern California. After all those years he still has a soft spot for a horse with personality, another reason he loves California Chrome.
"I like a people's horse, and that's what he is—he likes people," said Sherman. "He likes being babied. He likes you to play with him."
Sherman trains at Los Alamitos, about 30 miles south of Santa Anita. With fewer horses at Los Alamitos than at Santa Anita, California Chrome can enjoy his morning constitutionals. He steps onto the track and surveys his surroundings. Exercise rider William Delgado lets the colt stand for a while before beginning the daily gallop.
After California Chrome finishes, he walks back to where Sherman stands and is not above nosing any visitors to see if they might come up with a carrot or peppermint. The day of his birthday, Feb. 18, California Chrome received horse cookies sent from his adoring owner-breeders, Steve and Carolyn Coburn and Perry and Denise Martin.
Sherman, now 77 but looking much younger, runs a stable of 16-20 horses, a size that works well for him. Alan is his assistant, while Steve has his own barn in Northern California. Art and Alan live nearby during the race week. On days when Santa Anita isn't racing, Art returns to Faye, his wife of 53 years, and their home near San Diego. When the couple lived in the north, Faye ran gift shops at the racetracks.
"It's great to have my sons involved," Sherman said. "I was very surprised that both of my sons wanted to be in the business. I never pushed either one of them."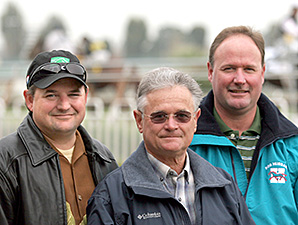 Alan was a jockey for a few years before he got too big, his proud father pointing out that during his career Alan rode for Hall of Fame trainer Charlie Whittingham.
Rather than the high-profile superstars, the Sherman family has made money for their clients with bread-and-butter kind of runners. Art often owns a piece of the horses with his owners, many of whom are his friends.
The Shermans have developed plenty of stakes winners.
Siren Lure
earned nearly $1 million by winning such races as the 2006 Triple Bend Invitational Handicap (gr. I). A few years later,
Ultra Blend
went over $1 million, her stakes victories including the 2011 Clement L. Hirsch Stakes (gr. I). Both horses started in the Breeders' Cup, with Ultra Blend finishing fourth to
Royal Delta
in the 2011 Breeders' Cup Ladies' Classic (gr. I).
Now Sherman has a chance to go to the Kentucky Derby for the first time since accompanying Swaps in 1955 and Terrang in 1956. California Chrome will need the points of the San Felipe because as a Cal-bred son of
Lucky Pulpit
, he has been winning in restricted company.
California Chrome's scintillating 5 1/2-length performance in the Jan. 25 California Cup Derby over eventual El Camino Real Derby (gr. III) winner Tamarando indicated he may certainly belong. When a young horse like this comes along, Sherman knows that sticking around the racetrack has been the right choice.
"I can't retire," Sherman said. "I wouldn't know what to do with myself. This is my life."