Reputations and rivalries are forged in the Big 'Cap.

First run in 1935, the Santa Anita Handicap became the West Coast's most prestigious racing event because it consistently brought out the best between people and horses. Known in the early years as the "Hundred Grander," it often attracted the best runners in the nation. So many wanted to come to California that for many years, Santa Anita Park made its weight assignments for the 1 1/4-mile classic in December so that those with horses under consideration could make their shipping plans.

It got the nickname "Big Cap" for a reason: this race always was a huge deal. A record 85,527 came out to see the Argentinian 5-year-old Lord At War prevail over Greinton and Gate Dancer for trainer Charlie Whittingham in 1985. As the years went by, competition from other races around the country and, most notably, the Dubai World Cup (UAE-I) hurt the race's draw. An event that once routinely attracted more than 50,000 spectators became more of a local affair in the past two decades. But for those that remember the glory days, that's why this year's Big 'Cap feels so special.

The 77th renewal of the Big 'Cap on March 8, which will be televised as part of the The Jockey Club Tour on FOX at 4 p.m. PST, features a classic rematch of the 2013 Breeders' Cup Classic (gr. I) held over this same Santa Anita track between winner Mucho Macho Man and runner-up Will Take Charge . They were separated by a nose in one of the most thrilling Classics on the 30-year anniversary of the race. Shipping cross-country, they are back to reprise that duel.

Such a Classic rematch has only happened once before; in 1988, Kentucky Derby (gr. I) winners Ferdinand and Alysheba restaged the previous fall's BC Classic at Hollywood Park won by a nose by Ferdinand. In the rematch, Alysheba got the better of his older rival on his way to Horse of the Year honors.

Throw in the best Southern California handicap horse in many years, Game On Dude, who is chasing a record third win in this year's Big 'Cap after dominating the 2013 race by a record 7 3/4 lengths, and you sense legendary potential. This is where history happens.

Gary Stevens, the Hall of Fame jockey in search of his fifth Santa Anita Handicap victory on Mucho Macho Man, says of this year's field: "It's definitely one of the best (Big Caps) with the competition from the top three, and we all know who they are. It's the most contentious Big Cap I've ever ridden in."

Trainer Bob Baffert, who will saddle Game On Dude, compares the race to "more like a heavyweight title fight."

And Willis Horton, co-owner of Will Take Charge, chimes in, "The way I feel is Saturday, this could be a race of a lifetime. I've practically watched nearly all of them even back to Affirmed (in 1979), and I think we've got as strong a field this week as any (Santa Anita Handicap) in the past."

Alysheba and Ferdinand
This year's race has reminded many of the 1988 renewal, except as Hall of Fame jockey Chris McCarron notes, the current field appears to be deeper. Alysheba, like Will Take Charge, was the Eclipse Award winner for 3-year-olds the preceding year for his owners, Dorothy and Pamela Scharbauer, and was taking on the 1987 Horse of the Year in Ferdinand, ridden by Bill Shoemaker.

McCarron rode Alysheba continuously starting with the Jack Van Berg trainee's successful Triple Crown campaign in 1987, and remembers the following year's Big 'Cap as one of the Alydar colt's finest moments.

"Absolute elation," he said when asked about his feelings as they crossed the wire half a length in front.

Just four competed that year, with Super Diamond and the speedster Judge Angelucci joining Alysheba, the even-money favorite, and Ferdinand, who had been beaten by Judge Angelucci in the San Antonio Handicap (gr. I) three weeks earlier but was primed and ready for Whittingham.

"Alysheba had matured tremendously from his 3-year-old season to 4," McCarron said of the Kentucky Derby and Preakness (gr. I) winner. "He had a tendency to gear down when he would get the lead and wait for company. Because of that, he lacked a lot of super-impressive wins and that was why many people didn't think he was that great."

But his three-length tally over Candi's Gold in the Charles H. Strub Stakes (gr. I) coming into the Big 'Cap showed that Alysheba had added a new dimension.

Judge Angelucci showed the way, as expected, though he got pressure from Super Diamond with Alysheba settling third and Ferdinand bringing up the rear under Shoemaker.

"Alysheba made the lead at the three-eighths pole; he rolled past Judge Angelucci and Super Diamond like they were standing still," McCarron recalled. "But Shoe had Ferdinand moving from the five-eighths pole and he was planning to turn it into a match race."

Which was fine with McCarron. He slid Alysheba to the inside coming out of the far turn and readied for what he knew was coming. "Ferdinand got up along side us and we really went at the final eighth. But Alysheba just wasn't going to let that chestnut get by."

'There Will Never be Another Seabiscuit'
Azucar won the first Santa Anita Handicap in '35, but it's doubtful the race would hold the special place in American racing annals that it does were it not for Seabiscuit. Charles Howard's plain brown horse made three appearances in the Hundred Grander, losing by a wrenching nose in each of his first two tries; to Rosemont in 1937 and to Stagehand, who carried 30 pounds less, in '38. It was while training for his third appearance in 1939 that he sustained a bowed tendon that at the time was thought the end of his career.

But as well-chronicled in book and film, the tough son of Hard Tack wasn't through at all. Under the close supervision of his patient trainer Tom Smith, the 7-year-old not only made it back to the races, he returned to the West Coast's biggest stage where he faced his rival and stablemate, Howard's Kayak II, who won the 1939 Big 'Cap in Seabiscuit's absence. In his final appearance, Seabiscuit won the 1940 Big 'Cap by 1 1/2 lengths and cemented the race's lofty status for millions of fans.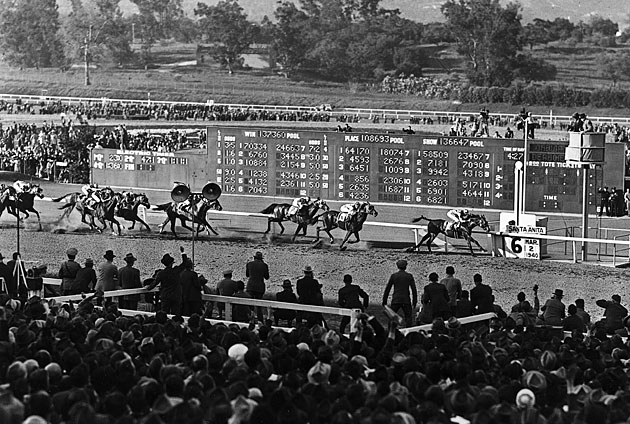 "There will never be another Seabiscuit," Howard said afterward.

Of course, the Big 'Cap has spawned many other great rematches and rivalries over the years. There was Howard's Noor—10 years after Seabiscuit—upsetting Triple Crown champion Citation in 1950 while getting 22 pounds from Calumet's Big Cy. Terrang, in 1959, avenged his Big 'Cap loss from a year earlier to the Shoemaker-ridden Round Table.

In the '60s, Pretense and Native Diver raced against each other three times; Pretense prevailed every time including the 1966 Big 'Cap by three lengths for Shoemaker. Native Diver, a three-time Hollywood Gold Cup winner, was never able to annex the Santa Anita Handicap; he was third in 1966.

In 1970, California-bred Quicken Tree ran down Fiddle Isle to win the race and later that year became the first horse since Noor to win both the Big 'Cap and the San Juan Capistrano Invitational Handicap—in a dead-heat with his longtime rival.

A decade later, Spectacular Bid and Flying Paster engaged in several match-ups, including the 1980 Big 'Cap, but the hard-trying 'Paster was never able to beat his nemesis.

Free House and Silver Charm, who battled throughout their 3-year-old campaigns, renewed that rivalry as older horses. Free House prevailed over the previous year's Dubai World Cup winner in the 1999 Big 'Cap.

The People's Horse
Since Seabiscuit, Big 'Cap history has been dotted with blue-collar stars, gritty campaigners who just don't give up.
They have great back stories and better resumes. Each in his own time become the people's horse, attracting fans to the track every time he ran.

This year's edition arguably has two, Game on Dude and Mucho Macho Man, who follow in some pretty fabulous hoofprints. Among those popular people-pleasing winners: two-time winner Lava Man, Snow Chief, Affirmed (who posted a stakes-record time of 1:58 3/5 in winning the 1979 edition under 128 pounds), Cougar II, Best Pal, and Tiznow.

But topping that people's horse list would have to be hard-knocking John Henry, an accomplished grass horse and two-time Horse of the Year who also won back-to-back Big 'Caps in 1981 and '82. The second came via disqualification of his rival, Perrault, who was trained by eight-time Big 'Cap winner Whittingham. Aboard John Henry for his repeat was Shoemaker, another legend, while Laffit Pincay Jr., who rode John in 1981, was astride Perrault.

John Henry was a horse that Whittingham, for all his success, couldn't seem to beat. But in Perrault, a British-bred who went on to win that year's Hollywood Gold Cup and Arlington Million (both gr. I) and earn an Eclipse Award for best male turf horse, he thought he had the horse.

"I knew Whittingham really wanted to win that one," said Pincay, who won five Big 'Caps himself.

And it appeared he would get it as Perrault opened a clear lead in the drive. But Perrault was letting up as they approached the wire, said Pincay, "and I knew John Henry was coming so I went to the left hand (whip) to try to keep him going. Charlie had told me not to hit him much but I knew if I didn't do something to get his mind off pulling up, we were going to get beat."

Perrault prevailed by a nose to the delight of his supporters in the crowd of nearly 73,000 as John Henry could not get by. But Pincay's joy was dashed minutes later when stewards disqualified Perrault for carrying John Henry out in the final strides. To this day, Pincay thinks Perrault's victory should have been allowed to stand.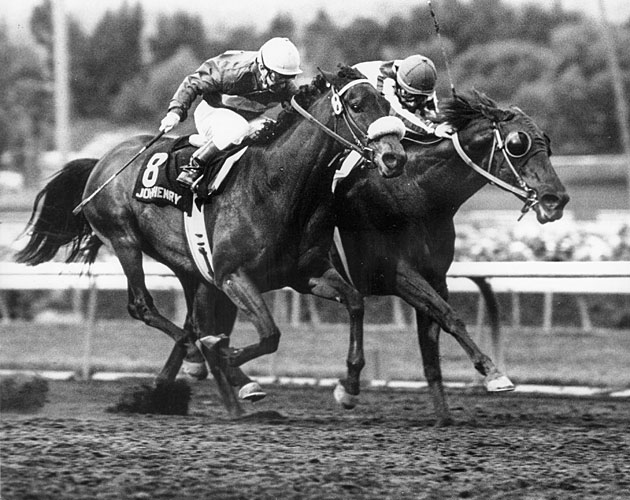 "He drifted out so slightly," Pincay said. "There was never any contact between us. I couldn't believe the stewards made that decision, especially in the Santa Anita Handicap."

As for Whittingham, "he was livid (at the stewards)," said Mike Willman, now Santa Anita's track publicist. "He could not beat that horse (John Henry), and the one time he managed to do it, he got DQ'd."

While the big names attract all the pre-race attention, Big 'Cap lore has its share of legendary outsiders. One of the most humorous stories in the race's illustrious history proved that even 11-time Big 'Cap winner Shoemaker can be wrong.

In 1962, Don Pierce, a well-known big-money rider who was inducted into the National Racing Hall of Fame in 2010, was the rider on Physician, part of a three-horse entry for owner Rex Ellsworth. Pierce, a four-time winner of the race, said Physician, a second-stringer trained by Lynn Boice, would have been 99-1 on his own. Instead he was part of a favored entry with the Mesh Tenney-conditioned 1961 Big 'Cap winner Prove It, guided by Shoemaker, and Olden Times, who had Alex Maese to ride.

"In those days, it was common for jockeys as part of an entry to agree to split their share beforehand (if they finished in the money), you know, 60/40, that sort of thing," Pierce related. "Well, the day before the race we were being interviewed and somebody asked Shoe if he and Maese were going to split the purse with me if they won. He told them, 'Pierce is out. His horse has got no chance.'

"Well, (Physician) broke poorly in the race and I took him back, figured my only chance was to wait and make one big run. And as sometimes happens, the pace was really fast and the other horses were tiring. Physician began to make up ground and we went right past them to win going away. As I was blowing by Prove It at the quarter pole, Shoemaker knew he was beat. I could hear him hollering, 'You're in Pierce, you're in.' "

Now 76, Pierce and his good friend Shoemaker laughed about that incident for many years afterward. And Pierce kept his share.