Dawn wasn't even a whisper when Hall of Fame horseman D. Wayne Lukas swung aboard his stable pony March 14 and headed for the Oaklawn Park gap with a blaze-faced chestnut by his side.
Will Take Charge sauntered along, neck bowed, shoulders rippling with each stride. Two days back from his runner-up finish in California he looked none the worse for wear, though speedster Game On Dude avenged his Clark Handicap (gr. I) defeat from the end of last season in a rip-roaring edition of the Santa Anita Handicap (gr. I) contested in stakes record time. As the son of Unbridled's Song headed off to jog the wrong way on the muscle, Lukas surveyed his progress with an eagle eye.
Every morning the veteran conditioner prides himself on sending the first set out over the Arkansas oval, his runners' hooves sinking softly into the freshly harrowed ground. Other horsemen don't even emerge from their barns until the Lukas group walks by. Why bother? At 78, "The Coach" is undisputed king of his winter racing headquarters, where last year he developed Will Take Charge to clinch a 3-year-old championship and where this year he has Strong Mandate headed into the March 15 Rebel Stakes (gr. II).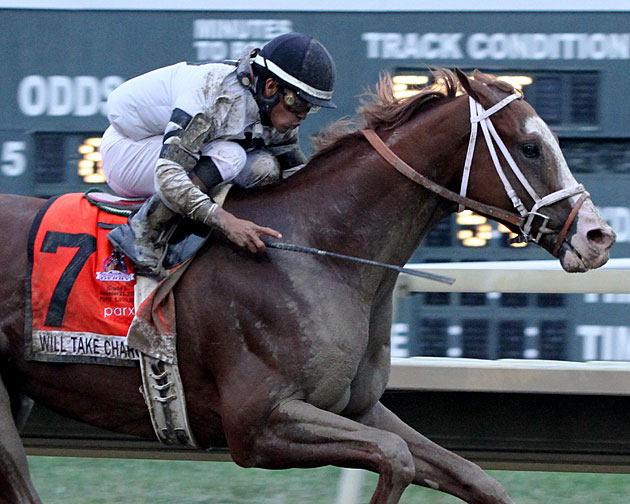 Strong Mandate, 4 1/4-length runner-up to Tapiture in the Feb. 17 Southwest (gr. III) at Oaklawn after a troubled trip and a five-wide move, looks to mirror Will Take Charge's 2013 Rebel score. This 3-year-old son of Tiznow came into the Southwest for his season debut off a fourth in the Nov. 2 Breeders' Cup Juvenile (gr. I) with a little less bottom under him than Lukas would have liked, his training hours limited by inclement weather.
"He only had one half mile work in 15 days because of the weather (leading up to the Southwest)," Lukas said. "We had some good gallops in him through that weather, but we knew we didn't want to take any chances on a bad track either on the worktab.
"Those two things compromised him, but I'm not making excuses; the other horse (Tapiture) ran wonderful—he came out of New Orleans and never missed a day. I think we'll have a little better horse this time, but we have to go over there and prove it. The Rebel's got some quality to it; it's got good depth."
Holding court from horseback after sunrise at Oaklawn, Will Take Charge and Strong Mandate safely back in their stalls, Lukas opined on subjects from the 3-year-old scene—"It's upside down in a lot of places"—to Strong Mandate's physique—"He's long and lean and maybe that will serve him well going a route."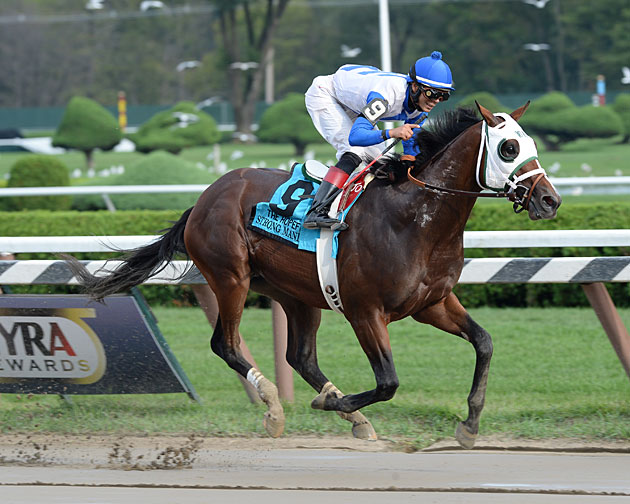 Strong Mandate rolled to a 9 3/4-length victory on a muddy track in the Hopeful Stakes (gr. I) last summer at Saratoga Race Course for Robert Baker and William Mack straight off his second-out maiden score. Bred in Kentucky by G. Watts Humphrey Jr. out of the grade I-winning Deputy Minister mare Clear Mandate, he was a $200,000 purchase at the 2012 Keeneland September yearling sale by Baker and Mack (who generally buy two or three each year) when consigned by Lane's End.
"He's the spitting image of his sire, actually," Lukas said in reference to Tiznow. "I was around and watched his sire train all the time in California, and I think he looks exactly like him."

Gearing up for the 1 1/16-mile Rebel (read full preview), Lukas worked Strong Mandate five furlongs in 1:03 3/5 March 6, definitely slower than a duo of four-furlong bullets that bookended his Southwest run. Getting this bay runner to relax has been a task for the veteran conditioner, since Strong Mandate has encountered traffic trouble in several runs.
"He's had three rough trips and after a horse has those trips a couple of times it affects them mentally," Lukas explained. "The thing in the last race was, once he got settled and turned up the backside, that move he made at the three-eighths pole, he looked like Secretariat. I thought, 'Wow!' I knew he wasn't going to be able finish after making that kind of a move.
"He was a little more agressive going down the backside than I wanted, so I was trying to get him to relax, then finish. His last work, probably, my exercise rider overreacted a little bit. I told him, 'Make sure you don't get any early fractions, then finish.' Well, he finished, but he probably went a little slower than in a perfect world the first three-eighths."

Strong Mandate is one of three horses in training with Lukas for Mack and Baker, whose earlier successes with the Hall of Famer included Grand Slam, Proud Citizen, Scorpion, and Dublin. Baker, who lives in Greenwich, Conn.,, is the chairman and CEO of National Realty and Development Corp. Mack lives in New York City and is founder and chairman of Apollo Real Estate Advisors.
"I've had good luck with them, they're wonderful owners, they've been around forever, and they understand the game," said Lukas. He has trained for the partners for about 25 years.
The 3-year-old contender has a tall order to fill should he continue on the road to the Kentucky Derby Presented by Yum! Brands (gr. I); since 1980, only five Kentucky Derby winners have been grade I winners at age 2, the last being Street Sense in 2007. But Lukas, the all-time leading trainer in Triple Crown classic victories with 14, has altered the course of history before.

Last year Will Take Charge became the only 3-year-old male to have run off the board in all three Triple Crown events, yet still collect an Eclipse Award. Racing for another longtime Lukas client, Arkansas native Willis Horton, he aced the Smarty Jones, Rebel, Travers (gr. I), Pennsylvania Derby (gr. II), and Clark, then was second in the Breeders' Cup Classic (gr. I) by a nose to take home honors at the end of the year.
Now co-owned by Three Chimneys, the strapping chestnut who runs with a powerful closing kick has two seconds in 2014 behind record-setting speedballs; the Big 'Cap effort March 8 and a second to Lea in his seasonal debut, the Feb. 9 Donn Handicap (gr. I) at Gulfstream Park. Bred in Kentucky by Eaton out of multiple grade I winner Take Charge Lady and a $425,000 purchase from the 2011 Keeneland September yearling sale when consigned by Hill 'n' Dale sales agency, he has six wins and five seconds from 17 starts, with earnings of $3,305,148.
"He came back super," said Lukas, who will now target the April 12 Oaklawn Handicap (gr. II) with Will Take Charge. "We caught two (speed-favoring) tracks that were not suitable to his style. He's the best horse in America. He'll prove that."