By Anne Peters

Once upon a time there was a brave young prince named Bold Ruler, who became the greatest stallion of his time. He led the American sire lists for eight years in the 1960s and '70s, and his sons and grandsons dominated until new fashion pushed them aside. With the rise of A.P. Indy as a sire of sires, this male line has rebounded after four generations, but Bold Ruler survived in other important ways.
Bold Ruler was by Claiborne's epoch-making stallion, Nasrullah, and his dam was the classy sprint mare, Miss Disco, by the great broodmare sire Discovery. Just short of a championship at 2, Bold Ruler was the Horse of the Year at 3, topping a formidable crop that included Round Table, Gallant Man, and Iron Liege. At 4, Bold Ruler remained near the top and was named champion sprinter, but bowed to Round Table as Horse of the Year.
Bold Ruler was blessed with speed and courage that allowed him to succeed despite infirmities, from a tender mouth to chronic arthritis and soreness. During his title year, when he was also voted champion 3-year-old male, Bold Ruler set or equaled four track records and was able to stretch his speed to 10 furlongs.
He was built similarly to his sire, being a big, leggy horse, standing 16.1 hands with a great shoulder, powerful hindquarter, and a distinctive long, sloping hip going down to a straight hind leg. This conformation still appears in the gene pool, especially through the Seattle Slew line.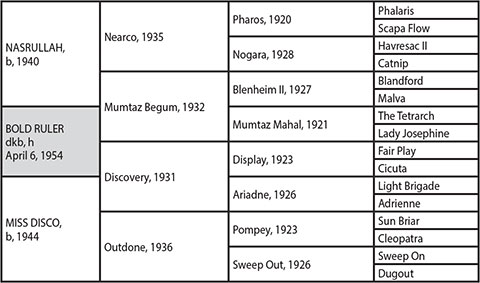 Bold Ruler made his first season in 1959 at Claiborne alongside Nasrullah, who died that May. He was an immediate success, topping the leading sire list first in 1963, through 1969, and picking it up again in 1973 when his son Secretariat won the Triple Crown.
Although he got several runners, including Secretariat, who won at 10 furlongs or more, Bold Ruler was better known as a sire of precocious 2-year-olds. His progeny earned a reputation for unsoundness, many being big-bodied horses on fragile legs, driven by that generous Bold Ruler heart.
When he died from cancer in 1971, Bold Ruler left behind a number of sons poised to carry on. Bold Commander sired Kentucky Derby winner Dust Commander. Bold Bidder sired two Kentucky Derby (gr. I) winners, in 1974 with Cannonade, and in 1979 with Spectacular Bid. What a Pleasure was the leading sire in 1975, Foolish Pleasure's Derby year, and in 1976. Irish Castle sired Derby/Belmont Stakes (gr. I) winner Bold Forbes (champion 3-year-old male 1976). Raja Baba was the leading sire in 1980. Secretariat sired Risen Star, winner of the Preakness (gr. I) and Belmont stakes and champion 3-year-old male of 1988.
Unfortunately, none of these grandsons made a strong mark at stud, and their role was taken over by Raise a Native's sons Mr. Prospector and Exclusive Native, and others. Nothing did more to push Bold Ruler's male line out of favor than the stud career of Secretariat, which was below his lofty expectations.
The line faded with one major exception. In 1977 Boldnesian's grandson Seattle Slew, by Bold Reasoning, won the Triple Crown and went on to sire greatness. He led the sire list in 1984, when his son Swale won the Derby and Belmont. In 1992 his son A.P. Indy was Horse of the Year and reigned as leading sire in 2003 and '06. A.P. Indy's top sons and grandsons include Malibu Moon , Pulpit, Tapit , and Bernardini ; and his daughters have become top broodmares.
Seattle Slew also influences through Capote (in Dixie Union) and Seattle Song (dam's sire of Tiznow , Oxbow , and Paynter ), and he is the broodmare sire of Lemon Drop Kid , Stormy Atlantic , Eskendereya, and the great Cigar, to name a few.
A.P. Indy was a suitable scion to Bold Ruler, being inbred 4x3 to him through Boldnesian and Secretariat. Secretariat wasn't such a genetic dud after all, becoming a vastly influential broodmare sire through A.P. Indy, Storm Cat, Gone West, Dehere, Chief's Crown, and others.
Bold Ruler pops up in other prominent spots, too. Besides Bold Reasoning, Boldnesian sired Canadian leading sire Bold Ruckus, as well as the dams of Smile and Skywalker. Raja Baba got Is It True, who sired Yes It's True.
What a Pleasure's son Honest Pleasure sired the filly Narrate, ancestress of Pulpit, Tale of the Cat , and Johannesburg. He's also in the female line of Harlan's Holiday. Foolish Pleasure appears in the dam of Smarty Jones as well.
Bold Ruler's Chieftain is in the dams of Giant's Causeway and Speightstown . Reviewer sired Ruffian but is also found in Mr. Greeley, Time for a Change, and Street Sense . Bold Bidder shows up in Bernardini , Exchange Rate, Quality Road , and Fort Larned . Cornish Prince lurks in the dams of Into Mischief and Empire Maker .
So while A.P. Indy brings this male line back to prominence, it doesn't mean that Bold Ruler's influence was nearly extinct. His great genes were weaving their way down through the generations, passing on the brilliant speed and gameness that make a true Thoroughbred.