Even after Mr. Prospector proved himself a dominant force in American breeding, the stallion had his detractors. His foreleg conformation was less than ideal, and many horsemen questioned the soundness of his progeny. Despite his having had major winners over the entire American distance spectrum, many also saw him as imparting doubtful stamina.
Fifteen years after Mr. Prospector's death, those concerns have been tempered by the continuing success of horses carrying Mr. Prospector's blood. Male-line descendants of Mr. Prospector accounted for 13 of last year's top 30 American sires, including second-place Speightstown and sixth-place Unbridled's Song; another 10 among the top 30 have Mr. Prospector elsewhere in their pedigrees—including Tapit , who is inbred 3x4 to Mr. Prospector. Likewise, 11 of the 30 leading broodmare sires are direct descendants of Mr. Prospector, with two more being out of Mr. Prospector mares.
With so many top stallions carrying Mr. Prospector in their pedigrees, not to mention the number of good mares produced by Mr. Prospector's daughters and granddaughters, inbreeding to the great sire was bound to be tried despite the cautions of a fair number of pundits who expected this to be a formula for unsoundness. Nonetheless, there were breeders who went right ahead even before Mr. Prospector's death, when inbreeding would of necessity be fairly close. The first top winner inbred to Mr. Prospector was Strategic Maneuver, a 1991 daughter of multiple grade I winner Cryptoclearance (by Fappiano, by Mr. Prospector) out of Prayer Wheel, a daughter of Mr. Prospector's champion son Conquistador Cielo. Strategic Maneuver won five of six starts at 2, including the Spin­away (gr. I) and Matron (gr. I) stakes but failed to demonstrate the same form in four starts at 3. As a broodmare, she has produced graded/group stakes winners Ishiguru and Cat Fighter.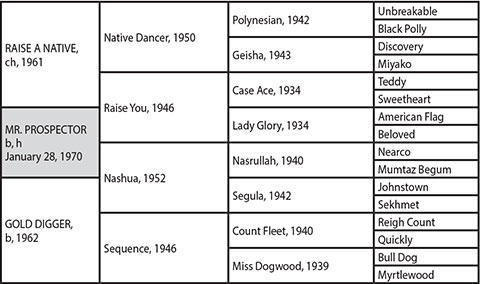 An even more extreme example of early inbreeding to Mr. Prospector was Storming Home, a son of Mr. Prospector's champion son Machiavellian out of a daughter of his champion daughter It's in the Air. A first-rate horse at 10 furlongs on turf, Storming Home won three grade or group I stakes and finished first in a fourth, the 2003 Arlington Million Stakes (gr. IT), in which he was disqualified for interference. He has been a disappointing sire in England, New Zealand, and Japan.
With the passing of time, inbreeding to Mr. Prospector is now more commonly seen at the third through fifth generations and is becoming more commonplace among top American horses. She's a Tiger, 2013 champion juvenile filly, is inbred 3x4 to Mr. Prospector, as is 2013 Kentucky Derby Presented by Yum! Brands (gr. I) winner Orb . Breeders' Cup Classic (gr. I) winner Mucho Macho Man has Mr. Prospector 4x4. Ria Antonia, who won the Breeders' Cup Juvenile Fillies (gr. I) on the disqualification of She's a Tiger, is inbred 5x4 to Mr. Prospector, while Breeders' Cup Juvenile (gr. I) hero New Year's Day carries Mr. Prospector 3x5.
Among this year's classic prospects, the list with Mr. Prospector inbreeding includes 2014 San Felipe Stakes (gr. II) winner California Chrome (4x3), 2013 FrontRunner Stakes (gr. I) winner Bond Holder (3x3), 2014 Jerome Stakes (gr. II) winner Noble Moon (3x3), 2013 Futurity Stakes (gr. II) winner and 2014 Gotham Stakes (gr. III) third In Trouble (4x4), 2013 Delta Downs Jackpot Stakes (gr. III) winner Rise Up (5x5x4), 2014 Sam F. Davis Stakes (gr. III) winner and Tampa Bay Derby (gr. II) runner-up Vinceremos (5x5), and 2014 Tampa Bay Derby winner Ring Weekend (4x3 Fappiano, 4x5x4 Mr. Prospector).
Fappiano, a tall, powerful horse that many felt more closely resembled his broodmare sire Dr. Fager than Mr. Prospector, stands at the head of the most classically oriented branch of Mr. Prospector's male line: Unbridled, Red Bullet, Birdstone , Empire Maker , Grindstone, Mine That Bird, Summer Bird, Real Quiet, and Victory Gallop. As such, he is rather atypical of Mr. Prospector's stock and seems to be a mild plus factor in inbreeding to Mr. Prospector.
The main considerations in inbreeding to Mr. Prospector, however, should be the same commonsense ones that should rule any inbreeding pattern: inbreeding through good representatives of his bloodline while avoiding matings that double up on physical or mental issues that have hereditary components.