Kentucky Derby winners are almost universally accorded a special distinction. Of the two that won the Louisiana Derby before capturing the first jewel of the Triple Crown, the first, Black Gold, is one of racing's enduring legends and the second, Grindstone, is currently a celebrity stallion in the Pacific Northwest.
An easy winner of the 1996 Louisiana Derby, then a grade III event at Fair Grounds Race Course & Slots, Grindstone was an unheralded colt who never grabbed the public's attention. He served notice, however, that 3-year-olds capable of a strong run down the longest stretch in the nation should not be disregarded on the first Saturday in May.
After racing far back early, Grindstone delivered a pulsating nose victory over Cavonnier in the final stride in the 1996 Kentucky Derby, and the win lives on as one of the race's most exciting finishes. It was closest since Tomy Lee in 1959 and the first time since Carry Back in 1961 that the race was won inside the final sixteenth.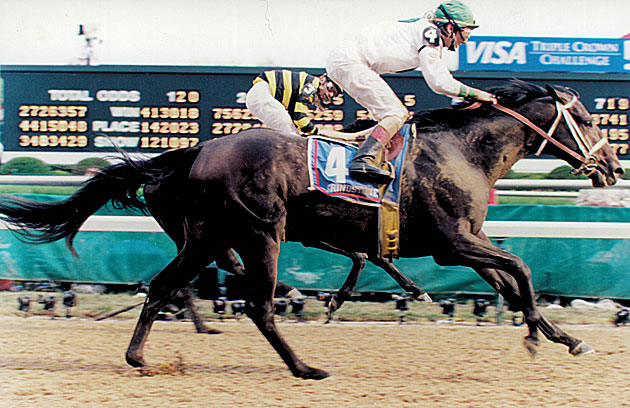 But just as the public took notice of Grindstone, he was retired five days later with a knee injury, becoming the first winner in seven decades to close his career immediately after the race.
"There was not a whole lot of charisma and following for the horse," said Ric Waldman, adviser to late owner-breeder W. T. Young, adding that Grindstone was overcoming physical problems on the path to Louisville. "He was not a sound horse. He didn't just all of a sudden break down after the Derby; he had a history of some unsoundness."
Lightly regarded on the season's bench of classic hopefuls that also included highly regarded stablemate Editor's Note, Grindstone made a longtime dream come true for Young with his unlikely Kentucky Derby win. The triumph also brought national attention to Fair Grounds as an ideal winter training center for young 3-year-olds as the New Orleans track was still emerging from the devastating fire of 1993.
Most notable, though, was Hall of Fame trainer D. Wayne Lukas' masterful handling of Grindstone, bringing the colt along slowly and patiently to peak fitness for Churchill Downs through three well-timed prep races.
"It takes a special trainer to be able to train a horse who's not that sound and still move him forward," Waldman said. "He wasn't treading water with this horse; he was moving him forward and building up that conditioning and foundation to beat the best 3-year-olds going a mile and quarter in May."
A son of 1990 Kentucky Derby winner Unbridled, Grindstone won the Kentucky Derby in his sixth start. He was the most lightly raced Derby entrant since 1933, when Brokers Tip won the roses in his fifth start.
Grindstone's career began on a highly promising note in the spring of 1995 when he scored by five lengths in a five-furlong maiden special weight race Belmont Park, but he subsequently was fourth in the Bashford Manor Stakes (gr. III) at Churchill. A chip in his right knee requiring surgery was discovered soon afterward, putting the colt out of action the rest of the year. His comeback began seven months later on Feb. 16, 1996 at Santa Anita Park, with a runner-up finish in a one-mile allowance race starting him on the road to the roses.
"It took some real special handling to start him over again," Waldman recalled. "To be able to accomplish that—the training and conditioning with a horse that had surgery—is a truly remarkable feat on (Lukas') part."
Grindstone then shipped to Fair Grounds, arriving as a lightly raced maiden winner. Overseen by Lukas' son Jeff, Grindstone cut an imposing figure when he stepped onto track for the first time in the days leading up to the March 17 Louisiana Derby. Fair Grounds oddsmaker Mike Diliberto remembers the buzz about the striking dark bay colt as observers sized him up for the track's signature race, where his main competition looked to be locally based Zarb's Magic.
"He was a very striking horse," Diliberto said. "A really pretty, pretty horse. When he got down here, I remember (clocker) Billy Pettingill talking about him—how he was all dappled out. He said, 'Man, you talk about a man against boys.' "
Despite the colt's lack of experience, Diliberto pegged Grindstone the 3-1 second choice on the morning line. He gave a slight 5-2 edge on the morning line to Zarb's Magic, a tough Louisiana-bred who thus far had run the fastest time of the meet for the Louisiana Derby distance—then 1 1/16 miles—in the Risen Star Stakes last time out.
"He had just run a good race at Santa Anita in his 3-year-old debut and even though he was stretching out around two turns (for the Louisiana Derby), his breeding suggested it shouldn't be any problem for him," Diliberto said of Grindstone.
And it was not. Under Jerry Bailey, the colt dispatched pacesetter Zarb's Magic down Fair Grounds' long stretch and romped to a convincing 3 1/2-length win. His final time of 1:42.79 was a stakes record for nine editions of the race at the distance.
Grindstone had been little more than seven months old at Overbrook when Fair Grounds' grandstand—a venerable New Orleans landmark—collapsed on fire the night of Dec. 17, 1993, just days into its winter/spring meeting. The seven-alarm blaze also destroyed the track's clubhouse, offices, and museum, ultimately threatening to end racing in the Crescent City forever. But track owners, the Krantz farmily, were determined to preserve Fair Grounds' long tradition of racing, and the meet was miraculously back up and running 19 days later—albeit out of tents for patrons and makeshift buildings and trailers for track employees while a multimillion dollar rebuilding effort began.
For three years until a new grandstand was completed and unveiled in 1998, the track's meets were held under often difficult and the sometimes inhospitable environs of a construction site that more often than not kept the nation's top stables away. But Young showed up in Fair Grounds' infield winner's circle following the Louisiana Derby, smiling amongst friends, unfazed by the surroundings, after Grindstone had just stamped himself a legitimate Kentucky Derby contender.
"You could hold a big horse race in the middle of a field in the middle of North Dakota and he would go and think nothing of it," Waldman said of Young. "He certainly liked a grandstand full of people; he liked the electricity of a race, but he just liked to watch his horses run and win."
Zarb's Magic turned the tables in the subsequent Arkansas Derby (gr. II) April 13, with Grindstone finishing a neck behind in second after starting from the outside post position and getting carried wide early. But Grindstone was primed for a career-defining win in Louisville next time out.
Bryan Krantz, former Fair Grounds' president, said Grindstone's Kentucky Derby win was fulfillment for the things that the track was trying to do in becoming a major player in the 3-year-old program while still rebuilding from the fire.
"It served notice we were a force to be reckoned with on the path to the Kentucky Derby," he said.
Eight years earlier, Risen Star captured the Louisiana Derby when the race was much more a local affair. Co-owned by Louie Roussel III, Fair Grounds owner at the time, he went on to finish third in the Kentucky Derby before achieving classic glory in the two remaining of jewels of the Triple Crown: the Preakness Stakes (gr. I) and Belmont Stakes (gr. I).
Young was well known for his civic activities and philanthropy, and Grindstone was bred through a mating from a season to first-year stallion Unbridled that he purchased for $30,000 at a Kentucky Derby Museum fund-raiser.
"Carl Pollard, who was chairman of the Derby Museum at the time, asked Mr. Young if he could use an Unbridled season that had been donated by (the family of owner Frances Genter)," Waldman recalled. "Mr. Young, of course, always wanting to do a favor for everyone, said yes."
The season was used for a mating with 1983 Spinaway Stakes (gr. I) Buzz My Bell, a daughter of Drone that Young had paid $2,050,000 to acquire through Cap Hershey's Hillbrook Farm at the 1985 Keeneland November breeding stock sale.
"She was becoming a proven failure (in the stud) before Grindstone was born," Waldman said of Buzz My Bell, who produced three subsequent stakes horses. "She herself was a really good racemare, but we had trouble breeding enough leg out of the mare. We knew that (Unbridled) had a lot of leg; we knew that she needed leg."
A native Kentuckian, Young had tried several times previously to win the Derby before Grindstone. The resulting foal from an act of charity delivered the breakthrough, putting Young on cloud nine.
"As many good deeds as Mr. Young did throughout his life for the benefit of others and for causes, if there's anyone who deserved to be rewarded by this deed it was Mr. Young," Waldman said.
"I cannot overstate how important (winning the Derby) was. I think when he decided to develop a breeding program that he wanted it to be successful, and however you measure the success I think he wanted the broodmare band looked upon by others in the industry as a significant broodmare band and one of the best broodmare bands in the industry. And one of the measurements of a successful broodmare band is breeding a Kentucky Derby winner."
Five days after the Derby, Grindstone emerged lame from a routine jog at Churchill.
"Mr. Young took the bad news well, as so often the case with him he looked forward to what else to do," Waldman said. "(Grindstone's) stud career would be the next thing and he wanted to make him as successful stallion as we could, and then look to the bench for the rest of the racing stable."
In June, Editor's Note—a coupled entry with Grindstone in the Derby, in which he finished sixth—won the Belmont Stakes for Young.
Grindstone launched his stallion career at Overbrook in 1997, commanding a $20,000 fee. Most notable among his offspring are millionaires Ekolu Place and Birdstone . The latter denied Smarty Jones a sweep of the Triple Crown in the 2004 Belmont Stakes (gr. I) and sired 2009 Derby winner Mine That Bird and that year's Belmont victor, Summer Bird. But just as the public never jumped on Grindstone's bandwagon during his racing career, neither did breeders.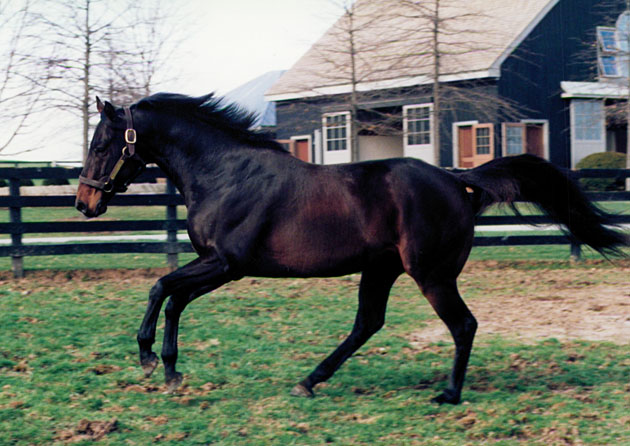 "He really hadn't captured the imagination of the public and never did," Waldman said. "He rose from relatively obscurity to winning the Derby and went right back to obscurity."
Young died in 2004 at age 85, and Overbrook dispersed in 2009, with Grindstone acquired to stand at Oakhurst Thoroughbreds in Newberg, Ore., by leading breeder and veterinarian Jack Root. Now 21, he currently is the state's second leading sire, behind another Overbrook homebred, Harbor the Gold, the hottest sire in the Northwest.
Black Gold, the first runner to score the Louisiana/Kentucky double, won four Derbys overall in 1924 and at one time won seven consecutive races in a brilliant career. Upon his death after breaking a foreleg at Fair Grounds in 1928, the Thoroughbred Record remembered him "as game a horse as ever stood on plates and answered the bugler's call."
In a time-honored tradition at Fair Grounds each meet, a race is run bearing Black Gold's name and flowers are placed at his grave marker in the track's infield. One must wonder how history will remember Grindstone.